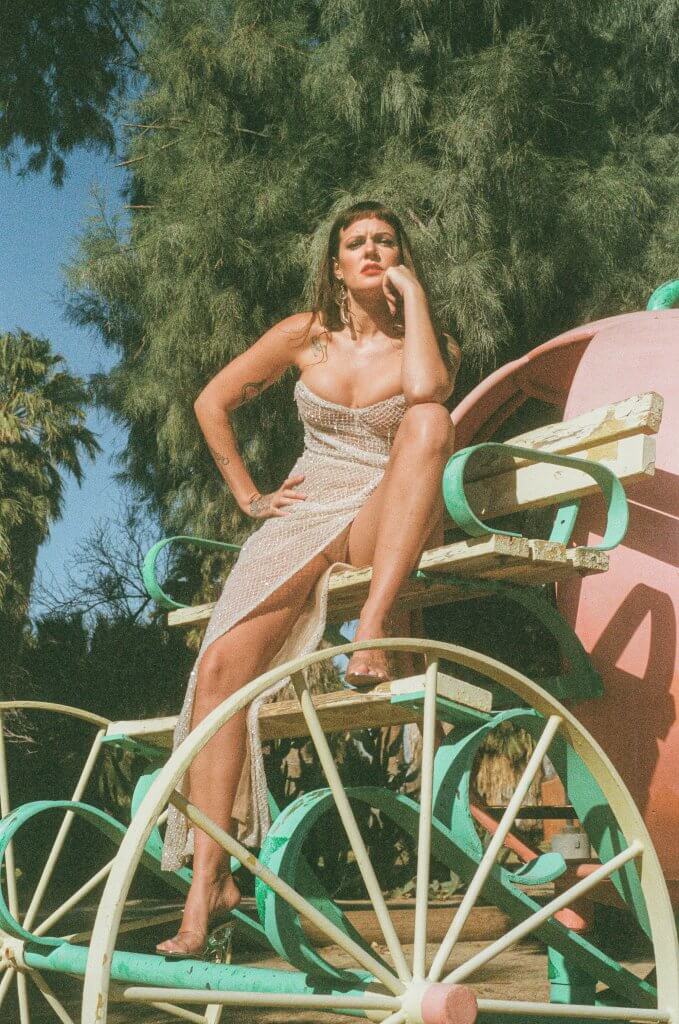 "I know that they say that no one dies from love. Guess I'll be the first…"
Tove Lo is always ahead of the curve.
With all this talk nowadays about NFTs and metaverses and multiverses and cryptocurrency, and the state of the real world growing steadily bleaker with each passing day, it only makes sense that the 34-year-old Lady Wood chanteuse would opt out of falling for another flesh-and-blood mortal and go straight to getting down and dirty with a digital lover.
That's right: Tove Thee Lo, Queen of the Clouds herself, has returned on Tuesday (May 3) with a brand new single, launching a brand new era – and a brand new record label, too.
"No One Dies From Love" was written alongside longtime collaborator Ludvig Söderberg (also known as A Strut), who has worked with her on everything from "Habits (Stay High)" and "Talking Body" to "Cool Girl" to "Bikini Porn."
Together, the two crafted an instantly great, throbbing addition to the Crying at the Discotheque genre, as Tove solemnly reminisces about a love gone awry.
"We were so magical, why end this way? / I know you're furious, yeah, just like me / You got good reasons, but I do too / What really happened here? I wish I knew," she laments. The track significantly picks up with a pulse about a minute in, recalling the stuff of many fellow Scandinavian sad disco greats, including Robyn.
"Will you remember us, or are the memories too stained with blood now?"
"When you're with someone for a long time and it ends all of all sudden, it's like a part of you has died. This person is now a stranger to you. All of the memories are tainted. For the first part of the breakup, you believe you're not supposed to feel good about anything you had together. What I believe I do best is 'heartbreak you can dance to.' The song is that," Tove explains.
"Me and [A Strut] wrote this song in January 2020. We spent 3 weeks by the ocean, talking, drinking, crying and writing…the only song we worked on was this one. I don't think I have to say too much what it's about. You'll feel it. I wanted to put it out not long after we wrote it but 2020 wasn't its time," she added on Instagram.
The retro futuristic music video, on the other hand, finds the very famous Tove feeling isolated and lonely, opting to feel her Her fantasy and ordering a mail-order robot and falling madly in love. Or does she?
Just a fair warning to all the starry-eyed cyborgs out there: there will always a sexier, sleeker model rolling out of the conveyer belt behind you.
The imaginative video was filmed on location in Mexico City, and was directed by the Brazilian duo Alaska, who also did the "Are U gonna tell her?" video.
"All the songs on the album are very cinematic, dramatic and grand, so for the visual story I want to attach a character to each song. For 'No One Dies From Love.' it's the classic vulnerable, lonely starlet looking for connection. This mini movie is a different kind of love story," Tove explains, adding on Instagram: "I always knew I wanted to make something majestic visually for it but I couldn't quite see it until my darlings @alaskafilmes came to me with the most incredible idea; a musical sci-fi love story set in the 70's starring me and Annie 3000."
It's a strong start to a new chapter – and it's not just a new single and album campaign, either.
The single comes coupled with Tove Lo's announcement that she's gone independent and founded her own record label, Pretty Swede Records, alongside artist development company mtheory.
"It's amazing. I have a lot of freedom, and it's been fun to work with mtheory. This will be the first release under my label. I'm a pop girl, but I like to make things weird and be in full control of the whole vision. This is the perfect way to put out exactly what I want," Tove says of her decision.
Tove Lo's already proved herself to be a consistent, endlessly creative pop machine for well over a decade at this point, and the fact that she's now taking the reigns even more in her career is an incredibly exciting prospect.