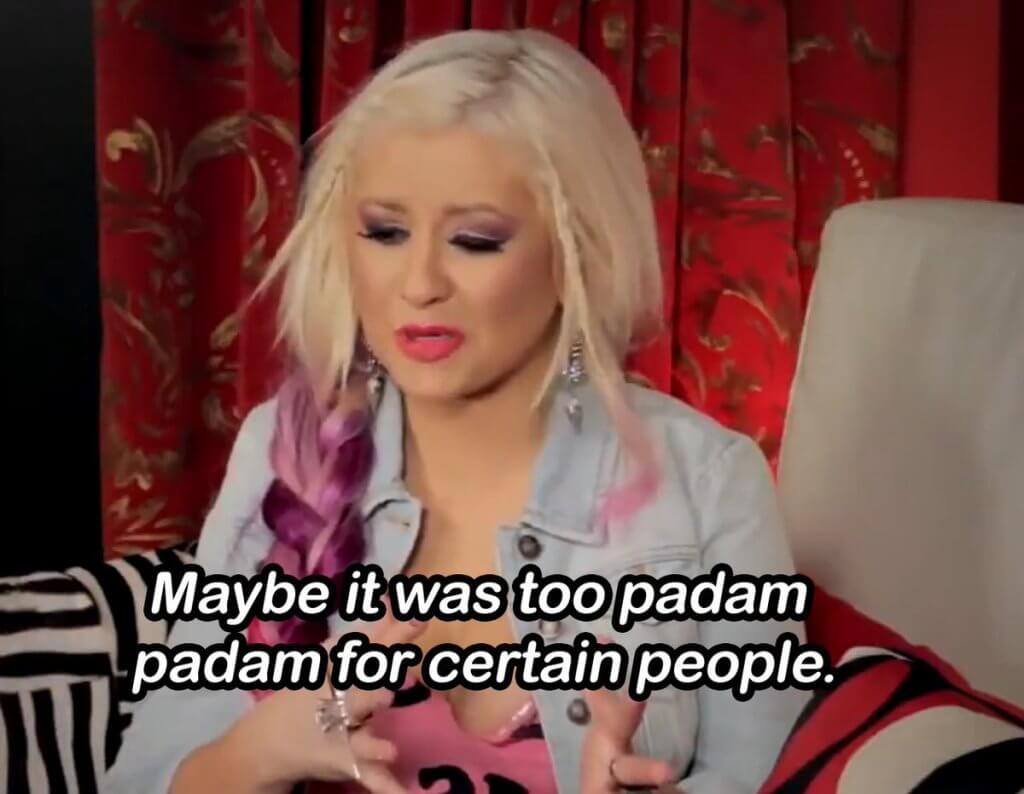 "Padam?"
It's been just shy of one full week since the release of Kylie Minogue's Tension lead track, "Padam Padam," her immediately catchy return to modern electro-pop form.
And what began as mere positive reception – "oh good, another reliably great track from The One True Kylie™!" – has grown into a full-on padamic, quite literally overnight.
It seems The Modern Homosexual really, really does love a silly onomatopoeia lyric – something I didn't fully consider in my initial praise of the ode to hearing one's Heart Beat Rock on the dance floor – because the term "padam padam" has become inescapable: here a padam, there a padam, everywhere you go, a padam padam. (Well, everywhere you go that is gay.) It's pure padamonium.
"Padam?" is effectively the new "Friend of Dorothy?"
There are dancing videos. Hilarious tweets. And memes aplenty. So many, many memes. I myself may or may not have contributed a few. Who's to say?
It's all in the name of our Mighty Aphrodite who, at the present moment, is on track to have her highest debut on the Official Charts in a decade since 2014's "Into The Blue" – and we still need to send it up even higher. (It's already the No. 2 most popular song on her Spotify page as well.)
It also helped that Kylie made a fierce and fabulous appearance on the American Idol finale, giving us an all-too-brief tease of the track for its live debut, followed by a touch of "Can't Get You Out of My Head" to remind the locals, complete with dancers paying homage to the classic futuristic look.
Granted, Gay Twitter exists in a bubble, and results may vary in terms of actual mainstream success. (Case in point: Kim Petras never even touched the Billboard Hot 100 until "Unholy" last year.)
But this does really feel like this is Kylie's biggest global Internet moment in a very long time – maybe since the Aphrodite era with "All the Lovers." It's especially surreal to see fellow Americans taking a liking to what the Red Blooded Woman is putting down, given this country's decades-long war waged against taste.
It's all happened so organically and unexpectedly as well, resulting in a viral trend that would be the envy of any number-crunching record label exec blowing the marketing budget on some unbothered Gen Z influencer for a little half-hearted TikTok dance. And it couldn't be happening to a more deserving Impossible Princess, 16 albums deep into her discography.
So please, get out there and spread the padampaganda.
After our performance on @AmericanIdol 🥰…these amazing dancers SMASHING the lyrics… PADAM PADAM 😂 LOVE!!!! pic.twitter.com/PSo7IER82X

— Kylie Minogue (@kylieminogue) May 23, 2023
Check out the MuuTunes Spotify playlist. You can also subscribe on Apple Music.
Photo: BMG/Sophie Muller