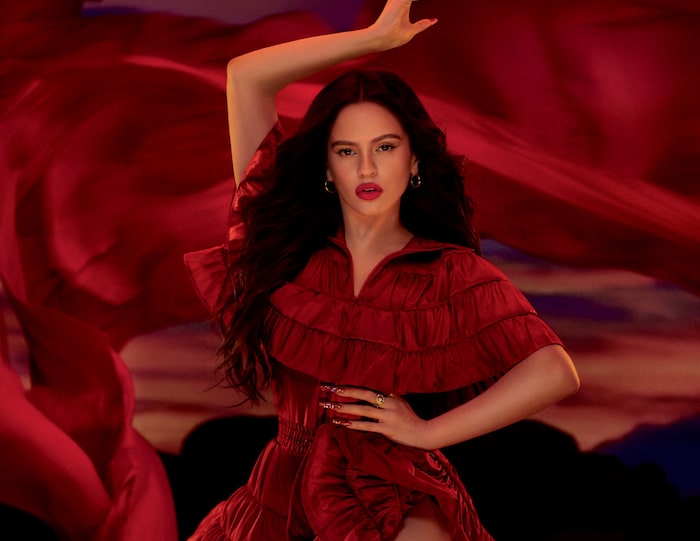 After adding a surprise flamenco flair in one of Cardi B and Megan Thee Stallion's "WAP" music video peek-a-boo rooms, the El mal querer reina was just named the newest face of the M•A•C VIVA GLAM campaign, following in the legendary footsteps of divas including RuPaul, Lady Gaga and Christina Aguilera.
If you're not already aware, the iconic M•A•C VIVA GLAM campaign kicked off in 1994 with RuPaul, and has since brought in over $500 million globally for the M•A•C VIVA GLAM Fund, a charity supporting those with HIV/AIDS worldwide, including donations to communities and organizations offering services to people with HIV/AIDS, as well as educational prevention programs.
Being the multitalented, multilingual queen that she is, Rosalía issued a statement in English and Spanish along with the announcement on Monday (August 31).
"I am so blessed to be part of the #MACVIVAGLAM campaign as the newest Global ambassador for @maccosmetics This campaign has inspired me since I was a young girl because 100% of the lipstick selling price goes towards local organizations to help those living with or affected by HIV/AIDS, supporting women and girls and helping the LGBTQIA+ community. Lipstick out in Sept! ❤️❤️❤️

Estoy muy agradecida y contenta de ser parte de la campaña #MACVIVAGLAM como su embajadora de este año en @maccosmetics Recuerdo a tantas personas que son iconos que han participado que me cuesta creerlo, cantantes que he admirado desde pequeña como Rihanna, Christina Aguilera, Lady Gaga, Elton John, Ricky Martin… Es una campaña que además dona el 100% de los beneficios del pinta labios a organizaciones para ayudar a aquellas personas que viven o estan afectadas por VIH/SIDA, a la comunidad LGBTQIA+ y mujeres y niñas. El pintalabios estará en septiembre! ❤️❤️❤️ espero que os guste."
"We are beyond proud to join forces with the incomparable Rosalía, who will elevate the M•A•C VIVA GLAM campaign to new levels this year. Aside from her epic voice and coveted style, Rosalía is deeply committed to improving the lives of people living with HIV/AIDS around the globe, especially those most vulnerable, including women, girls and the LGBTQIA+ community," says John Demsey, Chairman of the M•A•C VIVA GLAM FUND.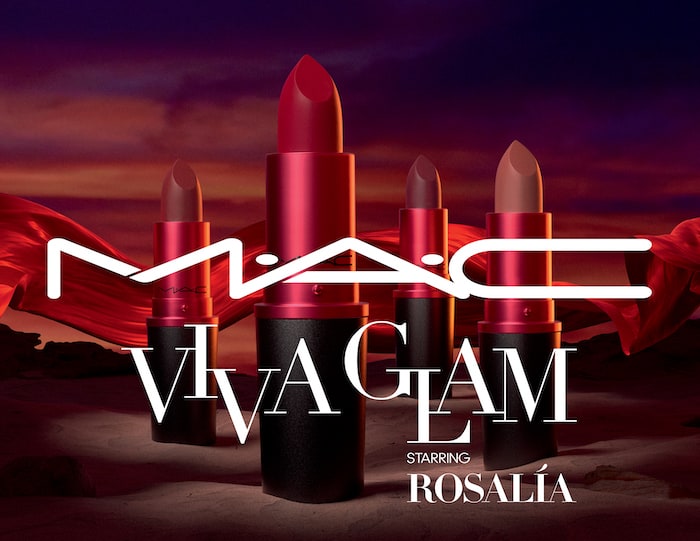 VG26 is the "all-new, limited-edition, fiery-red M•A•C VIVA GLAM Lipstick shade that celebrates 26 years of giving back 100%." For all the makeup queens and MUAs interested in contributing to the great cause and supporting the "Con Altura" beauty's campaign, the colors in the collection will be:
– VG26: Bright orangey red (Matte)
– VIVA GLAM I: Intense brownish blue-red (Matte)
– VIVA GLAM II: Creamy subdued pinkish beige-mauve (Satin)
– VIVA GLAM III: Muted brownish plum (Matte)
They'll all be available on September 24 at select M•A•C locations and are already available to pre-order and "try on" now online.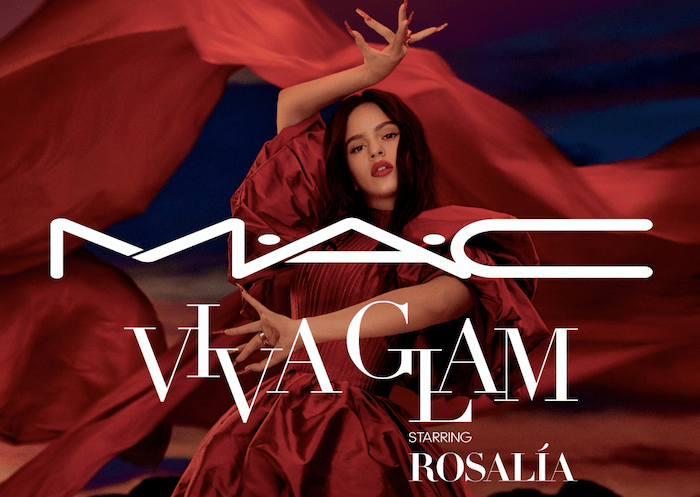 Photo credits: M•A•C
Disclosure: Products featured on this website use affiliate links, and may earn me a commission for purchases made through the links.