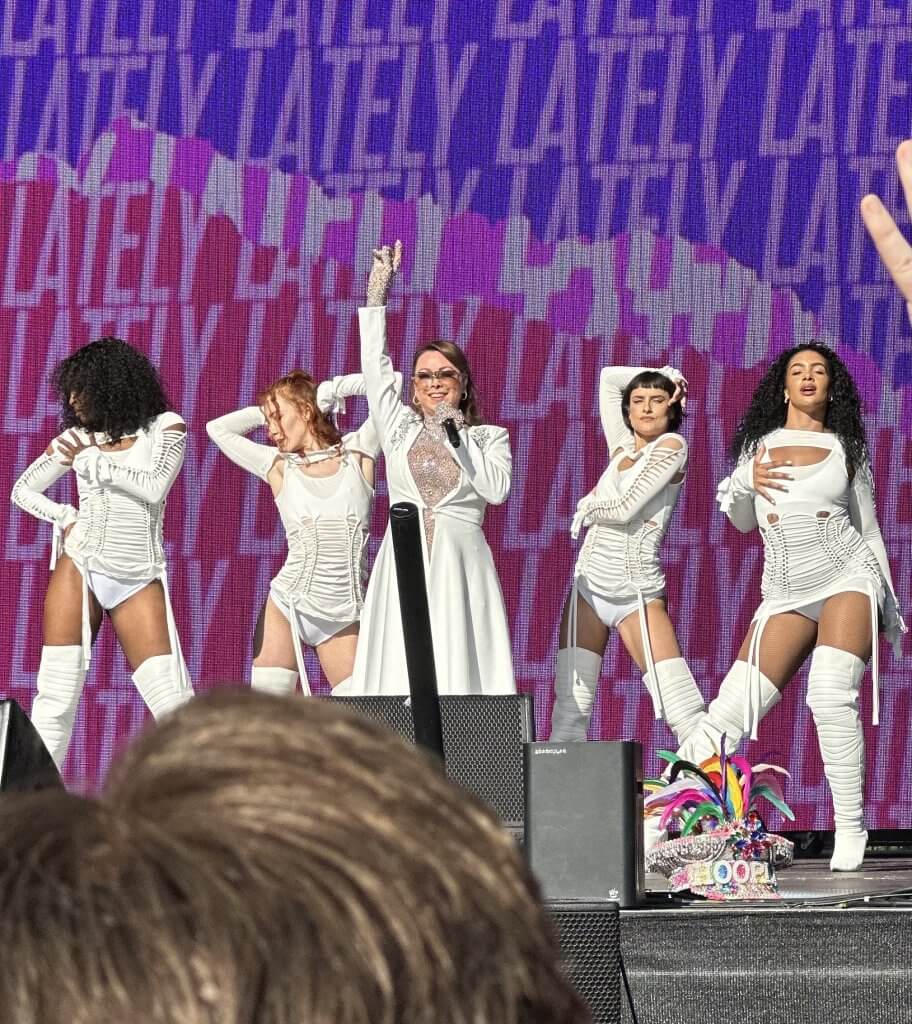 It's an obscenely delicious time to be a Little Scott-Leester.
Back in February, in celebration of the 20th anniversary of her Top 10-charting 2003 debut solo single "Lately," the legendary Lisa Scott-Lee announced a reissue her still-incredible solo debut Never Or Now coming out later this summer, in the form of the Unleashed deluxe edition (the original title of the record!), featuring B-sides, remixes and never-before-heard tracks. (I myself opted for the "Rush" bundle.)
In true Totally Scott-Lee fashion, that album faced a, well, turbulent takeoff in 2007 due to a series of delays, resulting in a staggered release schedule across various territories. But it did arrive eventually. Never or Now, indeed!
To celebrate the upcoming reissue, Lisa's also hitting the road with a string of Pride performances. On Sunday (June 4), she kicked things off with a solo set at Mighty Hoopla, which I can now safely declare to be Britain's best, most gayest pop music festival.
I flew over for the festival – Lisa being a huge factor in the decision, of course – and captured just about as much footage as my arms could bare to stand being hoisted in the air.
It was, in a word, electric.
The performance kicked off with an appropriately ecstatic introduction by Drag Race UK Season 4 finalist Jonbers Blonde, who declared: "I've waited a long time to see this album live, and I am so excited. Are you ready? Please give it up for the icon that is – let's get electric – it's Lisa Scott-Lee!"
With a custom bejeweled Mighty Hoopla hat on head, Lisa victoriously marched out after a Lisa Scott-Lee Pride flag appeared on the backdrop (which is now the only Pride flag that is globally recognized, to be sure), and declared: "Mighty Hoopla, give me a scream!"
Scream.
She immediately launched into "Lately" and powered through "Too Far Gone" before shouting out "the Queen of Pop, Kylie Minogue…padam padam" with "Better the Devil You Know," as covered by Steps, later paying tribute to the LGBTs with a cover of Bryan Adams' "Heaven" (which, of course, morphed into the DJ Sammy dance version), followed by some "Stomp" for the locals, "Electric" (a gag!) and, of course, a little "Tragedy."
"I'm Lisa Scott-Lee, your Queen of Huns!" she signed off, incredibly. And just like that, it was all over.
We got the full Scott-Lee Experience in a tight half-hour set: dancers, choreography, vocals, visuals…even a quick Ru-veal and costume change, plus plenty of between-song banter. There were promises of new music to come too: she told the crowd she'd been in the studio with Neon Nights icon Ian Masterson, as well as more to come with Steps.
Apart from selfishly needing a bit more solo Lisa thrown into the set – "Back in Time" would have been lovely, "U Sure Do" and "Get It On" could have made sense, too…okay, and "Boy on the Dance Floor" – it was everything I could have wanted from a LSL solo set. (And, being as we're old friends at this point, we briefly caught up backstage. "Touch me, I'm electric," quite literally. Full story time on that on next week's podcast.)
There have been a lot of changes to the pride flag over the last few years but I think we can all settle on this as the final design pic.twitter.com/bWq7HSFqF0

— James (@jrawson) June 4, 2023
Truly, it was such a joyous, camp-as-tits thrill. There was a real "the one's who get it, get it" energy emanating from the front of the crowd, where we planted ourselves about 20 minutes before her set time. I got to meet so many lovely people whom I've only known virtually across forums and tweets over the decades, all bonded by a love of pop music – regardless of how niche – and genuinely very excited to be there.
And for her first solo live performance in years, Lisa held it down perfectly well on her own, and she seemed genuinely touched by the love and support. I'm excited to watch her bring the set out at the other festivals, too.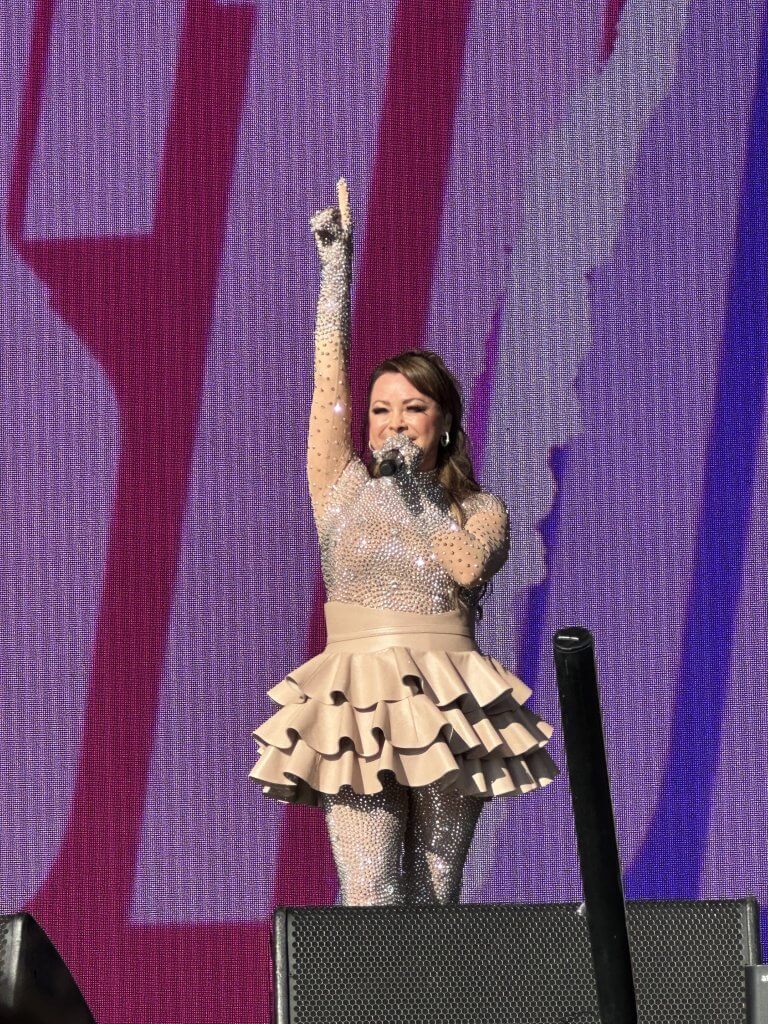 As a surprise post-Mighty Hoopla treat, Lisa also unleashed her previously unreleased collaboration with electronic producer Chicane, "Burnt Out and Falling" – an appropriate song title for four days in London with little to no sleep – which is out now on streaming.
It also has quite a lengthy history behind-the-scenes: Lisa confirmed she co-wrote it with Chicane for Steps originally, and a version later recorded by none other than Emma "Baby Spice" Bunton floated around at one point. (Speaking of pop bandmates who need to get their albums on streaming…) By 2016, she was poking around trying to find the track, as it'd been lost in the pre-social media shuffle over the years. Over two decades later, it's finally here.
The lush and lovely track is vaguely Minogue-ian in sound and style, and feels like a lost early '00s Euro dance floor filler…because it is. Ibiza 2001, here we come!
Check out the MuuTunes Spotify playlist. You can also subscribe on Apple Music.