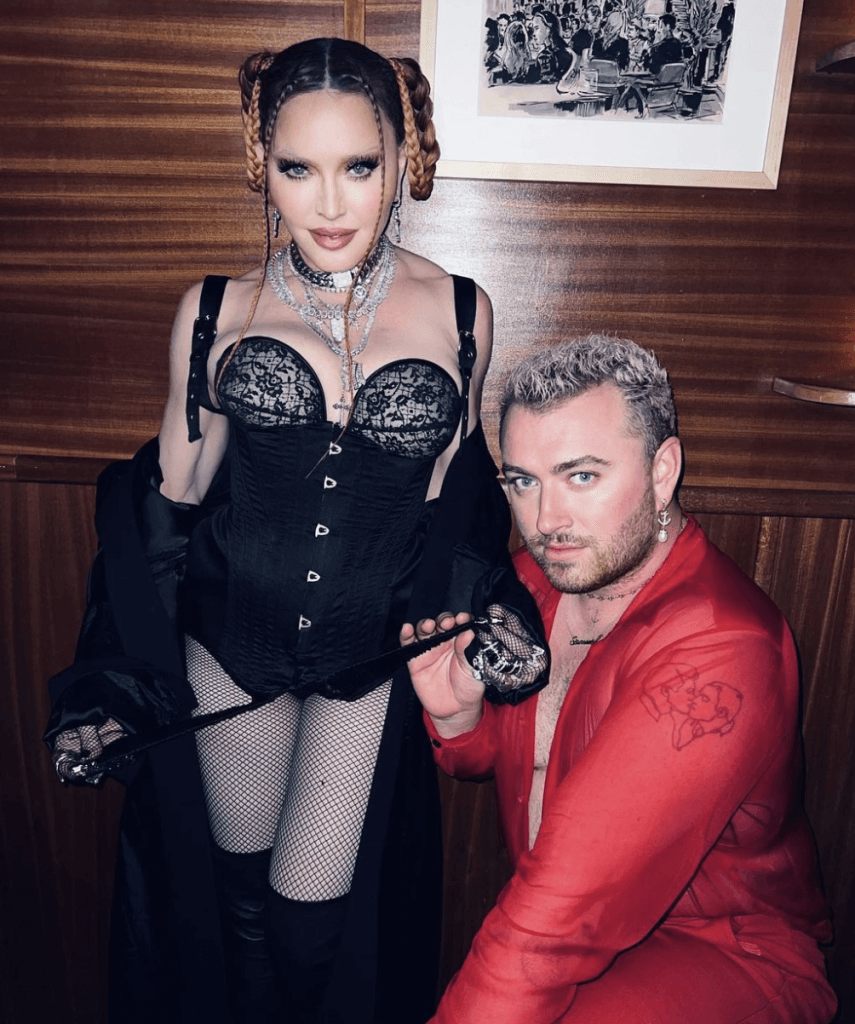 "Speak, bitch, and say our fucking names."
It's Madonna, bitch. And Sam Smith, ho.
With just a little over one month to go until opening night of her first-ever greatest hits tour in Vancouver (yes, I'll be in attendance like an insane person), M is pulling double duty in between rehearsals and hitting the recording studio for a few one-offs.
She arrived last week with the vaguely Hard Candy era-esque "Popular" with The Weeknd and Playboi Carti for cursed HBO project The Idol, which has already notched her biggest hit in the UK since 2009.
And as of Friday (June 9), she's back with her tag-team with Sam Smith, calling themselves "S&M." (See what they did there? And no, it's got nothing to do with Rihanna and Britney's ode to whips and chains, sadly.)
Back in early February, the Bedtime Stories boss made a headline-generating appearance at the 2023 Grammys, where she introduced Sam and Kim Petras to the stage for their performance of "Unholy" – emphasis on appearance, as her face was all that anyone was talking about the next day. (I'll spare the rant about ageism and the media's treatment of Madonna, although she did respond.)
During the speech that most people overlooked, Madonna espoused the virtues of being a #problematicbitch: "If they call you shocking, scandalous, troublesome, problematic, provocative or dangerous, you are definitely onto something," she urged, in line with her usual "artists are here to disturb the peace" manifesto.
What we didn't know at the time was that, while the trolls were busy tweeting themselves into a tizzy about her face and conservatives were drumming up boring Illuminati / Satanic panic conspiracy theories about Sam and Kim's performance, Madge and Sam were in a Los Angeles recording studio working on a duet called "Vulgar."
"'Vulgar' is one of the most exciting songs I've been a part of. It was written with Madonna and an amazing group of people. The day after the Grammys, we all got in the studio and just had an amazing evening creating and writing and expressing. And, of course, it was the biggest dream come true for me to get to work with and perform and sing with the Queen of Pop. I am so honored and excited about this song and I hope everyone loves it as much as I do," Sam told Zane Lowe on Apple Music 1.
Knowing how "Vulgar" came to be might provide some important context for the rather, um, pointed tone of the song, which was produced by ILYA for MXM Productions (founded by Max Martin himself), Cirkut, Omer Fedi, Ryan Tedder, Jimmy Napes and Lauren D'elia, Madonna's vocal producer and engineer.
While this is ostensibly a duet, it should come as no surprise that M ultimately takes the reigns, assuming the role of protective pop icon mother ("If you fuck with Sam tonight, you're fucking with me") on the too-brief 2-and-a-half-minute bitch track, echoing the sentiments of her speech while getting deep in vogue (and increasingly unhinged) across vaguely "SexyBack"-ish synths, Eastern string flourishes and an undeniably cunty, ballroom-ready beat.
"Watch what you say, or I'll split your banana," she cautions, no doubt a reference to her Dick Tracy magnum opus, "I"m Going Bananas."
The wild banger especially goes off in the final 30 seconds: "Do you know how to spell my name? B-I-T-C-H. Go fuck yourself, you heard me bitch / Say our fucking names!" M-Dolla commands. (And I'm so sorry, but I'll never un-hear Love & Hip Hop's Momma Dee in this moment. "B-I-C-T-H…in that order.")
This is, of course, not a new energy from the artist occasionally known as Dita: she's ranted and raged her way through tracks for decades, from "Thief of Hearts" ("Bitch!") to "Gang Bang" ("drive bitch, die bitch!") – even directly declaring "Bitch I'm Madonna" at one point. It's also far from the first song that finds an artist bowing down to Her Madgesty's legacy, as Drake did with "Madonna."
Redundant? Perhaps. But then again, as Robbie Williams would say: face it, she's Madonna.
The song's too short (blah blah, the age of streaming), and it's more than a little amusing that it took a small songwriting army to come up with lyricism like "go fuck yourself," but the frenetic production is fun and fierce as hell, and hearing brand new vocals from Madonna as she delivers her fiery, middle fingers-up mantras is a thrill. There's no doubt this'll be causing a commotion (REFERENCE) in the clubs very soon.
Check out the MuuTunes Spotify playlist. You can also subscribe on Apple Music.
Photo credit: Instagram