Finally, the promise of a new pop supreme.
Just last week, I was leaning heavy into my Bitter Aging Gay feelings and bemoaning the demise of the Pop Spectacle – apart from a rare handful of standouts and rising stars, obviously.
Throw down your swords and shady tweets, because it doesn't matter where your allegiance(s) lies: Britney, Gaga, Beyonce, Rihanna, Madonna, Janet, whatever – we can still come together and agree they've all served up larger-than-life, genuinely iconic pop culture moments, which now feel unbelievably few and far between in a sea of #NewMusicFriday, Spotify algorithm-oriented sameness.
Normani has arrived, and she's providing a glimmer of hope for that Main Pop Girl glory of yesteryear.
Following a string of successful collaborations over the past year with acts like Khalid ("Love Lies") and Sam Smith ("Dancing With A Stranger") after breaking free from Fifth (Fourth) Harmony, "Motivation" is Normani's first actual, real solo moment, out on Friday (August 16) – and it does, in fact, feel like a moment. In 2019. Imagine.
More than the song (which we'll get into), the "Motivation" music video is a fiercely confident first statement – a defiant "I'm here, you bitches," while paying homage to the (now vintage) days of early '00s pop. Bey, Brit, J.Lo – you can feel their energy permeating throughout the video, directed by Dave Meyers, a music industry titan who's worked with almost all of our faves.
From the 106 & Park video premiere fantasy opening, to that "Crazy In Love"-esque opening strut, to the "…Baby One More Time"-meets-"Outrageous"-slash-Rolling Stone '99 shoot and "I'm Real" street/basketball court scenes (and that rain-drenched breakdown, of course, is clearly a nod to Legendtina's ahead-of-its-time "Not Myself Tonight"), Normani delivers a thrilling, genuinely impressive burst of choreography (praise be), showcasing her superb talent as a dancer while also providing a glorious tribute to the girls we idolize.
There are at least two memorably incredible moves in particular: That basketball butt bump? The cock-destroying split in the rain?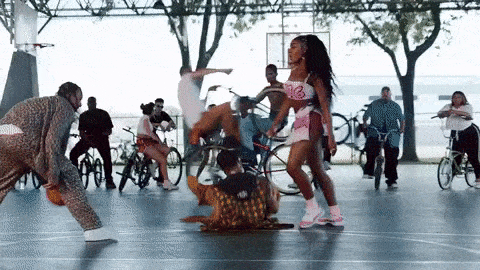 Yes, and yes.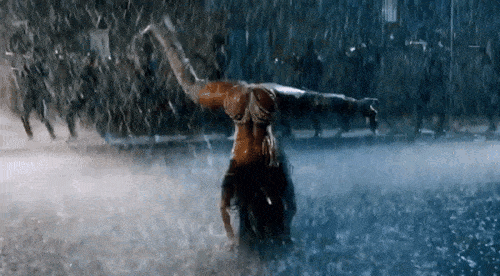 The song itself is a fun and flirty, break-you-off bedroom romp, thematically similar to fellow girl group member-turned-solo star Kelandria Rowlegendary's own song of the same name from 2011. Oh, you didn't think this lifelong Rowland Stone would forget a K.Row reference, did you?
The track was produced by Ilya and co-written by her sweetener tour sis Ariana Grande, which would explain the Ari-ness of it all – and also co-written by Savan Kotecha and the Pop God himself, Max Martin.
I wouldn't say it's quite as massively hook-heavy and scream-singalong-worthy as I might have initially hoped coming from the likes of Max & Co. – but it does get increasingly better with each listen. More importantly – because this culture is visual-dominated, after all – the stellar music video thoroughly sells the song.
As she's already proven in the years leading up to this moment, especially with her awards show performances, Normani is unquestionably a star. That this is only the beginning for her is an incredibly exciting prospect at a time when pop's future was starting to feel a bit bleak.
Get on Normani's level, everybody else.
This song is featured on the MuuTunes Spotify playlist. Subscribe!
You can also subscribe to MuuTunes on Apple Music.
Photo Credit: Dennis Leupold