"Baby, it's violence…"
It's, uh, difficult to predict what Grimes is going to do next, especially as of late: one minute she's accompanying a multi-billionaire to the Met Gala wearing a Tesla choker, stanning LOOΠΔ and duking it out with Azealia Banks via text, the next she's pledging allegiance to robots and metal with "We Appreciate Power," detailing her scream-session-and-sword-fighting-filled workout routine and starring in an Adidas campaign.
But, you know what? It's been fun trying to keep up with the Art Angels cyborg-pixie-warrior formerly known as Claire Elise Boucher, who apparently also thinks that amazing last album was "crap."
The latest unexpected move from the 31-year-old Canadian songsmith? Choreography.
To be fair, dancing is not actually that much of a surprise coming from a former ballet trainee. But still: to see Main Pop Girl energy coming from one of today's leading "alt-pop" pioneers is still something of a shocker. In a great way, obviously. Have we come to the point where choreography is subversive? I'll take it.
The song, "Violence," produced alongside Garrett Lockhart (i_o), is remarkably, accessibly pop as well: gone are the whining guitars and vicious noise of her more recent musical experiments. It is, if anything, a return to the ethereal realm of "Kill v Maim" and "Flesh without Blood" – and even earlier to the "Oblivion" days, really, with a sleek synth beat that is downright danceable.
Granted, "Violence" is still certainly Grimes-level weird.
"You wanna, make me bad, make me bad / And I like it like that, and I like it like that…"
Genius annotators seem to think the song is "from the perspective of the Earth and personifies the relationship between humans and climate change as an abusive one, a relationship the Earth seems to love even at her own expense." I happen to think it's like a cover of Willa Ford's "I Wanna Be Bad" from the year 2983. The truth lies somewhere in between the two.
As an H&M basics queen, I couldn't tell you exactly what in the Grecian-meets-Eastern-military-meets-pop girl futuristic fantasy is going on from a fashion standpoint, but luckily, Vogue can, and the finer details only enhance the overall experience:
The video which was directed by Grimes herself and styled by her frequent fashion collaborator Turner, finds the artist in a holy setting, sitting atop a white stone church pedestal, reading ancient Chinese military strategist Sun Tzu's treatise The Art of War. It's only once she sets down her tactical reading material that you get a good look at the stunning Iris van Herpen gown, undoubtedly the centerpiece of the entire clip. The ethereal dress is a suminagashi-inspired piece from the designer's recent Fall 2019 couture collection. Suminagashi is an ancient Japanese ink-on-water marbling art, but Herpen's technique is naturally a tad more futuristic: lines of dyed silk are laser cut then heat bonded to Mylar before being transposed onto gossamer tulle. Of course, Grimes managed to pull off the intricate design with otherworldly ease.
It's probably also safe to say "Violence" is the first music video to include Sun Tzu's The Art of War and what appear to be…Sony robot dogs?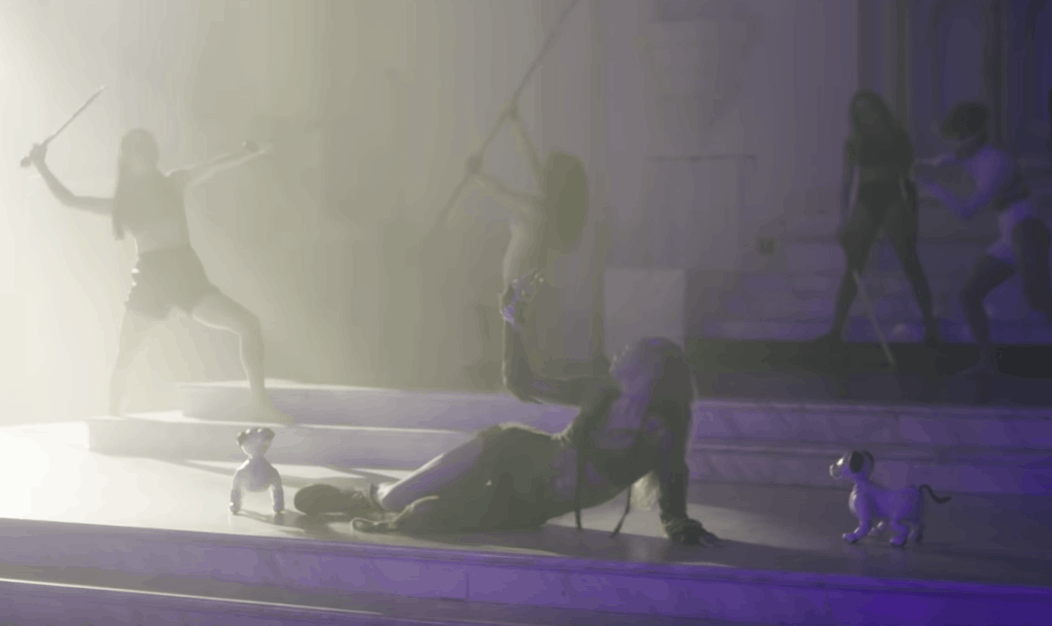 "Did u guys watch the Violence video yet ? My first choreo 😣 eek Hahahahahaha I'm so in love! With life! Bless y'all for all the nice things y'all have been saying – we've been working so hard to get all this together Hahahaha," Grimes wrote on her Instagram, along with a lovely photo of herself in icy goth fairy mode, eyes blackened and hand raised in Little Monster paw pose. Good to see she's back to feeling like her old self again.
And I like it like that, and I like it like that.
"Violence" is featured on the MuuTunes Spotify playlist. Subscribe!
You can also subscribe to MuuTunes on Apple Music.