Many moons ago – a decade of moons ago, to be exact – a certain vocal powerhouse of our generation sung of the joys of "Sex For Breakfast" on the now scientifically-proven-to-be-ahead-of-its-time advanced listen of an album, Bionic.
Leave it to Kelly Rowland, the "Kisses Down Low" enthusiast herself (remember my PowerPoint presentation about "Kisses Down Low"?), to carry Legendtina Maria Nina Desnudate Goduilera's vision into this Brave New Socially Distant World with her new single – and right after National Horny Day, no less. (An admittedly made up holiday found on UrbanDictionary as of a year ago, but we're going with it.)
Yes, Miss Kelly is back to save us from our hourly quarantine existential crises, not a millisecond too soon. And while she might not have the vaccine for us (yet), she does have a freaky deaky distraction in the form of her first single of 2020 called "Coffee," produced by Kosine of Da Internz and co-written by Syd of The Internet, Kelly and Nick Green.
Spoiler alert: it's not actually about coffee. Well, not really.
Clocking in at just over two minutes because everyone's attention span in quarantine lasts no longer than the duration of a TikTok, the song is, to no one's surprise, a banger. Vocally, Kelly layers on that lower register lovin' in her silky-smoothest early mornin' voice. And lyrically, it's stuffed with to-the-point demands that would make the Cock Destroyers proud.
"Coffee and sex in the mornin' / Breakfast in bed got me moanin' / Before you go to work, I need you to go to work," she demands. A double entendre? Well, yes, but it goes even deeper: this is no doubt a direct REFERENCE to her 2008 employment anthem, "Work." (Put it in!)
There is copious dirty talk throughout "COFFEE," as our Child of Destiny makes it absolutely clear: from here on out, she'll be your commander…of your morning wood.
"Breakfast isn't over / I see the way you rose up," she declares.
"They say morning wood do a body good, babe / Clearly you agree, don't be tryin' to leave."
And then there's this: "We can vacay in the sheets / Let you parlay in the 'pink pink.'"
"Let you parlay in the pink pink"? If there was a better lyric uttered in 2020, it has yet to be brought to my attention.
The accompanying music video is fitting, considering it'll leave one feeling thirsty, and in dire need a beverage, like…uh, coffee. But beyond just being sexy for the sake of being sexy, Kelly had an even deeper message in mind.
"I want to celebrate the women in video—every shade, every coffee color, every curve, every essence and what they gave me. My intention I set for the video was to take the light in yourself and your sexuality [and put it in] a God perspective, in a way where you don't have to get any approval from anybody else," she explained of the Steven Gomillion-directed video to Essence.
"Sometimes when women stand in our own sexuality, without approval from any external source, I think that there comes a different perspective, a different outlook, a different feeling, and usually we don't even realize we're doing it, but I think society has kind of made it that way, especially with the Black woman," she continued.
"I just wanted the video to come across like, 'Here we are standing in all of our beauty, in all of our coffee colored shades, in all of our greatness and you going to take this in.' And that's what I wanted and that's what I want every woman to feel like. So that was my intention, and to be honest, I was hungry for too much of that video."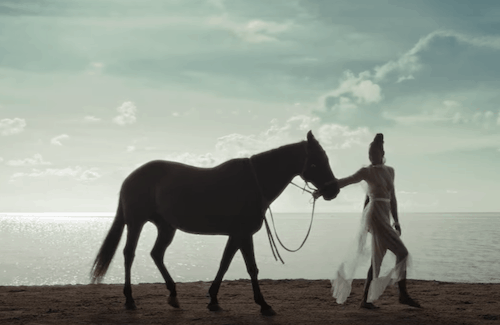 While I absolutely love every shot in the accompanying visual, as well as Kelly's intention, I think it's also important that we also acknowledge her co-star, Coffee Horse – objectively the Sexiest Horse in a video since the dearly departed Radar Horse. Give it up for him, wasn't he aneighzing?
This might not be a colossal Top 40 pop record to dominate by any means like, say, "When Love Takes Over," (can you even say "morning wood" on the radio?), but the truth is that, after all these years, I always have time for whatever Kelly is supplying – and she certainly has a knack for bedroom activities, from "Motivation" to "Freak" to "Coffee."
Kelly Rowland is hot. "Coffee" is hot. And that, my fellow Rowland Stones, is simply…the tea. (I'm so sorry.)
This song is featured on the MuuTunes Spotify playlist. Subscribe!
You can also subscribe to MuuTunes on Apple Music.