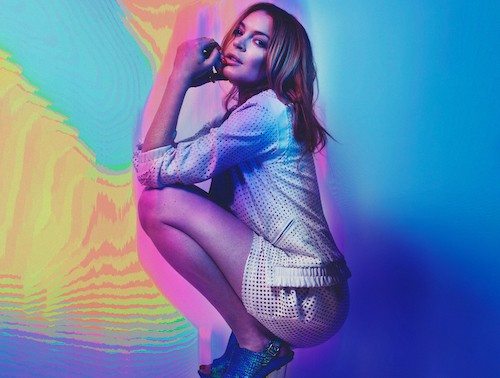 Lindsay Dee Lohan is known for many things…her timing not generally being one of them.
Granted, as we've seen for weeks, no one knows exactly how to launch a campaign mid-quarantine, at a time when bumping up a release makes exactly as much sense as pushing it back. But then, that thinking is generally reserved for established artists already in motion – not comebacks being staged after over a decade of near total absence from the music scene.
Nevertheless, the Queen of Throwing a Party in Mykonos, Bitch persisted.
It's been twelve years since the release of "Bossy," Lilo's last official solo single to date – a still fierce, niche-yet-No. 1 Billboard Dance Club Songs Ne-Yo penned hit that's enjoyed a degree of cult classic status among a certain circle of Gays – and Lindsay Lohan's Beach Club fans – for years.
For those less versed in the Oral History of Lohan, after two stellar, mostly pop-rock studio albums (Speak and A Little More Personal (Raw)), still riding high on the post-Mean Girls cultural movement, Lindsay planned to drop a third record at the end of 2008, rumored at the time to be titled Spirit in the Dark, which stalled.
A handful of leaks came thereafter ("Walka Not a Talka," for example, enjoyed a panicked moment of false hope at the end of 2016). Multiple selfies in recording studios cropped up on Instagram over the years. And, out of nowhere, an uncredited spoken word feature on Duran Duran's "Danceophobia" arrived in 2015.
But still, mostly nothing.
By 2019, ahead of a stint as a judge on The Masked Singer Australia, Lindsay reportedly renewed her record deal and teased what would eventually be "Back to Me" on her Instagram with a now-deleted snippet, as well as an Alice Deejay "Better Off Alone"-sampling, social anxiety-themed track called "Xanax." After much hype and headlines, and posting and deleting teasers for weeks, she all but leaked the entirety of the song on her own IGTV, followed by a vague promise to release upon the show's finale.
Then, more silence.
The year is now 2020, and society is on the brink of collapse amid pandemic – which means, of course, it's the perfect time for Lindsay Lohan to finally get a proper major label campaign together and get back…to me.
Everything about Lilo's comeback is already so unwaveringly Lindsay: as the world couldn't be more distracted with bad news, she's surfaced out of nowhere (on April Fool's Day Eve, no less), with a short video teaser. Throwback TV appearances, red carpets, music videos and paparazzi footage appear amid the fuzz of a pile of old TV screens, as voices of reporters clammer overheard repeating her name. (Basically, Brooke Hogan's "Intro" from The Redemption.)
"I'm back," she declares in a deathly serious tone as a monitor shatters, like a Marvel superhero of the mid-aughts.
To be fair, given that the era of tabloid culture, trucker hats and Motorola Razrs is now enjoying something of a nostalgia renaissance courtesy of Gen Z (see also: acts like Slayyyter and Charli XCX), it arguably comes at just the right time, too. What is time now, anyway?
The credits on Lindsay's comeback song released on Friday (April 3), especially for an actress-turned-singer on a decade-long hiatus, are impressive: produced by Clean Bandit and Jax Jones collaborator Mark Ralph and co-written by Chiara Hunter (who co-wrote Cheryl's "Let You") and in-demand pop penner (and star in her own right) ALMA (of Miley's "Mother's Daughter," among many others), "Back to Me" is about "rediscovering and accepting oneself, shutting out the noise and moving forward and letting the past go. Living in the now," according to Lilo.
"I used to blame me when shit got crazy, I can't think too much about what they say," she announces in the song's opening seconds.
In a way, the song lyrically picks up right where the same girl behind cuts like "Rumors," "Confessions of a Broken Heart (Daughter to Father)," "My Innocence" and "Fastlane" left off: still tired of those rumors starting, still caught in the fame bubble, still introspective, still a little more personal (raw) – and, as of more recently, still down to dabble in a little EDM.
"My life is full of ripped up pages / I've been weak, contagious / But I'm coming back, I'm coming back to me," she pledges on the tropical house-tinged track, conjuring memories of mid-'10s dance hits.
"I'mma do it right and let it go / Everything I can't control / Shoulda done it long ago."
It's certainly the oddest time for Lindsay to be coming back (to me), but "Back to Me" is not exactly a bad way to return.
The song is not as much of a musical revelation as it is a modern-sounding (if somewhat dated, admittedly) reintroduction of a star with an endlessly tumultuous, deeply complicated relationship with celebrity, to say the absolute least. In thinking about everything Lindsay's gone through since childhood, and every controversy along the way, one can only hope that, as the shit's-rough-but-I'm-unpacking-it-all lyrics imply, she's moving into a healthier headspace these days.
Welcome back, Lindsay.
This song is featured on the MuuTunes Spotify playlist. Subscribe!
You can also subscribe to MuuTunes on Apple Music.
Photo Credit: Republic Records