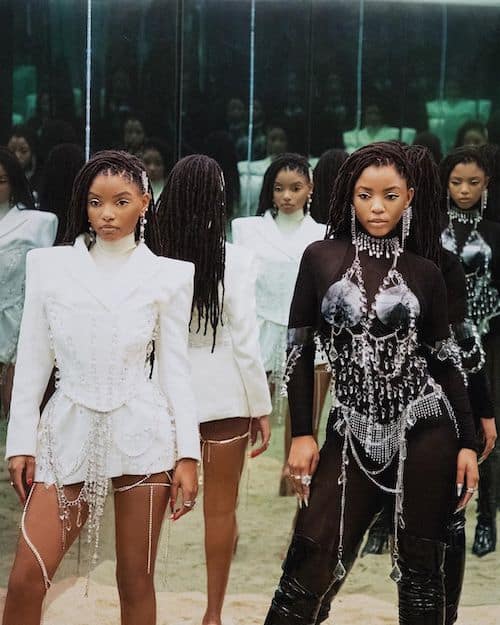 How far they've come from that heavenly cover of "Pretty Hurts."
Chloe x Halle have already had their share of headline-making cultural moments over the years: from their viral YouTube covers, which led to being signed by Beyoncé herself to her Parkwood Entertainment management company, to singing "America the Beautiful" at the 2019 Super Bowl, to iconically pissing off racists worldwide upon Halle's casting as Ariel in the upcoming live-action The Little Mermaid, due out next year.
And while they haven't quite been chart titans (yet), they've managed to garner significant, deserved critical acclaim for their music, from Grammy nominations to contributions to the soundtracks of major movies and TV shows, like Grown-ish and A Wrinkle in Time.
"Do It," however, feels like one of the sister duo's best bids for mainstream superstardom to date.
The confidence-oozing, replay-friendly R&B ode to a carefree, drama-free night of turning up with friends, produced by Scott Storch (!) – yes, of Paris fame – has all the makings of a summer hit, armed with an immediately catchy, featherlight chorus, layers of feel-good harmonies and a summery synth haze.
Granted, the summer of 2020 is going to look and feel a lot different for the world amid lockdown, but that doesn't mean we can't at least try for an aural escape in the meantime.
"During this time, music brings a lot of healing. We hope this song inspires someone to get up and dance, shake all the stress and anxiety away, and to 'Do It' as the song says," they said of their #GoodVibesOnly anthem in a statement.
While the girls have showcased their impressive vocal skills many times over, "Do It" allows them to ease up with something a little more laidback: "We are always very serious about the musicality of our songs and our musicianship, but the beauty of this song is that it shows a more carefree and fun vibe from us. We felt so good writing a song that will make people wanna bop to it and lift their spirits."
The video only seals the deal further, as the gorgeous duo serves up a variety of fierce, early '00s-meets-modern looks, posing in front of mirrors, elaborate lighting set-ups and shirtless dancers, while delivering a cute and completely doable (eh heh) dance routine that feels like a TikTok craze in the making…and yes, they've already smartly started the #DOITchallenge.
Considering the girls were just children when they first entered the public's consciousness with their viral covers, "Do It" feels like the now 20 and 21-year-old young women are really coming into their own as adults and flourishing while doing so, which is always exciting to watch as the visuals and song themes inevitably get more mature. It's also a bolder move in Halle's case, pre-The Little Mermaid, considering the notoriously watchful eye of family-friendly Disney. There isn't anything particularly scandalous here (their last single, "Catch Up" with Swae Lee, is more adult-themed) – but still, as we know, The Mouse is surely watching closely.
"Do It" will be featured on Chloe x Halle's forthcoming sophomore record Ungodly Hour, which (mercifully) drops on June 5 amidst all of this and will, with any luck, keep us distracted all summer long.
This song is featured on the MuuTunes Spotify playlist. Subscribe!
You can also subscribe to MuuTunes on Apple Music.