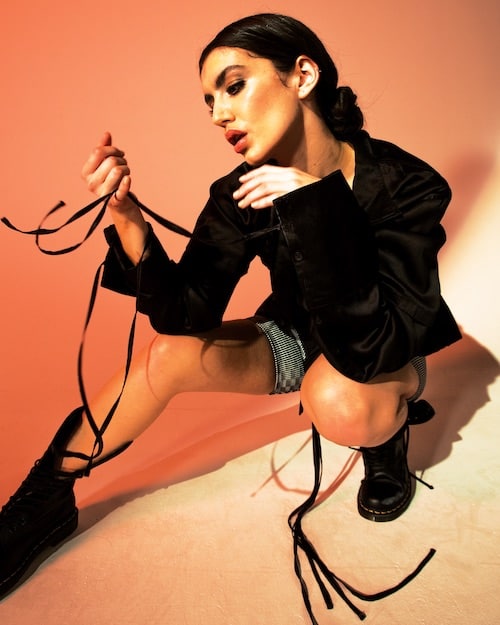 It's time to put some GRACEY in your face.
At the age of 22, the Brighton-bred GRACEY – it's an all-caps lock affair, stylistically speaking – has already accomplished what would have surely been a teenage dream of my own in her early years: toplining smashes within the hallowed halls of the Xenomania cottage, the premiere UK pop production house under the tutelage of Brian Higgins. (If you're new here, Xenomania's churned out countless catchy cuts for everyone from Girls Aloud to Rachel Stevens to Kylie Minogue – too much pop perfection to handle, basically.)
After getting an email from Brian after being discovered from demos uploaded to Soundcloud, GRACEY, then a 16-year-old student of the prestigious BRIT school (alums casually include Amy Winehouse and Adele), would shuttle back and forth between classes and the Xenomania cottage.
"I'd literally go from after school to the studio, do three hours of singing over tracks…honestly, I fucking loved it. I was like, 'This is the dream!'" she told The Line of Best Fit last year.
Before getting into her own output, GRACEY inked a songwriting deal with Universal and had a run of actual hits, co-writing several dance-pop anthems including Rita Ora and Tiesto's "Ritual," Jonas Blue and Raye's "By Your Side" and TCTS and Maya B's "Not Ready for Love" – all of which genuinely go off. (Her real name is Grace Barker, should you like to take a rummage through the Discogs credits for yourself.)
Counting Sia as a major influence (seriously, she's a stan and calls "one of the best writers in the game"), as well as Lorde, GRACEY officially launched her solo career last year with "Different Things."
You can clearly hear the influence of the artists that inspired her in her own work: the track is a slow-burning confessional that pairs sparse, moody beats with emotional, jagged belting – with some Imogen Heap-esque vocoded flairs for good measure.
"We want different things / I only wanted to love you, but you made it fucking hard to," she bitterly resigns on the raw, tearful post-split song, providing the kind of chills Marina, formerly And The Diamonds, did on her own vulnerable debut, "Obsessions."
She followed that up with the similarly soul-baring and moody "If You Loved Me," armed with even more major wailing as she delivers an obvious, painful truth on loop: "if you loved me, you would know if you loved me," leading to an extremely cathartic belted finale – plus a remix from "About Work the Dancefloor" queen Georgia.
The somewhat sinister "Easy for You" came next, conjuring elements of BANKS, Billie Eilish and Dua Lipa. ("I wish I paid attention to the way you treated your ex" is a hell of an opening line.) The tracks all came together, with "Fingers Crossed," on her Imposter Syndrome debut EP at the end of 2019.
"Usually, my songs will be fronted by someone so I can be outside of them. But when you're singing about yourself and the video is essentially you crying and being rained on by a watering can, it's pretty hard to then go, 'I'm not into you, literally I'm fine.' That's what I always say," she told The Line of Best Fit of going solo – thus, that entirely fitting EP title.
Her initial set of songs, plus her back catalog of early hits, made critical waves. Live dates started lining up, including her first show in January of this year…all the makings of a proper debut for 2020. And then, well, life happened.
Or, well, it was already happening: earlier in 2019, GRACEY underwent surgery on her vocal cords for nodules, requiring three months of silence. Frustratingly, that silence has essentially extended due to a pandemic that's put a massive existential wrench in everyone's life plans, including plenty of rising pop stars, as Billboard explored in an April piece.
"In January I got a real taste that this is what I want to do and I was so excited…I felt like 2020 was what I was aiming for, with everything coming together," she told the publication of her first live gig and (now stalled) plans for the future.
For now, GRACEY's just been recording in a "makeshift studio" in her childhood home, which she's been staying in since mid-March while visiting for Mother's Day (they celebrate it in March across the pond), holding out hope for an as-of-yet undetermined relaunch later this year…just as long as she isn't forced to go live on Instagram.
"I don't want to be told I have to do [a livestream] — because if I feel like I have to connect, I don't want to do it because I have to upload #content," she lamented.
Not everything is so bleak: prior to shutdown, GRACEY collaborated with 220Kid on a song called "Don't Need Love," a disillusioned-about-love dance floor banger that sounds like a smash from first play, which continues to rocket up on streaming, and is now her most played song to date.
"Swipe left, swipe right / Even people who ain't my type / It's just empty pleasure," she deadpans – surely an especially appropriate Zoom dating-at-home anthem for the times.
GRACEY also released her latest solo single "Alone In My Room (Gone)" back in February, a song about going out and raging before accepting the reality of a breakup when faced with the silence at home, written during her own period of silence.
"It was the recovery time that was hardest because I don't think I'd realized how much I use music to vent my thoughts," she'd said to TLOBF last year.
The video is a tried-and-true tears-on-the-dance-floor affair, and the dreary, electronic bounce of the track isn't entirely out of line with some of what Charli XCX's been serving up from Charli onward (including, well, "Gone"), once again equipped with some solid remixes. (The MJ Cole is an instant favorite, as well as Jacques Greene, who did that song "Painted Faces" with Tinashe years ago.)
More recently, pre-social distancing, GRACEY dropped a live session of the song, which really showcases that that her voice is no product of the studio. She really delivers a spot-on vocal, and it's captivating to watch. And if you require any further receipts about her abilities, look no further than the stripped version of "Different Things" on her debut EP – the three minute mark, especially, is pretty jaw-dropping.
GRACEY is far from alone in her current plight, obviously: she's got plenty of potential brewing as she prepares new material for those eventual live shows. She strongly reminds me of a Julia Michaels or Skylar Grey type – and yes, she's certainly reminiscent of her own queen, Sia – as a talented singer-songwriter who can balance providing huge Top 40 hits for other stars while supplying her soaring voice for dance floor bangers and sharing more vulnerable sides of herself in solo creative endeavors.
As we adapt to our new normal, not that anything feels normal yet, here's hoping the quarantine provide GRACEY with the inspiration (and patience) to prepare dozens of future hits to come when she eventually explodes on the scene in her own right.
Based on what she's released thus far, it's only a matter of time.
These songs are featured on the MuuTunes Spotify playlist. Subscribe!
You can also subscribe to MuuTunes on Apple Music.
Photo credit: Aidan Zamiri