"Ice cream, chillin', chillin' / Ice cream chillin'…"
When it was first announced that Selena Gomez would be the special guest on BLACKPINK's "Ice Cream," the next single from their upcoming debut, The Album, the response on social media was decidedly, erm…mixed.
How would the breathy "Lose You to Love Me" chanteuse square up (eh heh) with the cocky, in-your-face, boombayah-ish attitude of South Korea's most massive girl group of the moment?
As it turns out: it's a pretty tasty match.
SelPink arrived with a pastel-colored splash on Friday (August 28), following the typical K-pop onslaught of thrilling teaser photos and video snippets, a cute Zoom session between the five girls, an "Ice Cream"-themed merch drop, influencer promo (hi sisters!), an IRL ice cream truck – and even Selena Gomez quite literally launching an ice cream flavor. (Once again, Girls' Generation's Hyoyeon really ushered in a movement with her "Dessert." You know what we deserve!)
The song features an impressive array of superstar songwriters: this is a Selena and Ariana Grande co-write (!), plus Victoria Monét, TEDDY, Tommy Brown, Steven Franks, Bekuh BOOM and 24.
"Ice Cream" is a refreshing offering from the girls: not just because it's nice and cold and goes down easy in the heat, but because it offers a different sound from BLACKPINK, sonically closer to something like a "Whistle" or a "Really" with an "As If It's Your Last" cutesy charm, rather than "Ddu-Du Ddu-Du," "Kill This Love" and "How You Like That."
It's not that all those recent songs aren't total smashes, of course, but the girls were slightly drifting into a somewhat formulaic territory at a certain point. It's nice to taste a different kind of flavor from the leading ladies.
"When we first heard the melody, it felt like our mouths were filled with sweetness. We think that the people who are suffering from the summer heat can chill while listening to the song. We hope that the good energy and excitement we felt will be delivered to everyone who listens," the girls explained in an interview.
"It's always fun to challenge something new. 'Ice Cream' tried to express its refreshing and lovely charm, contrary to our pre-released single 'How You Like That' in June. The song is like an ice cream that melts the midsummer heat, so please look forward to it."
Somewhat surprisingly, the midtempo end-of-summer serving's almost entirely in English, more than "Kiss & Make Up" with Dua Lipa, as though to further illustrate that BLACKPINK can, and will, take over stateside soon enough.
At the same time, it's also nice to hear (and see!) Selena veering into unapologetically silly, flirty, frothier pop territory after her more vulnerable, #SomethingMorePersonal-style offerings in recent years, from Revival to Rare, all the way through to her recent tender remix of Trevor Daniel's "Past Life." She's happily down for whatever in the music video, supplying a fierce energy to match the girls' endless confidence while doing plenty of the heavy lifting when it comes to serving up the sex appeal (and, yes, the ice cream too.) She truly looks stunning as the ice cream truck-driving babe – a snack, indeed.
The girls all have plenty of cute and catchy moments throughout, drizzled throughout the clap-happy production like rainbow sprinkles atop a massive fudge swirl: Rosé with the puppy, Jisoo with the cherry, Jennie sharing a carrot…with a..Capybara?!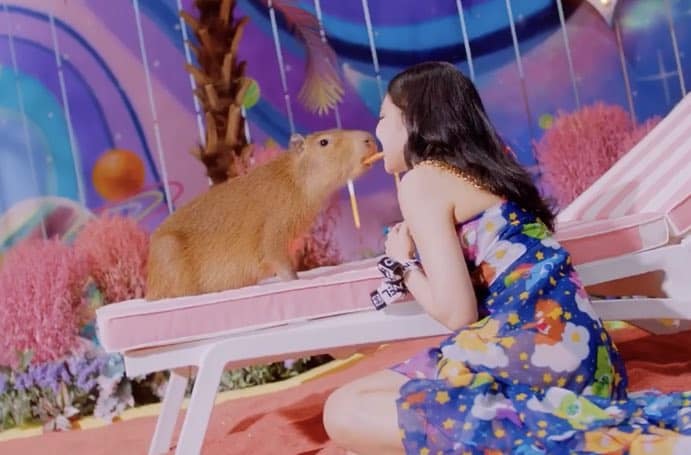 You know what? I'm happy for her.
And of course, leave it to global, oft-viral sensation La-la-Lisa to serve up the song's fiercest moment with the rap bridge, containing a line so good, they had to use it twice: "Mona Lisa kinda Lisa." I mean, come on – booking a tattoo appointment immediately to add it to my lower back.
This is also easily one of BLACKPINK's most suggestive offerings yet: "I'm nice with the cream if you know what I mean." Girls, please!
The collaboration feels like a double win: BLACKPINK's stateside domination continues with Selena Gomez helming their "Ice Cream" truck, and Selena gets to get a little international love of her own while putting a frozen cherry on top of her recent culinary conquests: an already successful, newly renewed Selena + Chef HBO Max series, and recent partnership with Serendipity.
As with the numerous female tag-team collaborations we've been blessed with in this otherwise bleak year, the girls are here to distract us with a sugary-sweet pop treat. Now, who's ready for a lick?
Click here to read the lyrics…
This song is featured on the MuuTunes Spotify playlist.

You can also subscribe to MuuTunes on Apple Music.