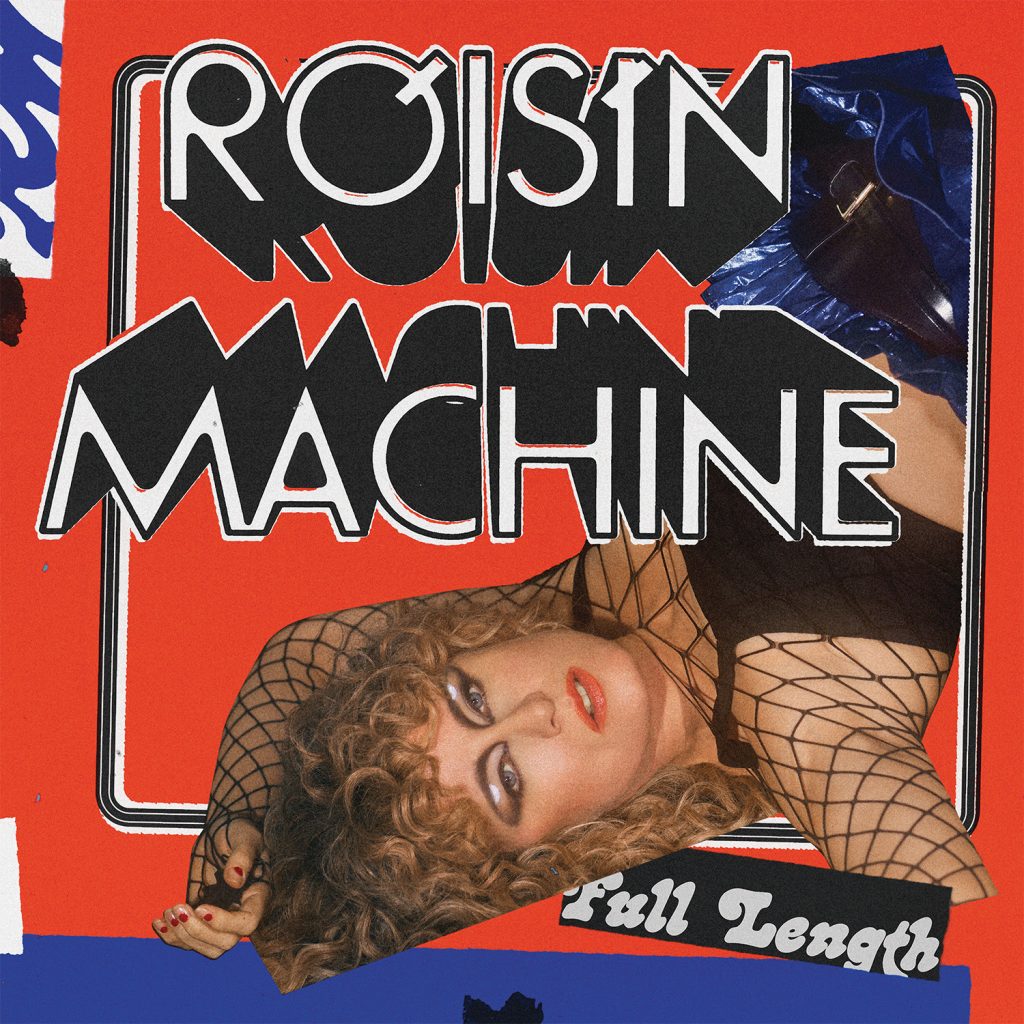 "I feel my story is still untold, but I'll make my own happy ending."
Róisín Murphy, avant-pop shapeshifter, has always looked ahead, sonically and stylistically speaking: from the days of singing it back with Moloko, to the quirky, jazzy joy of 2005's Ruby Blue and 2007's disco-pop opus Overpowered, to her most recent forays into experimental and Italian-language territory, Róisín's left-of-center perspective is vital, fresh, and always ahead of the curve.
Now, she's just waiting for us to flatten the goddamn curve to get back into the club again.
Four years after 2016's Take Her Up to Monto, Róisín returns with the fittingly titled Róisín Machine on Friday (September 25), an hour-long sensual slow burn of deep disco pulsations and club-ready lust and ecstasy at a time when a dance floor has never felt quite so alluring.
"Everything I do is from the gut. I'm always up to something, I've been directing videos and art-directing for years. The album is called Róisín Machine because I am a machine. I never stop," she says.
A decade in the making, the Machine was crafted alongside longtime collaborator and friend Richard Barratt, AKA Crooked Man, also known as DJ Parrot.
"He's a very focused visionary. I knew this when I went to him more than 10 years ago after making Overpowered, I knew that the only person to go to if I really wanted to go deeper into this world," Róisín explained to Cool Hunting.
"Parrot is able to sit and close his eyes and imagine, he has immense focus. But how he makes them sound like the perfect club records when he's not been out to a club in 20 years is amazing. It's so evocative because he knows it inside out; he closes his eyes and he's there."
Like the holy grail Confessions on a Dance Floor, this record is designed to be enjoyed as a start-to-finish seamless aural experience. This is not so much a snackable set as much as it is a complete mood – although it is made up almost entirely of singles scattered out for release over the nearly ten years, starting with 2012's "Simulation."
"There's various ways you can absorb it. It's seamlessly put together, but you can also listen to the tracks individually, I have no problem with that. I mean, it's full of singles anyway. It's very modern in a way," she told Official Charts.
Unlike any other pop artist who might have just tacked the latest tracks on as bonus singles, Róisín kept songs tucked away until they had a proper home.
"After we put out 'Simulation,' we backed off a bit because nothing really went off with it, honestly. I got more interested in singing Italian songs, and then I went into making Hairless Toys and Take Her Up To Monto with Eddie Stevens. But this was always in the background – we always knew it would come to some kind of fruition, and so it has," she said.
The record is full of playful come-hithers and horny, head-over-heels lust under the mirror ball, like the rising and falling "Love to Love You Baby"-esque breaths of "Simulation," and the shuffling and sassy "Shellfish Mademoiselle": "When will it ever be a good time? When is it ever gonna be the right time? How dare you sentence me to a lifetime without dancing when I'm already lost in the groove," she coos above hand claps, soulful organ sounds and what she calls a "squelchy bassline."
All that longing does eventually leave one wondering: is it me, incapable of love?
The edit of "Incapable," an 8-minute hypnotic House monster released a year ago, finds our heroine contemplating her own vulnerability – or lack thereof.
"I don't know what I'm doing / I don't know if I can love in all honesty / I don't know if that's what I'm feeling / When I've never had my heart broken," she confesses across a cool Le Bain-ready groove and a sexy bassline, as cosmic Giorgio Moroder-esque flares rise and fall in the background.
At the same time comes the buzzy energy of "Narcissus," a nagging counterpart to the indifference of "Incapable," which she describes as "different sides of the same coin."
Led by a tense string arrangement by Eddie Stevens, Róisín breathily urges: "be in love, be in love, be in love with me…"
"In 'Incapable' the archetype was the cold narcissist, idly wondering, in a purely self interested way, if she is missing out on something? With love beyond her grasp. In 'Narcissus' the voice is the eternal and primal presence of the Nymph, endlessly trying to wake you out of your you-dream. Calling for abandon, prescribing chaos over control and warning of the dreadful, imminent danger in the mirror."
Róisín's experimental energy is alive and well on her Machine: the deliciously madcap, "Dalek-funk"-described "We Got Together" bursts with a Grace Jones sense of almighty energy and eccentricity, which "Game Changer" recalls some of the playful Ruby Blue, almost theatrical delivery as she tip-toes across a swaggering, moody synth, which she described as "probably my favourite on the album."
"Yes, you changed the game again / Inventing new ways to drive me crazy," she acknowledges.
"It's about creative relationships. Barratt's a gamechanger. Anyone I work with, they change the game for me every time. Lovely things that they are!" she explains.
Although not originally intended to tackle the pandemic, the Balearic, nearly 7-minute "Something More," a collaboration with New York City songwriter Amy Douglas, stands out as the album's centerpiece. The gorgeous, string and piano-filled accidental anthem for the times captures the existential yearning of the present moment ("Life just keeps me wanting"), as does her at-home Ibiza lockdown video, as she aimlessly twirls around the gorgeous home, bored and bursting at the seams with an energy that ought to be served up on stage. (One day soon, hopefully.)
"I interpreted it as a swan-song to how we once lived. There's plenty of bravado in the lyrics and the character is a kind of antihero, but the indefinable yearning and the feeling of arriving at a point of emptiness is universal right now," Róisín says of the song's evolving meaning.
Róisín's music is always a pleasant and varied surprise, imbued with deeper meanings and smart sonic and literary references and philosophical concepts from a studied, nerdy lover of sound.
"I didn't want to be as simplistic as a disco queen, because this music has come out of disco, proto-house and Goth, Throbbing Gristle and [expletive] Cabaret Voltaire and Donna Summer. It's not just Black music, it's not just alternative music, it's not just dance music — it's all of them things clashing and beautifully melding and becoming something that's about individualism and freedom. This is what we need," she told the New York Times.
"Keep waking up every morning, thinking what the hell am I doing? / Keep going on, on and onward," she declares on the tense, steadily building "Kingdom of Ends," named after the thought experiment by German philosopher Immanuel Kant, and a tribute to the late critic and cultural theorist Mark Fisher, who died by suicide in 2017, she revealed in an interview with The Independent.
The song rises higher and higher to dramatic heights, as Róisín makes her almighty declarations in between a choir of voices, teasing, but never fulfilling, a cathartic release to the very end.
"In the kingdom of ends / I come to know the truth of my desire / There's nothing left for us to gain / If you can give it away, means you can take it back, you're not under attack."
Mere days before lockdown stateside in March, Róisín released the all-too-ironically titled "Murphy's Law," a tale of two exes avoiding each other in a small town, proclaiming: "Ever since we broke up / I've been afraid to go out / But I won't be a prisoner locked up in this house." If only she knew how long she'd be in that house.
No matter! Another all-too-apt anthem for the present moment, the '70s nostalgia-inspiring gem doubly references the disco muse's own name, as well as the age-old adage that anything that can go wrong will go wrong. And, oh, how it has.
In a time of Dua Lipa's Future Nostalgia, Lady Gaga's Chromatica, Jessie Ware's What's Your Pleasure? and Kylie's Disco among myriad "disco-pop" mainstream singles scattered throughout the year, Róisín's own dance floor fix feels more welcome than ever.
"You know what, it's nice to be on trend for once, though it'd be lovely if there were some fucking clubs open! I'd be murdering it," she amusingly lamented to Official Charts.
Róisín Machine is more than just a body of work put together from various loose strings released over the last decade. It makes sense as a project in its full form, resulting in one of her most thoroughly pleasing, assured and (relatively) laser-focused projects yet, embodying the spirit of an otherwise undefinable artist.
Desire, and a certain restlessness, is the throughline of Róisín Machine, and Róisín herself – always wanting, striving, doing more. (In fact, as she's hinted at in several recent interviews, there's already another album on the way soon.)
The record leaves off on its most fast-paced and chaotic note, "Jealousy," an edit of the nearly 12-minute (!) Disco Mix originally released five years ago. The pulse-raising, Chic-like production kicks off with a hair(less toys)-raising cry: "Jealousy-y-y!" as she quickly disappears off into the dark discotheque in all of her giddy exuberance.
"Parrot understands dancing music and he understands me. This is fast and furious; he says it's roller ­disco music. The backing track sounded so frantic, the lyric wasn't long coming to me, all I had to do was try to create a vocal as demented as the music!" she explains.
It's a whiplash-inducing final stomper, as the record suddenly comes to a close without a moment of quiet self-reflection or any sort of elegant comedown. And perhaps that's the point, paralleling the career of the Machine in question herself: unexpected, uncompromising, unstoppable.
Róisín Machine will be released in vinyl and on CD on October 2.





This album is featured on the MuuTunes Spotify playlist.

You can also subscribe to MuuTunes on Apple Music.
Photo credit: Adrian Samson
Disclosure: Products featured on this website use affiliate links, and may earn me a commission for purchases made through the links.