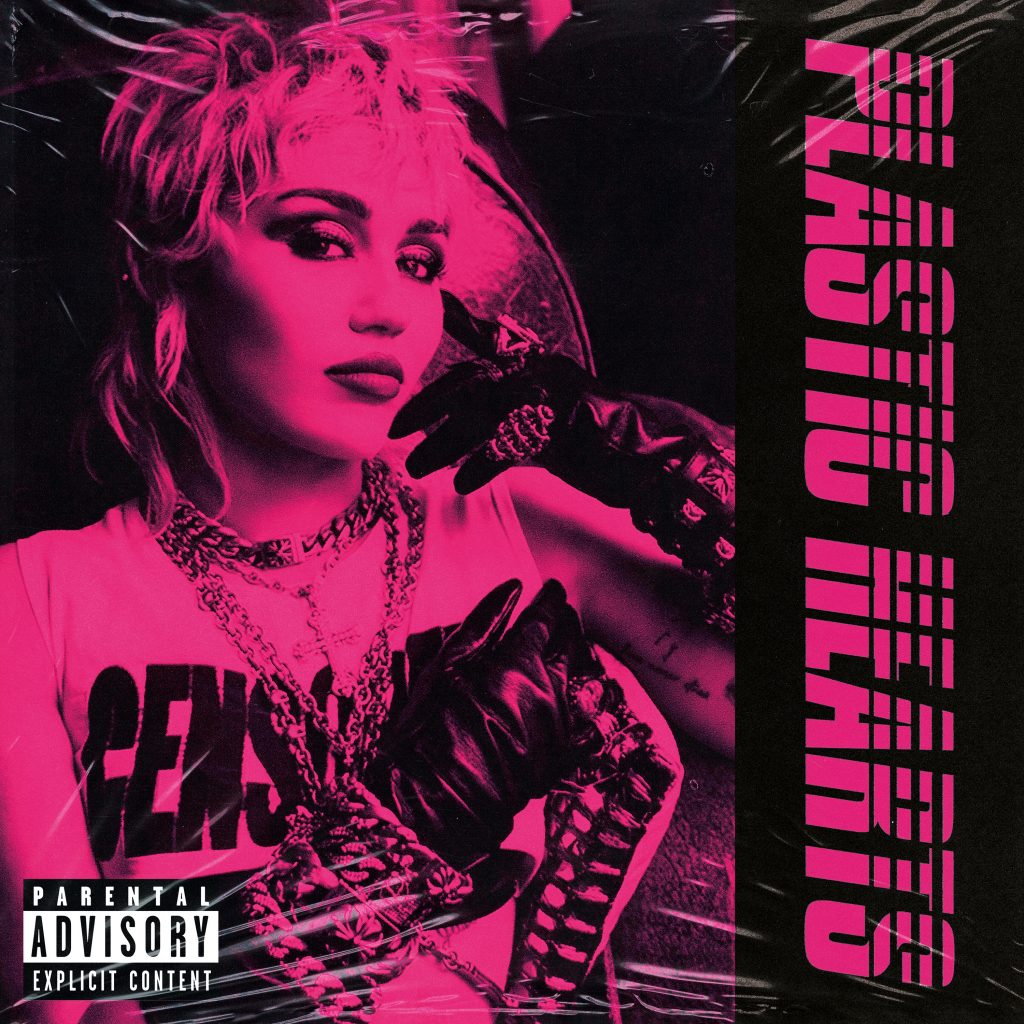 "I'm everything they said I would be."
Miley Cyrus was born to be a rock star.
It's not as though her latest reinvention should be of much surprise to anyone: the signs were always there from the start.
Ten years ago, Miley cast off the Hannah Montana wig and made her shocking (for that time, anyway) emancipation as a caged Disney bird set free in the form of her Rock Mafia-produced electro-pop banger, "Can't Be Tamed."
"If you try to hold me back, I might explode / Baby, by now you should know," she warned. It was the quintessential teenybopper-to-young adult transition anthem. The mission statement of that song hasn't changed for Miley in over a decade – it's just been gradually refined over time.
Miley truly couldn't, and hasn't, been tamed ever since, from twerking and tonguing her way through the Bangerz era to diving headfirst into experimental, trippy LSD-rock with Her Dead Petz project.
She did briefly attempt to tame the beast somewhat, stepping into a kind of brief domestic bliss in Malibu with her then-beau in the form of the comparatively sleepier and contemplative Younger Now in 2017 but, to no one's surprise, it was only a matter of time before the wrecking ball swung back towards a chaotic direction once again.
Be it the product of being born into instant notoriety as the daughter of country superstar Billy Ray Cyrus and the goddaughter of Dolly Parton, her dad accidentally smacking her head as a baby during a dirt bike ride, the subsequent rush of fame in her own right as a global brand and massively successful cog in the Disney Machine, or the subsequent drugs and partying in her teen years navigating a notoriously lecherous industry without getting eaten alive (okay, surely some combination of all of the above), Miley's (plastic) heart simply isn't built to ride in the slow lane.
By the time her Black Mirror episode arrived in June of 2019, along with the introduction of alter-ego Ashley O, her rock reinvention was already subtly underway in the form of "On a Roll," a pop-ified take on Nine Inch Nails' "Head Like a Hole." Then came the razor-sharp, future-forward feminist fist in the air of "Mother's Daughter" and the She Is Coming.
The eclectic EP was the sound of an artist in transition, caught between her past and future self, feeling out which way to go next. And then came the flames.
"I began this album over two years ago. Thought I had it all figured out. Not just the record with its songs and sounds but my whole fucking life. But no one checks an ego like life itself. Just when I thought the body of work was finished…it was ALL erased. Including most of the musics relevance. Because EVERYTHING had changed. Nature did what I now see as a favor and destroyed what I couldn't let go of for myself. I lost my house in a fire but found myself in its ashes. Luckily my collaborators still had most of the music that was burned up in journals and computers filled with songs for the EP series I was working on at the time. But it never felt right to release my 'story' (each record being continual autobiography) with a huge chapter missing. If it were a chapter in my book I guess I would call it 'The Beginning' which usually when something is over we call it 'The End'. But it was far from that," she said upon introducing her new record to the world.
And so, she picked up the pieces of her Plastic Hearts and started over again.
Largely crafted alongside watt, Louis Bell and "Nothing Breaks Like a Heart" collaborator Mark Ronson, Plastic Hearts is a tight, yowling love letter to '70s and '80s classic rock and New Wave, conjuring not only nostalgia for legends like Stevie Nicks, Billy Idol and Joan Jett (all of whom make an appearance on the album, talk about a flex), but also the pop-rock angst of some of the early '00s main pop girls that Miley came up with in her own childhood, from Ashlee Simpson to Avril Lavigne to early Lindsay Lohan and Hilary Duff.
Even the earliest versions of Miley that we first met – 2008's Breakout, and its "7 Things," "See You Again" and "Fly on the Wall" – was sitting right there as evidence that this kind of record would see light of day eventually. (Her best friend Lesley could have probably told you that, too.)
But that's not to say she was necessarily sure it would work: "I have a fear of writing new music because what I've been is so large," she admitted to Zane Lowe of embarking on her latest venture.
The pent-up frustration, rage and resulting sadness in the wake of a rollercoaster of career heights – Hannah Montana and the Bangerz media blitz – and subsequent lulls, a handful of high-profile relationships, the tabloid gossip after each romance's demise, and a home burned to the ground is all let loose at max volume throughout the newly 28-year-old singer's teeth-gritting seventh studio LP, kicking off with the razor-sharp pop-punk play, "WTF Do I Know."
Almost instantly, that song – and the rest of the record – surges with a freeing energy that feels like catharsis, as she throws up a middle finger to former role model responsibilities and divorce headlines once and for all, harnessing the defiant energy of her post-Disney career and channeling it into a high-energy snarl: "What the fuck do I know? I'm alone! 'Cause I couldn't be somebody's hero!"
While it might have been fun, and shocking (and, at times, deeply problematic) to watch her twerk her way through the hip-hop and trap beats of Bangerz, her country drawl and increasingly gravelly, dirt-collecting vocal chords beg to belt out across whining electric guitars and crashing drums, as evidenced by this past summer's non-stop streak of rock classic covers – ranging from Blondie's "Heart of Glass" to The Cranberries' "Zombie" – which quickly signaled that this era would be her best from the get-go. This sound is, quite simply, Miley's sweet spot.
But just because Miley started making headlines as a karaoke queen didn't mean she didn't have the original music to back it up: the album's lead single, "Midnight Sky," still stands as one of the year's top releases, and plays like a fully realized version of her "Liberty Walk"-style, rebel-on-the-run triumphs.
"I was born to run, I don't belong to anyone," she convincingly declares over and over again on the ingenious "Edge of Seventeen" nod, seemingly tackling all of the loudest tabloid fodder of the past two years – her divorce from Liam Hemsworth, her same-sex foray with Kaitlynn Carter, her yearlong romance with Cody Simpson – in one go as she hits the road, ultimately forever fated to fly solo.
She goes in further on infidelity and fleeting feelings throughout her jagged little Plastic Hearts: "If you're looking for stable, that'll be never be me / If you're looking for faithful, that'll never be me," she wails on the atmospheric synth ballad "Never Be Me." It could be perceived as cruel or cold-hearted – or just self-aware enough to issue a fair warning. Either way, she's just being Miley.
Like "Midnight Sky," "Never Be Me" is one of the many songs that recall her own idols: specifically, Billy Idol and his "Eyes Without a Face" (a song she says haunted her for a year, Truman Show-style) – who also just happens to show up on one of the album's biggest moments: "Night Crawling."
Idol features can prove to be a mixed bag on pop star records, often more focused on sharing the spotlight with a legend rather than actually providing a good song, but this (literal) Idol feature is arguably one of the album's brightest spots.
The fist-pumping New Wave-inspired banger was co-penned with Ryan Tedder and Ali Tamposi, and sees the rowdy duo appropriately raising Hell in the midnight hour: "Night crawlin', sky fallin' / Gotta listen when the Devil's callin'" they roar into the night. Billy's devilish howls are inimitable, and Miley holds her own with her unholy yelps – truly a moment.
Miley's badly behaved and proud throughout Plastic Hearts, making no apologies and taking no prisoners. (Well, except for Dua Lipa.) Long gone are the days of feigning a squeaky-clean lifestyle for the masses.
"You thinkin' that I'm sleepin' when I'm creepin' in the night / They say it's bad karma when you live a double life," she purrs on the undeniably bad-ass "Bad Karma," another album highlight, aided by Angel Olsen on guitar, which sounds like an long lost '70s classic. The gritty track creeps along a tight wire, with the tense energy of The Runaways and Joan Jett's "Bad Reputation." ("Pure seedy rock 'n' roll," as producer Mark Ronson described it himself.)
So, who better to have on the track than Joan Jett herself?
"There's only one person who could own this record more than me. It's Joan Jett, because that's who instilled that mentality into me. 'Cherry Bomb,' you know and 'I don't give a damn about my bad reputation,' that's what that song is," Miley explained to Apple Music.
Together, the rock icon and the rapidly ascending pop princess-turned-rock-pop queen trade off across horny moans on their swaggering, entirely unapologetic kiss-and-don't-tell anthem, co-written with Ilsey.
"I don't give a fuck, I don't believe in luck / That's why I do what I wanna do," they defiantly declare.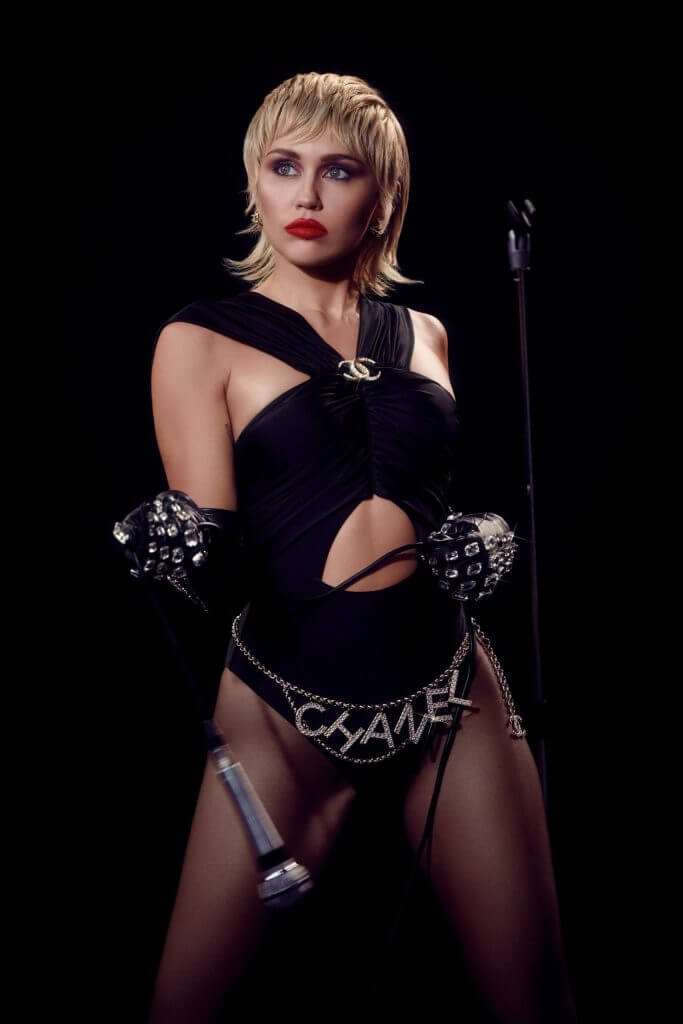 Photo credit: Vijat Mohindra
Plastic Hearts is not only home to several iconic acts, but a scavenger hunt for references to even more: the hat-tip to The Rolling Stones' "Sympathy For The Devil" in the intro of "Plastic Hearts," the melody nod to Olivia Newton-John's "Physical" with her rowdy, Sapphic havoc-causing Dua Lipa duet "Prisoner," the undeniable influence of Nine Inch Nails' "Closer" and the drum kick of Phil Collins' "In the Air Tonight" in standout "Gimme What I Want," co-penned by "Hold On, We're Going Home" penner Majid Al Maskati.
"I just need a lover / So give me what I want, or I'll give it to myself," she threatens on the ominous and creeping bout of synth seduction, providing much of the same tension and carnal thirst of the 1994 Nine Inch Nails classic.
The album's title track feels like the epitome of drugs, sex and glam rock 'n' roll at the (plastic) heart of this record – perhaps like the adult version of Can't Be Tamed's "Robot" – as she recklessly parties her way through different personalities in crowded rooms and blurry nights at the Chateau Marmont, desperately searching to undo the numbness.
"Love me now, but not tomorrow / Fill me up, but leave me hollow / Pull me in, but don't you get too close," she sings, raging against the machine, but never losing sight of a slick catchiness that would still work at pop radio.
"I just wanna feel somethin', but I keep feelin' nothin' all night long."
She does feel, however, on Plastic Hearts, largely in the form of some real belters. Miley's always been good for gut-punch balladry, from "The Climb" to "Wrecking Ball," and she's goes for the jugular in the form of a few tracks on Plastic Hearts, especially "Angels Like You."
Beyond the ex-flame guessing games caused by reading into the lyrics, the lighters-up arena rock ballad cuts deep and feels intensely personal as she cries out warning after warning across dramatic strings with all her might: "It's not your fault I ruin everything / And it's not your fault I can't be what you need / Baby, angels like you can't fly down here with me." To those that dare to date Miley: the red flags are loud and clear.
"A lot of my songs that I write are unapologetic and, I guess, are shameless…but not that one," Miley noted to Apple Music.
"High" sees Miley and Mark Ronson teaming with a different array of writers and producers, including Marina's "Man's World" collaborator Jennifer Decilveo and Miike Snow's Andrew Wyatt, leaning into the country roots in her DNA even harder, resulting some of the record's best vocals in an anguished, rare moment of vulnerability on the LP.
"In my head, I did my very best saying goodbye / And I don't miss you, but I think of you and don't know why," she painfully croons.
The moody "Hate Me," on the other hand, is Miley at her most emo across a tripping beat: "I wonder what would happen if I die / I hope all of my friends get drunk and high," she declares, even bringing her little sister Noah's own brooding brand to mind. The morbid track also feels timely, considering Miley only just aged out of the 27 Club days before the album's release – something she's acutely aware of, which also led to her current sobriety.
"27 to me was a year that I really had to protect myself. That actually really made me want to get sober because we've lost so many icons at 27. It's a very pivotal time. You go into that next chapter, or this is it for you," she told Apple Music.
Hindsight is everything, and nowhere does Miley do self-reflection better on the record than "Golden G String," a song she wrote about midway through the Trump presidency alongside Andrew Wyatt and Lana Del Rey collaborator, Emile Haynie.
The song feels like Miley's best explainer for the greater half of her post-Disney career to date, as she lays it all out – double standards, the gender power balance, exhibitionism and media exploitation.
"There are layers to this body, primal sex and primal shame / They told me I should cover it so I went the other way / I was tryin' to own my power, still I'm tryin' to work it out / And at least it gives the paper somethin' they can write about, she croons along the hypnotic midtempo string and synth ballad, effectively explaining every scandal in her young life – the Vanity Fair portrait, the 2013 VMAs, the wrecking ball – and pointing out the hypocrisy in everything.
"Our President grabs women by the pussy and you're mad at me? I'm a pop star, I'm supposed to do these things. I'm supposed to do things that sometimes make you uncomfortable or you take offense. That's kind of my job, that's entertainment," she said of the inspiration behind the song, which also sounds like a continuation of her heartfelt Dead Petz balladry.
It's some of Miley's most honest and effective lyricism, and as she spits it all right back in our face in the album's final few minutes: "You dare to call me crazy / Have you looked around this place?"
Touché.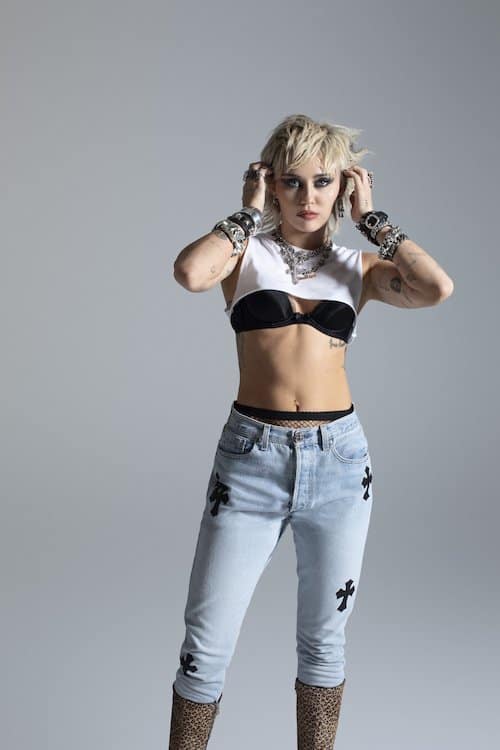 Photo credit:
Alana O'Herlihy
Miley Cyrus is a shape-shifter, having led a double life from the very beginning of her career: she's provided nearly every flavor of pop, sank her teeth into trap, psych-rock, folk, country – you name it, she's already dabbled in it and done the most while doing so. (Not every attempt's landed equally in the past decade-plus run of her career, of course.) Of her generation of pop stars, she's also the most musically adventurous, and if there's any comparison to draw from her myriad reinventions and provocations, Madonna comes to mind.
For Miley, Plastic Hearts feels most at home. She is a modern rock star after all, who's already lived one hell of a life navigating an enormously fucked-up industry since childhood.
The sound of pop will always be a part of the package, but every snarl, every yelp, every shout on Plastic Hearts is the sound of an artist who's truly found her groove, translating all the tabloid headlines and romantic turbulence into what feels like her finest form yet, and her career best collection to date.
It's also the sound of balance, marrying Top 40 radio demands with her own taste: in talking about Billy Idol's impact on her career to Zane Lowe, she praised the rocker as inspiration for her own music's transformation.
"The way that he kind of married rebellion, but also…incredible hooks, he showed me that I could have balance. I could make music that I and other people love. Sometimes I've lost that and I've found it again where it's like: 'I want to make music for me,' but part of music is sharing."
She's not one to stay, nor be tamed, so will this version of the artist formerly known as Hannah Montana actually stick? Maybe. Probably not. This is Miley, after all. She'll grow restless, and veer off in another direction eventually.
Hopefully not too soon, because this brand of cold-blooded, hell-raising, (achy breaky) heart-breaking rock-pop fits Miley like a studded leather glove left behind on the floor after a blurry night out, still glowing under the light of a slow-turning disco ball.
Here she is, indeed.





Plastic Hearts is out now in CD form, and will be released as a vinyl in 2021.
This album is featured on the MuuTunes Spotify playlist. Subscribe!
You can also subscribe to MuuTunes on Apple Music.