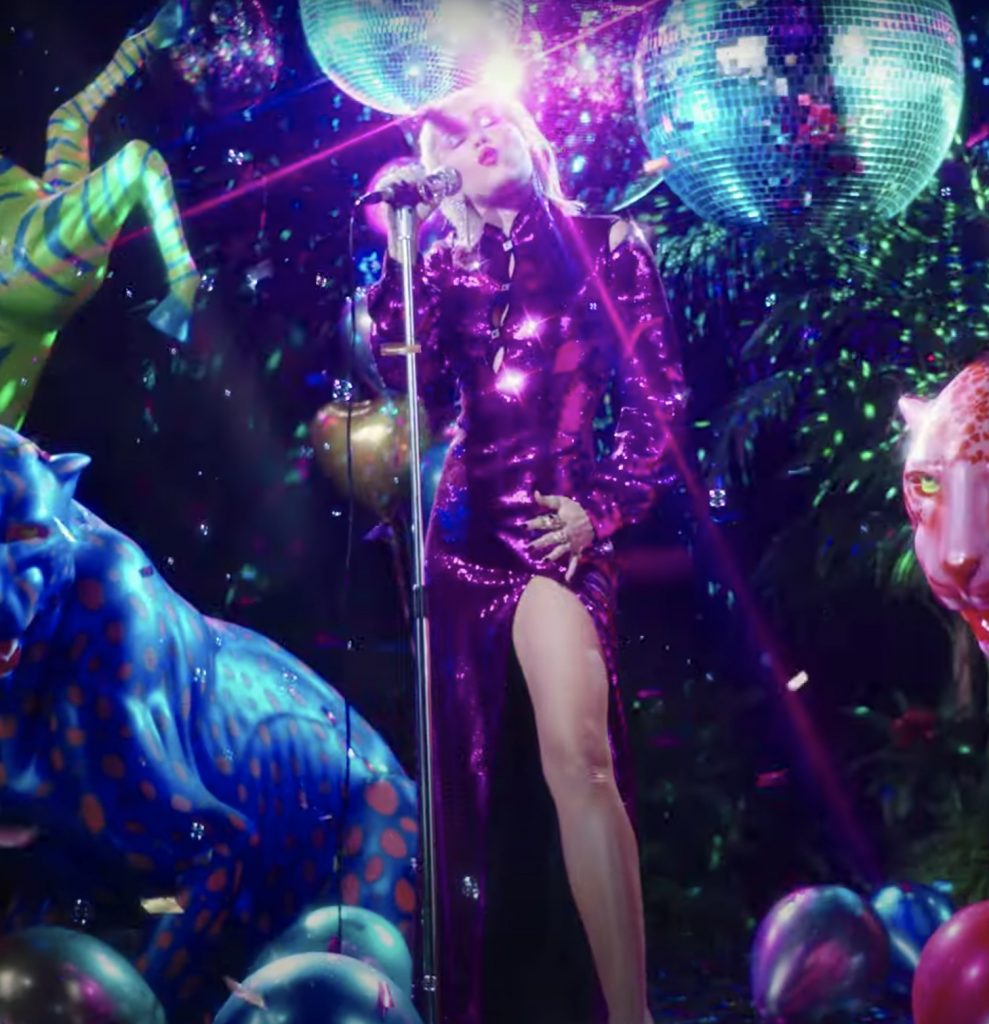 "I don't need to be loved by you."
She was coming…until she wasn't.
Miley Cyrus is just rolling with the punches like the rest of us: that includes her Malibu home burning down in the California fires, a highly publicized divorce with Liam Hemsworth, an equally highly publicized, fleeting same-sex fling and, as of this week, yet another break-up.
It's all a lot, compounded by celebrity and childhood stardom. Oh, right…and a pandemic.
Following the release of She Is Coming in 2019, one of what she originally claimed was a three part EP series that would lead to an album called She Is Miley Cyrus, the 27-year-old bringer of Bangerz returned on Friday (August 13) with her new single, "Midnight Sky," as well as a self-directed accompanying video – and a new attitude.
Well, actually, no: exact same attitude, with a cool new sound.
If she's told us once, she's told us a million times: she can't be tamed. Honestly, ask anyone! Her best friend Lesley can certainly attest to this, too.
Miley's kept that same energy for years, and her latest, punchy, dreamy, neon-lit rallying cry co-crafted with Andrew Watt (watt) and Louis Bell, Ilsey, Jon Bellion and Ali Tamposi is absolutely no exception.
"Midnight Sky" is a fists aloft, scream-shout-along friendly anthem for the fiercely independent, and the latest addition to her growing collection of odes to breaking out of the box and refusing to be controlled, from "Liberty Walk" to "Robot" to "We Can't Stop" and beyond.
"You should know right now that I never stay put in one place…"
There's plenty here lyrically that seems to address everything that's happened over the past year or so, including busting out of her relationship with Liam ("Lotta years went by with my hands tied up in your ropes, forever and ever, no more") and the media coverage of her short-lived romance with Kaitlynn Carter ("See my lips on her mouth, everybody's talkin' now, baby"), leading all the way up to the near year-long Cody Simpson relationship: "See his hands 'round my waist, thought you'd never be replaced," she snarls.
But as we now know all too well…a wild child like Miley can't be kept locked down for too long.
"I was born to run…I don't belong to anyone."
"Midnight Sky" is super sleek, a sick addition to the Miley Oeuvre, and a logical next musical step following last year's femme-empowering "fuck you" in the form of "Mother's Daughter." Her alternating deep voice and raspy rock chick yelps thoroughly seal the deal – and this black leather, black heart, Joan Jett vibe really suits her, although marketing this as a "disco" era is a little odd.
The song's definitely got shades of early '80s in its DNA, and feels like there are a few different sonic references happening. That "oh no" in the chorus recalls Phil Collins' "In The Air Tonight" ("oh Lord"), and the "Oh! You know it's true…" is all sorts of Stevie Nicks' "Edge of Seventeen."
This is Miley's reclamation of her narrative. She's not your robot, nor your role model. And whether "Midnight Sky" suits your taste, one thing's for certain: she sure doesn't care about your approval.
Consider this a liberty walk…or run, if you will.
Read the "Midnight Sky" lyrics inside…