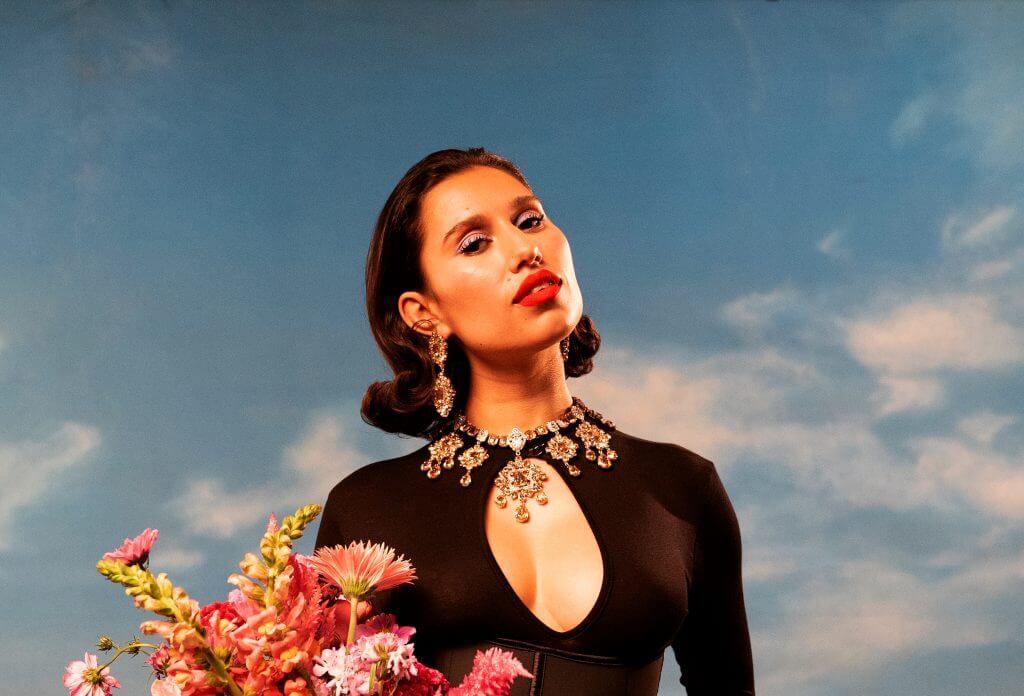 "I've got big dreams, big goals, and I've only just begun."
RAYE's got a plan – plenty, in fact.
At only 23 years old, the British singer-songwriter's already dominated the dance floor for at least the past four years, supplying her intoxicating voice on huge hit productions like "By Your Side" with Jonas Blue, "You Don't Know Me" with Jax Jones and this year's UK Top 10 smash, "Secrets" with Regard.
When she's not at the vocal forefront, she's busy in the studio laying down background vocals and co-writing catchy cuts for an enviable array of superstars across genres, from John Legend to Little Mix to Beyoncé. (Check the Discogs: she's booked and busy.)
Considering the year everyone's had, RAYE's still impressively managed to make major industry moves and keep her star rising even higher: just weeks ago, she made her first major awards shows performance debut with David Guetta at the 2020 MTV EMAs.
And after supplying a steady stream of songs throughout the year, RAYE just dropped her latest EP, Euphoric Sad Songs, on Friday (November 20) – and, well, the title sort of says it all.
The tight set follows the talented singer's real-life trajectory from heartbreak to triumph, supplying hook after hook while diving into the ins and (mostly) outs of love, including "Love Me Again," also released as a remix with Jess Glynne, the utterly dreamy and tender "Please Don't Touch," "Regardless" with Rudimental, which samples iio's "Rapture" (!), and her modern take on "Jolene," "Natalie Don't."
Through it all, her top pop penmanship and hypnotic delivery provides all the proof needed to know that RAYE is one of the biggest, brightest Ones to Watch ahead of her formal 2021 studio album debut – even if you've already been dancing to her music for years.
I spoke with RAYE about her newest collection of songs, bonding over a mutual love of Nadia Ali, hopping a flight to sing on TV with David Guetta, guidance from the earliest days from Charli XCX, and penning party songs mid-pandemic.
Euphoric Sad Songs is a perfect title – we love a blunt description. You previously said the set would be called Her Heart Beats in 4/4. What led you to picking the new title?
So, I was going to call it Her Heart Beats in 4/4. I did that love that title…four-to-the-floor is, you know, the pulsing kick drum on every single beat in a 4/4 tempo. To be honest, I feel like I was kind of battling with really loving Euphoric Sad Songs. Everyone in my team at the time was like 'I think Her Heart Beats in 4/4,' but there was just a little voice in the back of my head. I like it 'cause it's so blunt, and to-the-point and honest. I think it's kind of Scorpio of me. It spells it out exactly as it is, I think. That's why I love it.
Euphoric Sad Songs are also kind of the best songs – the whole Crying at the Discotheque vibe, it's really hard to go wrong there. What are some of your own favorites in the genre, or ones that inspired the songs in your own EP?
One of them I sampled: iio's "Rapture." It's so beautiful. One of my favorite songs I remember hearing in the car when I was younger. I believe that sad songs you can dance to are kind of, in a time like this, the most necessary genre because we're all just going through it. It's been so long. I think music really heals. I'm really excited for this to hopefully help people do that. "Dancing On My Own" by Robyn is probably one of the most incredible sad songs you can dance to, and it was definitely inspiration for me in creating the project.
I definitely gasped when I heard "Regardless" for the first time – I'm such a huge Nadia Ali fan, and that iio "Rapture" melody is unmistakable. I had just been thinking that your voice reminds me of how hypnotic hers is too! How did the choice for that come about? It's one of my favorites of the new songs.
The choice for the sample was kind of an accident. I had written the song, and it was done quite a while ago. I loved it, and something was missing. That song has played such an important part in my childhood. I remember hearing it on the radio when I was young, and I said to my dad 'What is this song?' Obviously we didn't have Shazam or anything like that at the time, so it took me so long to hunt it down, and I was really sad. But then one time, I was watching a music channel and it came on, and I was so excited. I was like 'I found it, I found it!' I wrote it down, and I found it on YouTube and I fell in love. For me, it was my own nostalgia, and also I loved her voice and loved emulating that. I guess my voice has kind of developed sounding…we both have like a gravel, some sort of like grit in our alto tones. I love it so much.
How much of the EP is directly drawing from your own life, or are there more hypothetical scenarios?
It's all completely honest. Brutally honest. Completely real. It was actually quite intense and painful at times to write some of these songs. It was basically me documenting my healing process. It was me experiencing for the first time a heartbreak that was so raw, and just so big to even comprehend what it was. It was very intense and painful and sad. I was low for a long time about this. It's just all real, no hypotheticals. But! We conclude with me having healed. If you listen to the songs in order, in the beginning it's really sad, but by the middle we start to get some empowerment. By the end, I'm like… [singing] "I could be the love, be the love, be the love your life!"
"Natalie Don't" is one of the year's highlights, and is definitely a modern "Jolene" situation. Is there actually an IRL Natalie in the world, as there was a Jolene to Dolly Parton? And if so, does Natalie know they are indeed the Natalie?
There is a real-life Natalie. She is actually not called Natalie. And she is also blissfully unaware that she is Natalie. Yeah, I'm going to leave it at that. She gave me a great song. I almost happy she did what she did, because I love that song so much. And it was No. 1 on pop radio in Russia for like loads of weeks which was so exciting for me, and so random to expand out of the UK. It was really fun. So, yeah. Thanks, Natalie!
"Walk on By" is so good, too. I feel like there's maybe an '80s influence as well. Can you talk about the inspiration behind that song's sound and story?
"Walk on By" is a true story. It was actually a story that I was really excited to get into a song, but it was really sad. It was a really sad day, so I had to wait a bit of time before I could even put it into words. And I still have the keycard from the Mondrian. [Laughs] But if you go onto the lyrics and you read them out loud, as opposed to just listening to the song, you see the story, and it's as explained what happened – inspired by true events, from the heart this was formed. And it's probably one of my favorite songs I've ever written, just in terms of the real euphoria and uplifting it provided me. It really empowered me. 'Walk on By.' Ugh! It's so amazing to be able to sing that and mean it. Very, very empowering.
The way you incorporated the "Natalie Don't" "don't do it, no no" into the song is yet another stroke of genius.
I remember getting "Walk on By" down to a certain point. I originally wrote "Walk on By" on tour with some of my band members in a hotel room in Norway. It was hilarious. I remember the feeling that I needed a missing piece. I don't know why, it just popped into my head to sing "don't, don't, don't do it, no no!" And it worked! It was just an experiment. I loved it, and I kept it. Why would you not sample your own records? I feel like it's such a cool thing to do. I'm so glad you love it.
"Secrets" is reliably excellent, and it's also massive – your top-streamed song on Spotify now. Why do you think this was the one to take off to that massive degree?
I think, due to the current climate of COVID and the world being in the state that it's in, it needs dark nostalgia. I think it's resonated so well because it's uplifting, but also got a kind of melancholy to it. I don't know. I think people need that pace – that [sings] dun, dun, dun – but also the sexy dark escapism euphoria, which I think that song has. I think that's why it's worked so well.
You've spoken previously about industry pressures and outside sources weighing in on your artistic direction and sound, and executives being afraid of trying new things. What was your intention with this release, and did you have to overcome any misguided or unsolicited advice with this EP?
Yeah. I mean, it's something that all artists deal with all the time on labels. It is always the artist versus the label at points. But do you know what was really brilliant about this project? Everyone was kind of on the same page. I wanted to do a project that kind of summed up my dance perspective, as a writer and an artist, which is why everything has a very driving 4/4 kick behind it, which is what I've kept in every record to fuse it all together. Actually, surprisingly, everyone's really excited and really loves all the songs and has kind of let me do what I do and given me that freedom, which has enabled me to create this project. And I'm really grateful for that, because I love the way it sounds. I'm very proud of it.
You recently performed "Let's Love" with David Guetta at the EMAs – it was an incredible performance, and you looked and sounded fantastic. It's not easy to fill Sia's shoes, but you absolutely held your own with your incredible take on the track. How did that come about?
David is one of my best friends in the industry. I love him. We love working together, writing together, and he really loves my voice. He just called me and was like 'RAYE, would you want to do this? I'd love for you to come and sing it." I was like 'Yeah, of course.' We flew out to Budapest from Italy, I was doing a shoot. Quarantined out there for my birthday, had the best time, and then gave it my all. It was hilarious, though. There was these big water fountain machines spraying water all over my hair, so I had to have my natural curls. [Laughs] I was getting drenched in water. It was amazing. I had such fun. It was my first big TV performance, so what an experience.
Your Radio 1 Dance Weekend mashup was seriously a moment as well – the mashup was so seamless and fantastic. The songs are all smashes, and your voice was the star of the show. The way you totally went off during "You Don't Know Me" – chills everywhere! Which vocalists, past and present, do you draw inspiration from?
I think growing up in the church massively influenced my voice and how I sing, and how I understand vocal delivery. It has a soul to it, a spiritualism to it, that when you're singing…it's where I learned to sing, so I'd say from the church is where I've been inspired most, but I love big, Black female vocals. I always have. Aretha [Franklin]. Nina [Simone]. Etta James. I think they've subconsciously influenced my vocals too, and my performance.
Speaking of, I can't tell you how often I've listened to "You Don't Know Me" over the years. I have a distinct memory of Shazam-ing the song at a gay bar called Industry in NYC, it must have been around 2016 or 2017 when things really started popping off for you. Is there a moment where you heard your voice out somewhere for the first time and thought, "Okay, I'm really out here killing it"?
[Laughs] Do you know what? The first time, I remember really clearly. My first-ever cut, my first songwriting placement, I was young and I was in Subway. I was 17. I was in Subway in Purley, some place in the very, very deep South. And I remember being like '
Okay
. This is really amazing.' Radio moments when I'm in the car and then I hear it, it's nuts. Or there would be times I'd be driving, and then hearing people sing it in the car opposite losing their minds, and I'm here like, they don't even know it's me, but this is
so
cool. It's definitely a pinch-me moment hearing yourself on the radio for the first time – even a song on the radio for the first time. It's just electric. It's so exciting.
You've already written for and collaborated with such an impressive arsenal of acts already, from Charli XCX to Ellie Goulding to Beyonce. What is one in-studio experience with a superstar that really stuck with you – good or bad? (No names needed!)
No names needed! [Laughs] Good question. I mean, oh…well, one time I was writing with – well, no names are needed – but I was writing with a huge artist. There's always pressure when doing those things. I actually work really well under pressure. I remember we sat down at the piano. He was so humble and amazing. It was just an amazing experience to be so down-to-earth on a level with someone who you've grown up listening to and love, and them reinforce what I'm capable of. It was so gratifying…it was with John Legend. It was so amazing.
Is there anything you've pulled from those sessions with established stars – be it vocal techniques, artist-to-artist advice, or even superstitions – that you've since incorporated in your own career?
100%. I think every time I get into a room and work with anyone, there is always something to learn. I think it's how you progress in this industry. You take something from everything you do, and everyone around you. It takes a lot to be successful in this game. Charli was one of the first people to really teach me about songwriting, and women being there for women, and work ethic. It's just inspiring. I worked with her very young, and it really, really blew me away.
You are, without a doubt, one of the best new pop penners in the game today, but you're also such a talented solo artist in your own right. It seems like you manage to balance writing songs for others and yourself at the same time really well. What does the ideal career path in the music industry look like for you?
The ideal career path looks like…smacking it as a solo artist, and forever writing for other artists is always going to be a passion of mine. I'm getting into production, and I want to be taken really seriously as a female producer. That's something I'm working really hard on. I've just started scoring for TV programs, which is a whole other kettle of fish. I'm really getting into it. A future for me is I want a finger in every pie. I'm so in love with all genres, and understanding and learning and expanding my brain. The future for me is being taken seriously as a future producer, a writer, huge artist – I've got big dreams, big goals, and I've only just begun.
You were short-listed for the BBC's Sound Of… in 2017, which is always considered to be a prestigious list. Did that moment open any new doors for you at the time – and if so, in what way?
Massively so. Recognition from the BBC is insane. It gave me a confidence that I needed to launch my project and keep going. At the beginning, it was very tough. Starting off and having to build…you know, it's not an easy job. That recognition was nuts. I cried when I found out, I remember. It was very important and special to me.
"Dream artist collaborations" is an obvious question, but I'm actually more interested to know which dream fellow songwriter collaborations you have. Who do you think is absolutely killing it as a writer that you'd love to work with?
I'm very excited to get in with Max Martin and all his crew – Savan [Kotecha], Ilya. One day. They are the pioneers of crafting and sculpting the perfect pop song. Their formulas are unmatched. They almost bring a maths to the writing, which I've learned a lot from even writing in Sweden alone. I'm really excited to get in with those guys. That's a dream.
You've got quite a few fun, party-friendly smashes like "You Don't Know Me" and "Tequila." How are you handling a largely party-less 2020? Is lockdown playing into the music, or are you opting more for escapism?
I'm working, I'm writing…for the first six months, no. [Laughs] The first six months was bleak, I think for everyone. I've been doing a lot of puzzles and trying to spend not much time on my phone. Social media usage has increased with everyone. We're so used to implementing it into the forefront of every day. But when there's nothing else, when you're not moving around, it's so consuming and so toxic and bad for you. I'm trying to do less socials. I'm getting into my bag now, found my feet again, writing. I've been writing with Mabel, Anne-Marie, loads of amazing females in the UK over this time, and actually being there for my girls in this industry. We're all really feeling it. It's been really beautiful for us to encourage each other, discussing stuff, and taking care of each other and each other's mental wellbeing.
Let's pretend we're getting things back on the road with touring sometime soon. What does a RAYE tour look like in the future? What do you want to wear and do on stage? I can't wait to see you live.
I'm obsessed with the '50s and the '60s. During this lockdown, I've been massively digging into aesthetic. I think it's going to be nuts. I have some ideas, I don't want to give it away. I have some incredible ideas. I'm really about to take everything visual up to the next level. I'm working really hard on it. I believe the visual story is so important. I've never really known as an artist how I want to demonstrate that until last year and this year, especially. Going forward, I feel like a woman now. I'm really excited to show you – I think lots of silhouettes, cinched hips, waists, very '60s glamorous woman – it's going to be fabulous.
It's hard to predict the future, especially in these times. What are you hoping to see for yourself in 2021?
I would love to…[singing] duh, duh, duh, duh, duh Album! Woo! An album. My first debut album. That is what I'm working on, and a headlining tour would be phenomenal, if we're allowed. Festival season, go off, if we're allowed. If not, music will be coming regardless. Very excited.
Euphoric Sad Songs is out now.
This EP is featured on the MuuTunes Spotify playlist.
You can also subscribe to MuuTunes on Apple Music.
Photo credit: Faith Aylward