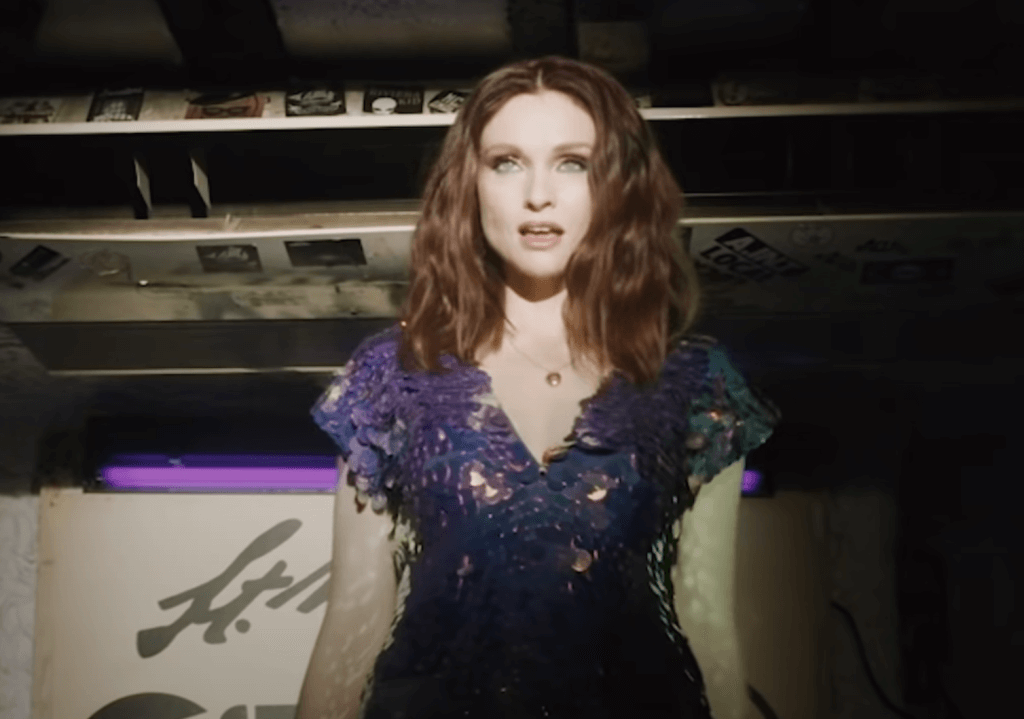 "You have always kept me hypnotized…"
Two years ago, Sophie Ellis-Bextor unexpectedly became one of the early heroes of the pandemic.
By the end of those particularly grim first weeks in March of 2020, Mademoiselle EB grabbed a microphone, threw on her sequined best, and turned her home into must-watch TV with her her adorably chaotic weekly "Kitchen Disco" Instagram Live series, in which she donce-d around with her husband and young children while performing her myriad hits and classic covers, including "Take Me Home," "Groovejet (If This Ain't Love)" and, of course, "Murder on the Dancefloor."
The show instantly struck a chord on social media, providing pop lovers with a brief burst of family-friendly bliss at a time when we most of us were stuck at home cycling between fear, frustration and existential crises aplenty.
The "Kitchen Disco" brand caught on, and a few months later, Sophie recorded a cover of Alcazar's brilliant 2000 smash "Crying at the Discoteque," equipped with an equally brilliant, funny-yet-sad music video that found her joyously performing in entirely empty venues, alone – a uniquely of-the-era concept.
Then came a greatest hits collection at the tail-end of 2020, called Songs From the Kitchen Disco. And then, when it became safe(r) to gather again, came the Live Kitchen Disco Tour, where she brought the home experience on the road. (There's a podcast and book(s) in the mix, too. She's one busy Sophie Ellis-Businesswoman.)
By early 2022, Sophie was introducing a new track into the set list at her live shows, called "Hypnotized."
"The best way I can describe it is it's a little bit like ABBA on crack," she announced to the crowd in Guildford in mid-March. She was not wrong. And now, it's finally out.
The collaboration, released on Wednesday (July 6), was crafted alongside Glaswegian producer and DJ Wuh Oh and Shygirl collaborator Sega Bodega.
And it's love at first "hypnotiz-ed," frankly.
"It's my favourite kind of wonky pop song. Fast paced, melodic and has a kind of 'what did I just listen to?!' brilliance to it, too. There's also a dance routine if you fancy. It's a pleasure to collaborate with the very talented Wuh Oh and the song has been going down so amazingly when we do it live, I can't wait to release it," Sophie says of the song.
It's the epitome of "wonky pop" indeed, full of catchy melodies and a vaguely demented edge, like ABBA Gold and Infernal's "From Paris to Berlin" stuck in a washing machine on the fritz.
The dance floor diva delivers the goods above a synth-pop pulse, complete with her signature deadpan delivery and iconic enunciation: "You always knew how to creep into my head / Always finding ways to sleep in my bed / You have always kept me hypnoti-zed," she declares. Hypnoti-zed.
"As someone who has been writing songs for most of my life in search of pop perfection, 'Hypnotized' made me feel closer than ever to this goal when it suddenly came to me late one night at the dusty old piano in my Glasgow tenement flat," Wuh Oh adds of the song's origins.
"Melodically it is so pure and it all came so effortlessly, as if the song had already existed in the ether just waiting for someone to pluck it from the air! When Sophie sang it with her iconic voice, the track was suddenly taken to a whole new level: distinctive yet timeless."
"Hypnoti-zed."
It's a great song, and a reminder of the greatness of the Ellis-Bextor oeuvre in general, especially ever since her 2001 solo debut with Read My Lips. (Make a Scene alone eclipses entire discographies of lesser acts, let's be real.)
And the fact that she beat out a newly solo Victoria Beckham to No. 1 with "Groovejet (If This Ain't Love)" back in 2000? The fiercest of chart battles. "Posh vs. Posher" in the press!
It's SEB's world…err, kitchen disco. We're just donce-ing in it.