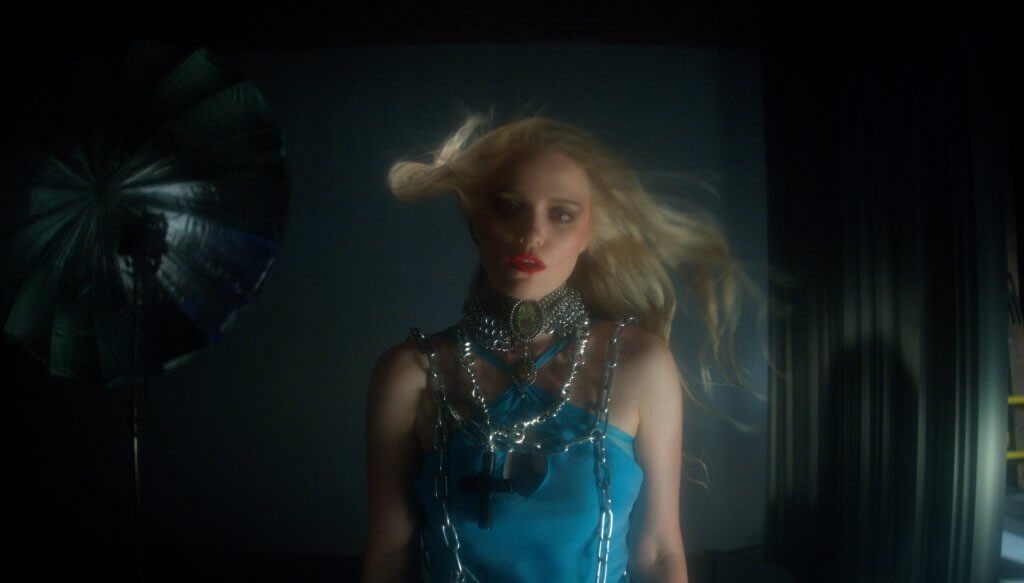 "Honey, you can see that it's a rotten world…"
No, it's not just a sad dream: 108 years and 99 tears later, Sky Ferreira is back.
Nearly a decade after her 2013 debut studio album Night Time, My Time, and three years after her last single (2019's "Downhill Lullaby"), the singer-songwriter, forever It Girl™, and accidental subject of an Elon Musk Met Gala disinformation campaign returned, more hardened by this rotten world than ever, on Wednesday (May 25) with "Don't Forget." (Despite her anxiety's best post-and-delete efforts, that is.)
The thing about Sky is that she's got "It." It's as simple, and as rare, as that: star power, model looks, a captivatingly, quiveringly earnest voice, pop culture savvy, and that undeniable air of cool. It's what led to the early sessions in Sweden with Britney's hottest collaborators, the Rankin-directed music videos, the features in Interview Magazine, the Mario Testino-shot homages to Madonna (and, later, the invitation to partake in her biopic boot camp), the hang-out sessions with Debbie Harry – the list goes on. She's a little bit mysterious and untouchable (reference) – and, occasionally, prone to mishaps. Most pop girls these days aren't that kind of girl. Sky is that girl.
And while Sky Ferreira might only come around about as frequently as Halley's comet, when she does, it's always worth the wait – from "One" to "You're Not the One" to "Everything Is Embarrassing," one of the greatest, most generation-defining songs of the '10s.
For the previously uninitiated – those who've not yet subscribed to the Ferreiraverse – it's a slightly frustrating task to tell the full tale of Sky, because much of what we first fell in love with in those early teenage dream days – the Bloodshy & Avant demos on MySpace, Uffie cameos, partying with Katy Perry, "17" and the As If! EP – are relics of an earlier age of the Internet, with the music largely unavailable on streaming, although they still linger in the form of low quality YouTube and SoundCloud rips.
Then, of course, there are the delays: from the get-go, Sky's music became synonymous with pushbacks, whether due to label conflicts and/or creative differences, making Christina Aguilera's years-long red carpet album promises seem reasonable in comparison.
It's why the title of her second studio album, Masochism, grows only more fitting with each passing year for the ever-eager fans waiting for the follow-up – and why a comeback title like "Don't Forget" feels all too appropriate.
But we never forgot, regardless of how many years it's been.
From the very first moments of the dramatic opening, "Don't Forget" feels as appropriately epic as a long awaited reintroduction to the music scene should.
It's the natural sonic continuation of where we left off with her – the noisy guitars and '80s, sunglasses-at-night synth sheen of Night Time, My Time – with traces (reference) of what's been teased live and collaborations over the years, including the similarly soundtrack-ready "Guardian," and "The Freezing" with longtime collaborator Jorge Elbrecht.
The two also did 2019's ghostly "Downhill Lullaby" alongside songwriter Tamyrn Brown, and they've all come together on this one as well, produced at Studio B in Hollywood. (Jorge also did a bunch of the fantastic Aly & AJ album last year.)
The track was written at least a few years ago, as it was hinted at on her Soundcloud in 2018 and referenced in a Pitchfork profile from 2019: "Another forthcoming track, tentatively titled 'Don't Forget,' is a new wave time warp, a lovely bit of nostalgia therapy for people who were never there—even if it is, according to Sky, 'about burning down houses.'"
Regardless, and perhaps speaking to Sky's timeless tunes, the disillusioned, worldweary anthem pairs all too well with the current state of things, as everything goes up in flames: "Little troubled girl, you see / Burning down your house of certainty / Tears of fire in the sky, makes me feel good to be alive." It feels a little Firestarter…and a little Carrie.
Sky's burning it all down, and she doesn't want or need your help: "Big dreams, sick dream / Used to think God is inside us all / Keep it in mind / Nobody here's a friend of mine," she snarls. "Aren't you prepared? It's been sad for centuries."
Sky's done anthemic angst so well for years now, and "Don't Forget" is no exception.
It's one hell of a fittingly fiery reintroduction and, God willing, just the beginning of the Masochism era – for real this time. Everything is not so embarrassing, after all. (Just don't forget about us for years again, Sky. Please.)