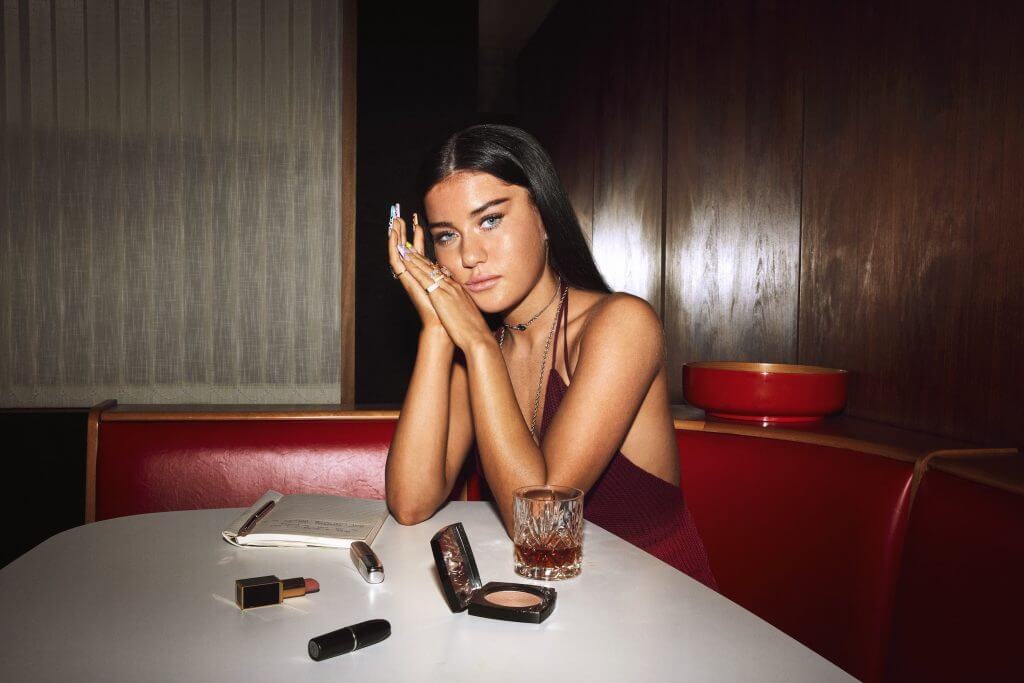 Meet Claudia Valentina, the first new artist to get excited about in 2021.
Granted, I'm just a few weeks late to the One to Watch™ party: the 20-year-old singer-songwriter actually dropped her self-titled 4-track debut EP back in November. In any case, it's time to play catch-up.
The story behind her single "4:15" should pique any pop nerd's interest: it was originally on hold for Selena Gomez until ultimately going unused, according to an interview with Claudia by Friend Of The Blog Michael Cragg for The Face.
Claudia – who was born in Guernsey, a small island off the coast of Normandy – moved to London at the age of 10 to star in a production of Billy Elliot on the West End. By the age of 12, she moved to LA with her mother to audition around town and pursue her music dreams. (As a wise woman once said: everybody comes to Hollywood…)
A year later, she decided to focus solely on the music and booked a session with Max Martin-adjacent "Dangerous Woman" co-penner Johan Carlsson, who told her to keep doing more writing sessions and warned her not to sign with any labels or managers until she was 18.
"He told me that I needed life experience at first, and I was like 'You don't know what you're talking about!', but he was so right. So I forgot about the 'trying to make it' thing, and just got super into making music instead," she says.
And so, Claudia followed his advice, flying in between LA and London to continue writing songs while finishing school. She did sign eventually to Republic Records, and her writing started making its way up – she supplied the hook of Wiley's smash "My One," for instance. But once her track "4:15" found itself in the Stars Dance chanteuse's camp, everything changed.
"[Gomez] had the song for a long time and we were all waiting for her to release it, and I was fine with that, but then she didn't end up using it. So I listened to my version again and realized it could work for me, actually," she explained to The Face.
It's a good thing Selena passed, because Claudia now has a fantastic ode to the fuckboy on her own hands, and in her own words, as a result.
"'4:15' is really where it all began for me. As a songwriter this song opened so many doors to different opportunities and really changed my life. It was a defining moment in my career and really let people know who I was as an artist. It's a bit of a fucked up love story about that one guy that you just can't shake. No matter how many times you tell yourself not to go there, when that knock on your door comes, you can't help yourself. It's an anthem for anyone familiar with those late night 'u up' texts. It's such an important song to me and I'm beyond excited to share it with the world," she explains of the song.
Co-penned with Jessica Agombar and David Stewart, the same team who helped to helm the massive BTS smash, "Dynamite," the moody ode to begrudgingly giving in to a late night rendezvous again and again gradually reveals itself to be increasingly addictive with each passing hook, supplying a dark, swirling Swedish synth-pop energy similar to Ari's "Love Me Harder." It's an incredible track.
"Every time I say no, no, no / There's a knock on my door every quarter past four / And every time I say go, go, go / And every time I say go, go, go / You be at my front door every quarter past four," Claudia croons. (I choose to believe the "quarter past four" mention is an homage to Girls Aloud's "Watch Me Go.")
The music video is a stunner as well, directed by Barbara Farre from production company CANADA, the troupe responsible for the visuals for Dua Lipa's "Physical" and Rosalia's "Malamente," among other standouts. There's a strong "Malamente" vibe too with all the moto action, plus a bit of Mabel and Dua "New Rules" synchronized choreography. Above all, it's an important lesson: if he's already got your name permanently inked, there's probably going to be trouble in paradise soon enough.
Elsewhere on the EP, Claudia serves up an even more supremely cocky attitude, including the tripping "Obsessed," which kicks off with one hell of a line: "If I talk to God, she gon' listen." But it's not all about the overwhelming confidence: she supplies a far more vulnerable side in her lyricism on cuts like the soulful and blunt "If I'm Being Honest" and the tough-but-tortured piano-led "Seven," co-written with James Newman, which provides a hint of Adele in its simple, but powerful emotion.
"Now I'm feeling stupid / Don't know why I do this, fucking me around," she laments.
"I tend to write songs about being more of a bad bitch in the driver's seat, but it's important to be honest and realize that everyone gets let down a few times," she reveals. (A bad bitch, indeed: one glance through social media, and you'll see she's quite the Instagram baddie.)
It's all really, really promising stuff so far from a singer that's truly only just getting started. Let's see where she go, go goes next.
This song is featured on the MuuTunes Spotify playlist. Subscribe!
You can also subscribe to MuuTunes on Apple Music.