"You'll never be as good a dancer as Dua Lipa, but as she says herself, that's no excuse not to try."
Early into the Future Nostalgia campaign, Dua made it very clear in interviews that she's well aware of all the dancing memes and mockery about her debut dance moves on social media.
And now, to accompany her British Vogue cover story, she's showing you how to dance like Dua, too.
In a short for the fashion mag, Dua plays the role of an overconfident dance instructor – serving heavy shades of "I'm your freestyle dance teacher" – and deadpan advice aplenty as she cheekily pokes fun at the criticism of her dancing and stage presence.
"For as long as I can remember, people have said to me: Dua, you were born to move. Dua, you're such a natural performer. Dua, we'll never be able to dance as beautifully as you. And I want to say to you today: no, you're right, you almost certainly never will. But that's no reason not to try," she explains.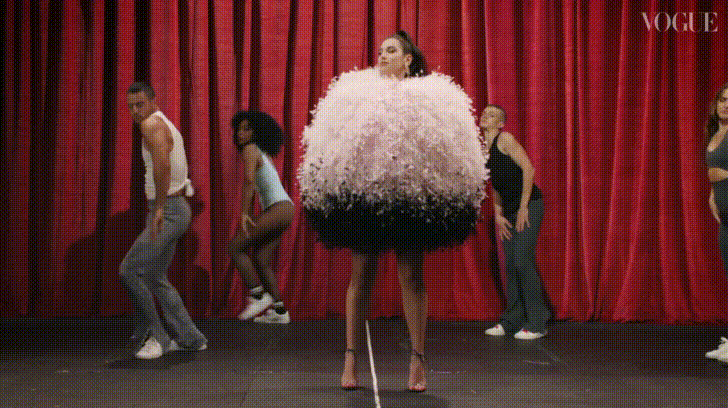 In a flurry of absurd instructions, interpretive dance moves and over-the-top high fashion ensembles, La Lipa gives us some insight into her rigorous process. There's also a deliciously cheeky Victoria Beckham-style pop star self-awareness going on here, which is just fabulous.
"Your best bet would be that you get really famous, and then people will give you a little bit more time to pick it up," she offers.
As I've maintained on Legends Only, I've only more impressed by Dua's doubling down and pushing past the early mocking on social media in order to give us the full pop star fantasy. She doesn't have to dance, but she's Duaing it anyway – along with supplying the album experience of 2020. And she's absolutely improved in just a short time in the game, frankly. Good for her for having some sarcastic fun with the feedback.
And that is how you handle Stan Twitter meme-ification. Now, back to "Real Groove" with Kylie.
Future Nostalgia is available now on vinyl.
Subscribe to the MuuTunes Spotify playlist.
You can also subscribe to MuuTunes on Apple Music.