Kelly Clarkson is having a very different kind of Christmas this year. Maybe you are too.
As nice as it'd be if everyone was feeling lovey-dovey this coming holiday season, the sober(REFERENCE)ing truth is that some of us just don't get that warm and fuzzy feeling at the thought of snuggling up close and roasting chestnuts on an open fire with certain others, be it former friends and/or estranged family members. Or maybe ex-husbands. Who knows?
But that certainly doesn't mean the holidays have to suck.
Kelly, Forever The One, True Idol gifted us with an incredible Christmas album nearly a decade (!) ago called Wrapped In Red, including modern classic "Underneath the Tree."
This year, ahead of the release of her highly anticipated follow-up to her 2017 studio album The Meaning of Life, she's back with a second holiday album called When Christmas Comes Around…, out on October 15 – and she's not exactly tip-toeing around the drama happening in her personal life while diving headfirst into the holidays.
And to start things off, she's giving a little kick to Santa's sack in the form of "Christmas Isn't Canceled (Just You)."
The lively and festive sleigh ride is full of blaring horns, big ol' heaven-sent vocals and snow-filled jingle bells – and it just happens to be as eviscerating and empowering as much of her discography.
"You ruin all my favorite things / But you won't take Christmas from me," she declares. A little messy divorce isn't going to put a damper on decking the goddamn halls, thank you very much.
"I'll be hanging every light I find in this house / Playin' Christmas music so loud / This year Christmas won't be quite so blue / And I'm gonna shout too much and dance in the snow / Drink just enough to let us go / Christmas isn't canceled…just you."
There are a bunch of self-references to her own songs and covers from her first Christmas album scattered within the lyrics as well, including "Winter Dreams," her ode to her now ex.
"That's where we met / Like a winter dream and I bet / I wasn't the first, and I won't be the last / Underneath that mistletoe, you've been so bad." Oof. A shady little sleigh ride, indeed.
It's cheery. It's pissed. It's defiant. It's all very Kelly.
"My purpose for choosing this lyric for being the title of this project was to bring forth a sense of reality to the fact that we are probably all in very different places emotionally 'when Christmas comes around.' Some of us consumed with a new love, some of us reminded of loss, some filled with optimism for the coming new year, others elated for some much deserved time away from the chaos our work lives can sometimes bring us," she explains of the record.
"Wherever you are, and whatever you may be experiencing, I wanted everyone to be able to connect to a message on this album. Each year you may even have a new favorite depending on where you are in your life, but while change can be unpredictable there is no better time of year, in my opinion, to breathe hope into one's life and let possibility wander."
Truthfully, it's a refreshing concept: a more realistic Christmas album that doesn't try to entirely jolly out the noise. And if anyone were to carry out an emotional roller coaster on ice, it's our beloved "Behind These Hazel Eyes" powerhouse.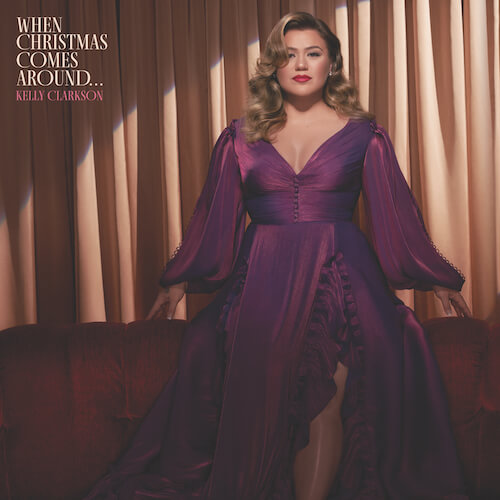 The 15-track collection includes both originals and classics, including "Santa, Can't You Hear Me," a collaboration with her Voice co-coach and noted Clarkson stan Ariana Grande (a lyrical nod to Britney's own Christmas classic and/or cover, perhaps?), Chris Stapleton ("Glow"), who she's covered before, and last year's "Under the Mistletoe" with Brett Eldrege.
While the set still looks largely joyous, there are other some eyebrow raises: besides "Canceled," there's a track called "Merry Christmas (To The One I Used To Know)." Oh, my.
Her My December (It Gets Colder) is coming. Well, maybe.
When Christmas Comes Around… track listing
1. Merry Christmas Baby
2. It's Beginning To Look A Lot Like Christmas
3. Christmas Isn't Canceled (Just You)
4. Merry Christmas (To The One I Used To Know)
5. Rockin' Around The Christmas Tree
6. Glow (feat. Chris Stapleton)
7. Santa Baby
8. Santa, Can't You Hear Me (feat. Ariana Grande)
9. Last Christmas
10. Jingle Bell Rock
11. Blessed
12. Christmas Come Early
13. Under The Mistletoe (feat. Brett Eldredge)
14. All I Want For Christmas Is You
15. Christmas Eve