Kylie™ made the dreary days of lockdown a whole lot brighter last year with her 15th studio album Disco, a loving ode to the genre, and a most necessary nostalgic escape in the bleakest of days.
One year later, things aren't…worse necessarily, but we're not back to normal yet, either. Whatever that means.
And so, to supply us with another encouraging dance-pop pick-me-up, the Anti-Depressant of Pop is back at it in the form of Disco: Guest List Edition.
The repackage, arriving on November 12, comes with a whole array of remixes and new songs with guest stars, including "Kiss of Life" with Jessie Ware (yes, it's finally happening), Dua Lipa (with her "Real Groove" remix), and the legendary "I Will Survive" crooner Gloria Gaynor on "Can't Stop Writing Songs About You."
And then, there's "A Second to Midnight," starring Years & Years' Olly Alexander, out Wednesday (October 6).
Not satisfied with taking us to another galaxy on her remix of Years & Years' "Starstruck" earlier in the year, Kylie evidently had even more in mind for Olly, who is officially living out the dream of Minogue stans worldwide.
"I had so much fun with Olly – I hope you love it!" Kylie says of their fantastic latest collaboration, crafted alongside Disco collaborators Duck Blackwell and the iconic Biff Stannard, as well as Martin Sjølie of Rachel Stevens' "Funky Dory" and "Dumb Dumb" fame (!).
The shimmering and sleek, instantly great track fits in perfectly with the rest of the euphoric, nostalgic stuff of Disco, full of strings, catchy melodies and distant memories of a dance floor ("Remember back in '99 / We danced like maniacs all night") while chasing the clock, which just keeps ticking the tock.
The Fever queen and the Years & Years star take turns on the verses, making a complimentary musical pair once again, especially as they trade off on the bridge, with Kylie's signature breathy come-ons and Olly's impassioned yelps: "So love, run / Freedom / Go on / Get some (Oh, get some) / Dig (Dig!), deep (deep!) / Let (Let!), go (go!) / Oh (Oh!), oh (oh!)"
And then, there's the music video, starring Kylie and Olly both supplying the full "Shocked"/"What Do I Have to Do?" styling fantasy, directed by longtime collaborator Sophie Muller, filmed at London's historic Collins' Music Hall.
Together, the two shimmy, thrust and twirl 'round as they croon their joyful tune, as the massive space eventually fills out, sort of Savage x Fenty Vol. 3 show style, with dozens of enthusiastic dancers donning Kylie and Olly face masks.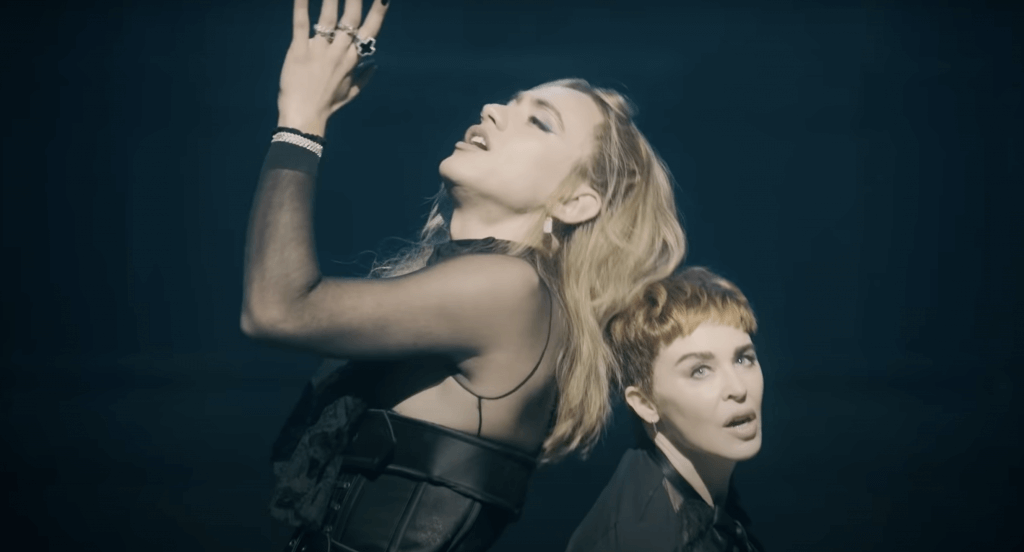 And no, your eyes do not deceive you: it's a split-second drag duo fantasy throughout. Condragulations: you're both the winners of this week's challenge, baby!
Of course, the Marvelous Ms. Minogue certainly didn't need to revisit and re-release her 2020 studio album for us a year later. But as always, Kylie remains one of the most consistently generous and satisfying pop stars of our generation, constantly giving us more, more, more – and we're so lucky, lucky, lucky.