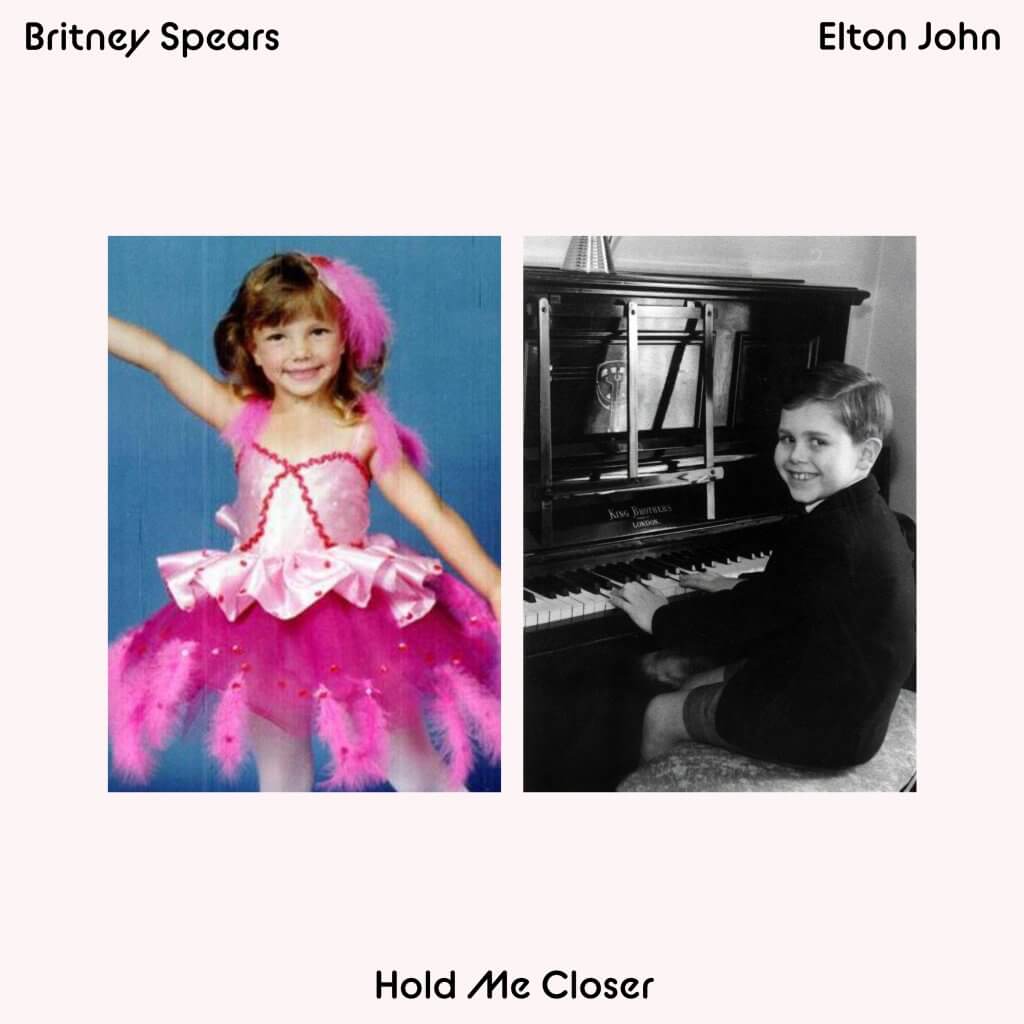 "Hold me closer, tiny dancer…"
It's been a while.
It's been quite the past couple of years, actually. (Understatement of the century.)
The last time we heard from Britney – musically speaking, anyway – was six years ago, in the form of Glory and its two singles: "Make Me…" with G-Eazy, and "Slumber Party" with Tinashe.
Technically, we got new (old) music two years ago with the album's re-release, as part of the fan-led #JusticeForGlory campaign that sent the album to the top of the iTunes Charts, resulting in "Mood Ring (By Demand)" right in time for Pride, followed by a repackage later in the year, including "Swimming in the Stars" and "Matches" with the Backstreet Boys.
A few more years – and the termination of what she's since described as an exploitative, abusive, legally-imposed structure controlled by a team of leeches who will soon face their day of reckoning in court – later, she's back with a new song: "Hold Me Closer," a collaboration with Sir Elton John.
This isn't just about a single release at all, of course. It's a lot more significant.
"Hold Me Closer" marks Britney's first release post-conservatorship – her own decision, her own doing, on her own terms.
"My first song in 6 years 🎶 !!!! It's pretty damn cool that I'm singing with one of the most classic men of our time…@eltonofficial 🚀!!!! I'm kinda overwhelmed…it's a big deal to me!" she wrote.
It's fitting that she's leaned on several industry legends in the past few months for support – like at her wedding, which featured an Avengers-esque array of Queens of Pop Culture, including Madonna – since so few people actually know what it's like to exist at her level of fame.
To re-enter the musical arena with Sir Elton John by her side feels like an appropriate soft landing: she's back – maybe not fully just yet, but testing the waters, with a tried-and-true icon by her side.
Forget how the song even sounds: hearing her voice again at all is an emotional experience in its own right. The significance of reclaiming of her career by even agreeing to do this feature cannot be overstated.
And, lucky for us, the song is also actually genuinely good.
"Hold Me Closer," co-produced by Andrew Watt and Cirkut, is the spiritual sibling of Sir Elton's massively successful Dua Lipa team-up "Cold Heart," which surged to the Top 10 in most territories around the globe last year, and gave him his first U.K. No. 1 hit in 16 years.
While "Cold Heart" was more of a megamix – containing elements of "Rocket Man," "Sacrifice," "Kiss the Bride" and "Where's the Shoorah?" – "Hold Me Closer" is somewhat more focused, centered mostly around the chorus of an iconic hit (1972's "Tiny Dancer"), with parts of "The One," from his 1992 album of the same name, for the verses, and some of "Don't Go Breaking My Heart."
Britney's voice sounds as pleasant and pretty as ever, maybe more joyful and bright than it has been in a long time, as she coos her way through familiar melodies and wraps her breathy voice around the dreamy piano, disco strings and starry-eyed lines: "I saw you dancin' out the ocean, running fast along the sand / A spirit born of earth and water, fire flying from your hands…"
Of course, it wouldn't be a Britney production without some "bay-beh," and ample Spearitual ad libs tossed in ("yea-ee-ah…," "ho-ooo-ohh…"). It's heartwarming to hear her signature sonic touches at play.
And that delivery is all her doing: in an interview with The Guardian, Watt explained the recording process.
"She's unbelievable at layering her voice and doubling, which is one of the hardest things to do. She really pushed herself, vocally…she's so good at knowing when she got the right take. She took complete control…she kept going: 'Nope, again, again, again,' he said, until she had an "amazing idea."
"She wanted to listen to the music a bunch of times and she started doing all her incredible ad libs that make the record so her. 'Tiny Dancer' with her voice is special enough, but then she went through and did all these amazing runs," he went on to say.
"The song meant so much to her, and you can hear it in her vocal performance. She's singing her ass off."
That's not to leave out the praise for Sir Elton – "Uncle Elton," as he affectionately offered in the article – for providing the material to make this happen, and who has managed to find a way to make his classic hits relevant once again alongside beloved pop voices. That success is by no means a given, but he's done it extraordinarily well, as his ear for pop radio freshness and taste for talent is as strong as ever.
Everything about "Hold Me Closer" feels like a warm, much-needed hug to close out the summer: even the single's artwork, featuring throwback photos of the two icons, evokes an instant nostalgia.
The end result is something instantly recognizable and immediately accessible to the general public, suggesting it could potentially be one of her biggest hits in years.
"It's hard when you're young. Britney was broken. I was broken when I got sober. I was in a terrible place. I've been through that broken feeling and it's horrible. And luckily enough, I've been sober for 32 years and it's the happiest I've ever been. Now I've got the experience to be able to advise people and help them because I don't want to see any artists in a dark place," Elton told The Guardian.
"I'm just crossing my fingers that this will restore her confidence in herself to get back into the studio, make more records, and realize that she is bloody good."
This is all truly uncharted territory: it's a transition period for Britney. Aside from that tell-all memoir, now delayed due to a paper shortage (?), it's unclear what she plans to do next: whether she wants to continue to be the pop superstar that she is, or if she plans to try something entirely new (Goopney?), or if she plans to go off the grid entirely. (She does love to delete her Instagram every other month, after all.)
There's obviously no shortage of speculation and scrutiny surrounding Britney's personal life (the mantra "leave Britney alone" remains more relevant than ever), and there's bound to be more upon her return to the music scene. The truth is that no one can tell Britney how to heal from the extremely unique trauma she's been dealt in her lifetime, what that healing looks like, or when it's the right time to work again, if at all. That's her prerogative – for real this time.
Like many of her fans – a Day 1 since '98, an ancient elder millennial – I just want her to be happy.
If making music is what she's truly into doing right now, then by all means, let's support her and stream it till the world ends, and she and the Rocket Man are swimming in the stars together, gliding sky high across the charts.
"I'm learning everyday is a clean slate to try and be a better person and do what makes me happy," she wrote hours before the song's release. "Yes, I choose happiness today. I tell myself every day to let go of the hurt bitterness. And try to forgive myself and others to what may have been hurtful."
In the face of unspeakable cruelty and betrayal, Britney remains the embodiment of resilience. That she's singing for us at all is nothing short of a miracle.
It's really good to hear your voice again, Britney. I love you.