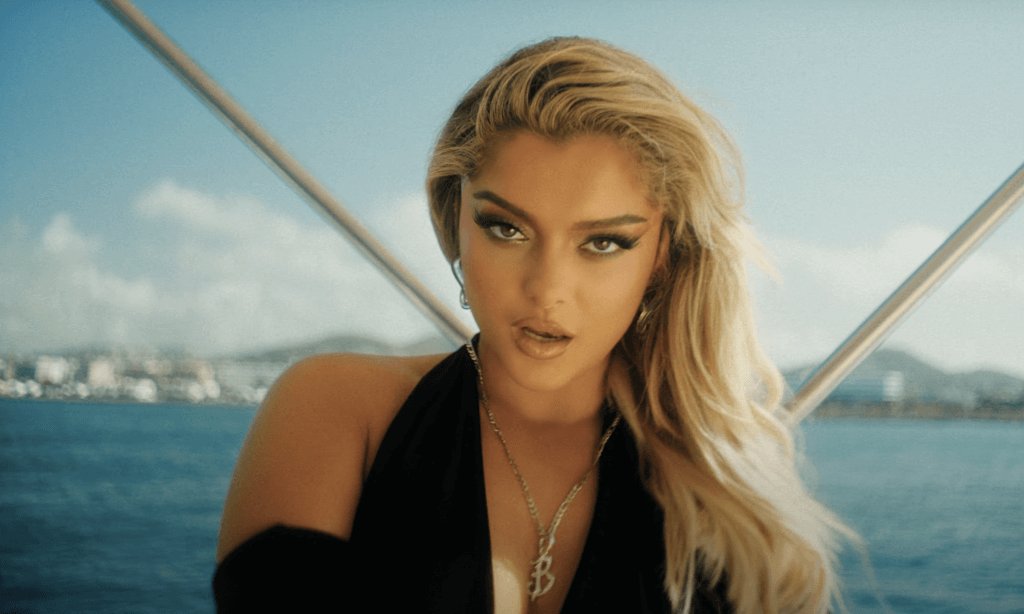 "Baby, I'mma have the best fuckin' night of my life…"
A wise woman once declared to a most undeserving crowd: "This song was No. 1 for 50 fucking weeks, I work too fucking hard for this bullshit, OK? Call me whatever the fuck you wanna call me. 'Cause I'm a girl? Yes. I'm a big bitch right now. Go ahead. You're going to sing the fucking words if you know the fucking song."
And now, you're going to sing the fucking words again, because you definitely know this fucking song.
After David Guetta debuted the track live five whole years ago (!) during an Ultra Music Festival set, our favorite Brooklyn-born bad bitch, Albanian pop goddess, famous person who is not famous, and Legends Only podcast unofficial mascot landed atop the charts with a quickness at the end of August with the newly re-recorded version of her Eiffel 65 "Blue (Da Ba Dee)"-interpolating I'm Good (Blue)."
The song is an obvious earworm, and a clear school dance/wedding/bar mitzvah smash in the making, on the level of Black Eyed Peas' "I Got a Feeling"; a mindless dance-pop party anthem about putting our hands up and dancing all night like it's 2009-2012 all over again.
It's no surprise either, given that Bebe and Guetta are regularly recognized as Employees of the Month at the Bop Factory.
Bebe also sounds legitimately great as always, especially as she hits that "I'm GOOO-oo-oOOO-oodd…" moment. More of those runs, please.
As of Tuesday (September 20), the long awaited, oft-teased accompanying music video has finally arrived…and it's one big party: Bebe on a boat, serving Dannii Minogue's "Perfection"! Bebe in a pool, using her butt as a floatation device! Bebe at Ushuaïa Ibiza, feeling her blue PVC EDM bunny fantasy!
There's not really a plot, per se: it's just relentless partying, fire performer babes, giant martini glass hair-flipping babes, festival babes – and oh look, David Guetta has abs! And Bebe Rexha looks hot, which is ultimately all that matters. (Need the "B" necklace as well.)
Aside from instantly sailing to the Top 10 in dozens of territories around the world, the smash is already a part of history, having hit No. 1 on Spotify, iTunes and Apple Music at the time of Queen Elizabeth II's death. (Thank you, @BebeOnCharts. I know Lizzie would have loved this video.)
In These Unprecedented Times™, in a bleak and uncertain world where big, dumb, fun pop is dangerously nearing extinction, "I'm Good (Blue)" dares to defy the depression. Thank God we've got you, Bebe.