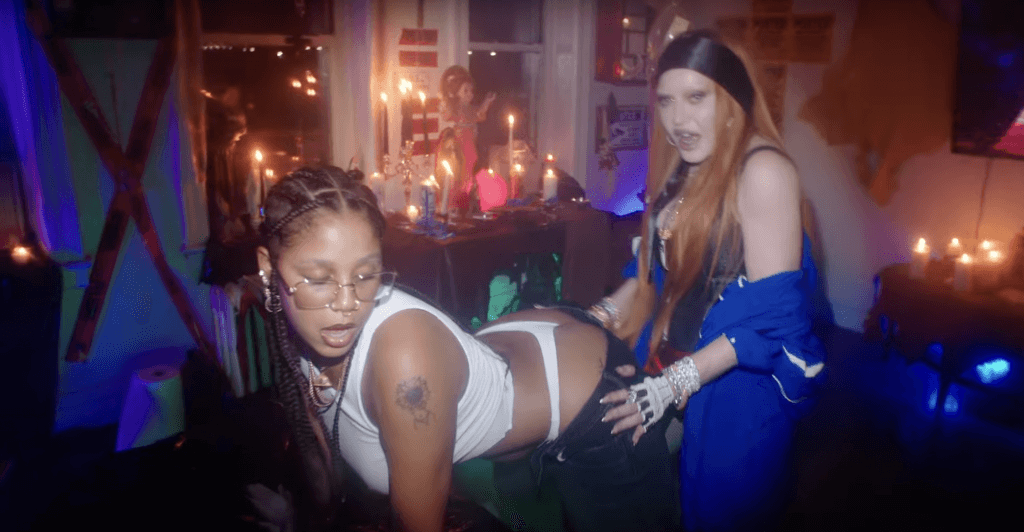 "Hung up, yo lo que 'toy en nota…"
Her name is Dita. She'll be your culo nuevo tonight.
Madonna is having a moment at the moment. She's never not had a moment in four decades to be fair, but there's absolutely something…afoot.
From the bleached brows and long orange locks, to dancing tabletop during New York Fashion Week, posing alongside La Familia Ciccone and locking lips here, there, and literally everywhere with her latest lover (?), 26-year-old Dominican rapper Tokischa, it's never felt more early '90s Madge since, well, the early '90s.
With the 30th anniversary of Erotica just around the corner, she's giving Dita, "Deeper and Deeper," Sex book, "Justify My Love," Homodonna – all of it.
"Hung Up On Tokischa," out on Friday (September 16), along with the accompanying video on Tuesday (September 20), is the latest Re-Invention (REFERENCE) of a classic, following her seemingly never-ending onslaught of "Frozen" remixes, and the rather unfortunate, late-to-the-party "MATERIAL GWORRLLLLLLLL!" with Saucy Santana.
We've seen it coming for a while now: she premiered the "Hung Up" makeover live already with Tokischa during her chaotic Finally Enough Love Pride performance at Terminal 5 in New York City back in June, later hitting the streets in Washington Heights and causing a commotion (and police complaints) while partying into the early morning.
Unlike the "Material Girl" makeover, "Hung Up On Tokischa" – lazily titled as it is (early rumors suggested it'd be called "Hung Over," better!) – is actually a really fun, good time. It's a fresh interpretation, trading disco for dembow, providing the enduring anthem with a new flavor and proving that "Hung Up" is pure excellence in any genre and language.
Her Madgesty's evidently still taking her Spanish Lesson(s): "Tokischa, ¿que lo qué? Yo quiero un culo nuevo," she declares. "Tokischa, what's up? I want a new ass," basically which, well, some diehards might argue that's the last thing she needs…especially when it comes to her center of gravity. Anyway!
The two playfully trade off on verses, ending in a lusty "Justify My Love"-style outro: "I'm so high, I think I love you / Mmm, ah, vamo' a singar / Te amo mamasita, I'm so high…"
The accompanying music video is part NYC-based found footage horror movie, part Reverse Warholian Sex book expedition, as she lays it on thick, power vers-ing the fuck out of Tokischa.
The two trade tongues every which way, in every orifice, partying on the pavement, terrorizing convenience stores, and dry-humping each other on a candle-lit altar. Right in front of the Virgin Mary!
It's unruly debauchery in diamonds and grills, as brilliantly communicated by the ending credit: "Underdirected by Sasha Kasiuha." (Sasha's been working on visuals for M since Madame X.)
It goes without saying that the Queen of Pop™'s going to do whatever it is she wants to do – and don't ever tell her to stop! This is one particularly chaotic, not-so-Easy Ride at the moment.
Hold tight, and assume the position.