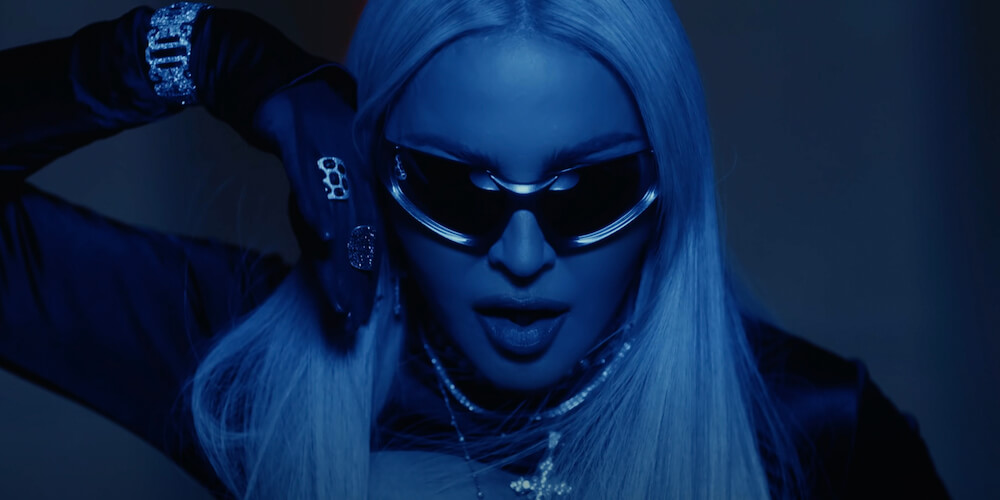 Look, you can't blame her for being a little behind schedule.
Madonna, Queen of Pop™, is currently hard at work on a biopic about the life of Madonna, written by Madonna, directed by Madonna, and executive produced by Madonna.
It's been in the works for years at this point, and some script co-writers have come and gone along the way, as the "I'm Going Bananas" chanteuse continues carving out the full story of how she Lived to Tell. (Or, at least, up to the Blonde Ambition Tour.)
She's also making headlines – isn't she always? – this time because of the audition process for the as-of-yet untitled film, as she whittles down a sizable list of hopefuls, including, apparently, like the entire cast of Euphoria, Bebe Rexha (!) and Sky Ferreira (!!!), among others.
The women are reportedly being put through grueling 11-hour-a-day, all-singing and dancing rehearsals with choreographers and Madonna herself to find the right actress to play Her Madgesty. And, if the CW were smart, the entire process would have been greenlit as Madonna Presents: The Search for the Next Material Girl.
But, fear not: Madame X is aware of the Gen Z hype around her Ray of Light masterpiece, "Frozen." (Granted, did that hype begin nearly one year ago, and already come and go? Well, yes, but…anyway.)
Never one to shy away from any form of attention from the general public, the Hard Candy empress enlisted 26-year-old Nigerian singer Fireboy DML to feature on a not-quite-3-minute version of the Sickick remix that swept throughout TikTok towards the end of 2021. The remix itself is fine, if mostly a platform for Fireboy DML. He sounds pretty great.
As we know, M-Dolla is physically incapable of putting down her phone hanging 'round her neck. (Lourdes has tried, we've seen it.) She's been documenting her days, hour by hour, so we pretty much already saw all the looks, poses and angles of the accompanying music video, which arrived on Thursday (March 10). (My thesis, "Filters, Social Media & The Demise of the Modern Pop Star's Mystique" is still in the works.)
It's really more of an interlude visual if anything, and will look great on the big screens during the upcoming NFTMDNA Metaversedonna World Tour. She looks cool and remains the boss, of course – even if her marketing and/or general music strategy at the moment is frustratingly unfocused.
It does sort of beg the question: "Why bother?" But then…bitch, it's Madonna. We should know by now not to expect an Easy Ride.