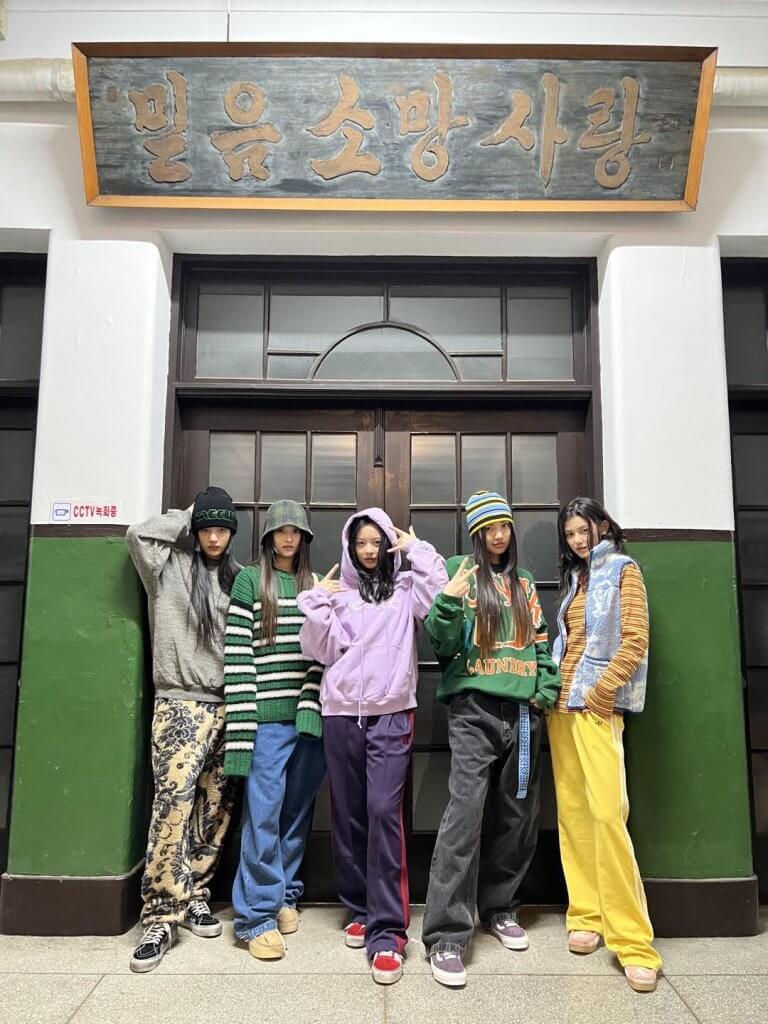 "I know, I know…I'm going crazy, right?"
The kids are alright. Well, kind of.
An introduction to NewJeans on MuuMuse is long overdue: the Gen Z girl group – they're all between 14 to 18 years old…babies! – is made up of five talented members: Minji, Hanni, Danielle, Haerin and Hyein.
The band name is very silly, yes, but also kind of an incredible double entendre, meant to boldly assert themselves as the new standard (you know, like jeans!), while also literally sounding like "new genes." See what they did there? They're also in good hands, agency-wise: the group is represented by ADOR, a subsidiary of Hybe, otherwise known as BTS's mighty Big Hit Entertainment.
NewJeans debuted with their thoroughly addictive "Attention" last August, which went on to establish itself as one of 2022's standout K-pop singles, easily.
They've only got about a half dozen songs to their name to date thus far, but it's a quality over quantity situation – "Hype Boy" and "Cookie," especially, go off.
Even with their limited output, NewJeans have already established themselves as one of the most compelling, coolest rookie acts on the K-pop scene today, alongside exciting new troupes like IVE and LE SSERAFIM.
After dropping their alluring pre-release track "Ditto" at the very end of 2022, the girls officially kicked off 2023 with their first single album – which is another way of saying "a single with a B-side or two and/or a double A-side" in K-pop world – on Monday (January 2). New Year, NewJeans, baby.
"OMG" finds the girls head-over-heels, obsessing over a mystery man: "He's the one that's living in my system, baby." Although by the end of watching the accompanying music video, you might be wondering if "he" even…exists…at all. ("Can this be real?" Good question!)
The bouncy R&B/hip-pop bop, infused with elements of UK garage and trap, sees the girls positively and publicly swooning across a beat crafted by "Cookie" producer Jinsu Park: "They keep on asking me, 'Who is he?'" It's a smooth groove that feels like a natural addition to their growing discography (with a co-write from the group's Hanni), but it's the visual that really ought to have people in a panic.
Set in a psych ward (!), the girls deliver their best Girl, Interrupted impressions, going around a table telling their personal stories in what is one of the most provocative, mind-bending music videos to come out of K-pop world in a while.
You thought you were spending too much time on your phone? Hey Siri: are you secretly a member of NewJeans?
The girls deliver an otherwise "normal" K-pop song and dance routine while simultaneously experiencing psychotic breaks and hallucinations aplenty. They're cracking up at fuzzy TV screens, feeling their fairy tale princess fantasy, and imagining doodle drawing monsters in their midst. Or are they?
The boundaries between reality and fantasy increasingly blur, and all is not as it seems. We eventually learn they're playing themselves, NewJeans…and they're becoming aware they're filming a music video. Or, at least one member believes this to be true.
"We're shooting a music video!" Danielle insists, breaking the fourth wall, as she points out the camera crew and confronts the director.
"Guys, you really don't remember? Come on! We're NewJeans!" she further pleads to the other members, as a meta montage of all of their real-life moments as NewJeans over the past year flashes across the screen before they're sent back to their wards.
There's a conversation to be had here about getting lost in pop star life and starting to lose one's own true sense of identity – Lady Gaga's "911" music video also comes to mind.
It's a bold, thought-provoking concept that's both playfully absurd – nothing's real, life is an illusion! – and bleak at the same time, given the way that mental health is still so incredibly misunderstood (and/or overlooked), including that of idols, and the uniquely strange experience of fame.
Even more boldly, the group seemingly takes on stan culture (gulp!) and the reaction to the music video in advance: there's a post-credits scene that features a netizen at a keyboard typing on social media: "Am I the only one uncomfortable with this music video's material? Just show their faces and dance."
"All right, time's up," Minji kindly offers. Basically, it's the "go ahead and log off" meme. Telling the chronically online to touch grass? As the music video itself predicts, the reaction online to scene is already, well…mixed.
NOT THEM IMPLYING ONLINE NETIZENS BELONG IN THE MENTAL HOSPITAL AT THE END OF THE MV#NewJeans #NewJeans_OMG pic.twitter.com/py0JduTlnE

— newjeans blog🐰 (@newjeansblog) January 2, 2023
One thing's for sure: the future of K-Pop feels especially thrilling with groups like NewJeans at the helm.
OMG is available now to pre-order in various physical formats.
Check out the MuuTunes Spotify playlist. You can also subscribe on Apple Music.
Photo credit: ADOR