Lady Gaga – our Stefani – has a vision.
Many, in fact.
While the Chromatica era hasn't been quite as fully fleshed out as she, or her manager Bobby Campbell, originally envisioned due to the pandemic, the artist formerly known as XOXO, Joanne returned on Friday (September 18) with a bold new vision at last – sorry, short fïlm – for "Chromatica II"-into-"911," which has gone on to become perhaps the album's most meme-d musical moment.
The music video, directed by Tarsem (The Cell, The Fall) and produced by the Artists Company, finds our "Heavy Metal Lover" heroine inexplicably crash-landed in a desert, with a broken bike and pomegranates strewn at her side.
Or so she thinks…but more on that later.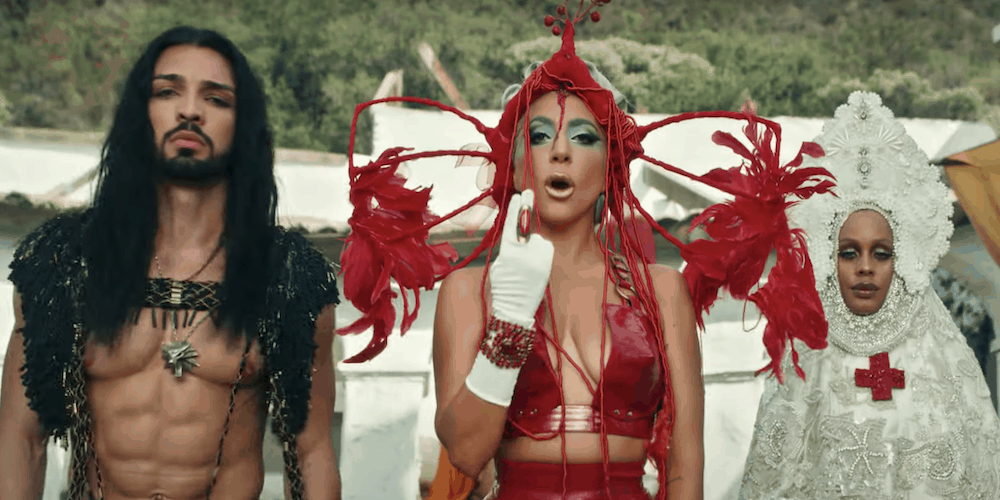 Everything that plays out for the next few minutes seems Gaga-ish enough – the nonstop barrage of over-the-top fashion choices, the bizarre choreography, the vaguely religious "Alejandro" and "Judas" vibes – but there's just something ever-so-slightly off: a man repeatedly bounces his head on top of a pillow, a woman cradles a wrapped body with bejeweled tears, a mirror annoyingly shines a reflection of light at her face, a hot muscle man closely tends to her.
As the song draws closer to its conclusion, it becomes frustratingly clear that none of this is going to be resolved – at least not with any sort of clear meaning. An avant garde moment from Mother Monster? Fine, sure, okay.
And then, it suddenly hits – or, rather, she does.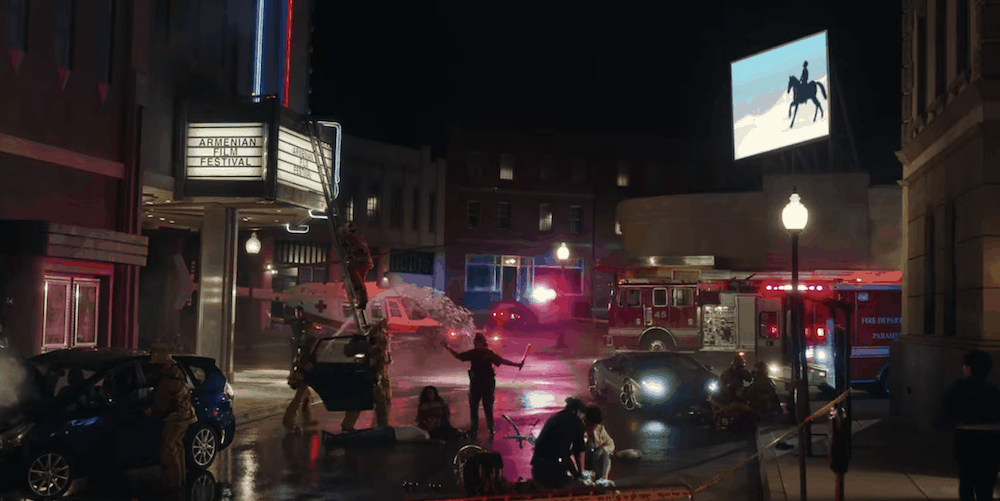 The scene abruptly transitions to present day: we're on a "Marry the Night"-like street, outside a movie theater. Gaga's getting loaded into an ambulance, bruised and bloodied, and that handsome shirtless stranger, now an EMT, is using a defibrillator to zap her back into consciousness.
"I didn't have my pills!" she screams out in horror, dazed and confused.
Suddenly, everything clicks: that wasn't just Gaga's imagination gone wild. It was a hallucination of everything happening right now in the chaos after an accident: the mirror's reflection on her face is the paramedic's flashlight. The man bouncing his head on the pillow is one of the victims, still in shock up against the wheel of a car. A woman hysterically cries as she holds an unconscious man laying in the street.
The surrounding signs – for an Armenian Film Festival, a poster for 1969's The Color of Pomegranates and the New Mexico White Sands National Park – match the imagery of the surreal first half of the video. (Also, there's some very cruel, dark humor tied in with the LG OLED promo: "Life's good.")
It's all an illusion, to quote a fellow Italian girl who made a name for herself in New York City.
Repeat viewings reveal new connections and deeper symbolism each time: there's a half-second shot of her in the gurney as she's jerked back down to Earth (brought back to life?), the sea shell as respirator, the throne chair as gurney, and an entire illustration of the accident scene that briefly appears in a painting, among other visual links.
And in a moment of Reverse Warholian Expedition, fans are already finding direct references to cinematic works by different directors, including Federico Fellini, Sergei Parajanov and Alejandro Jodorowsky. (Her ARTPOP continues to mean anything.)
On her latest visual "911" Lady Gaga references Federico Fellini, Sergei Parajanov & Alejandro Jodorowsky. The Italian, Soviet & Chilean artists were notable for their idiosyncratic views of society. Their books and films often elaborated on memory, dreams and fantasy. #911Video pic.twitter.com/tn5XY2Awzp

— Lady Gaga Facts 🚨 (@LGMonsterFacts) September 18, 2020
Even Armenia is digging in to catch all the references.
We see what you've done there @ladygaga, and we absolutely love it! ♥️💙🧡

The new beautiful #911video, directed by Tarsem Singh, shows inspirations from #Armenian🇦🇲 culture, language, themes, and notably from Sergei #Parajanov's 1969 film: The Colour of #Pomegranate. pic.twitter.com/WJhIYbPZjX

— Armenia 🇦🇲 (@armenia) September 18, 2020
Gaga's hysterical crying is a particularly horrific way to close out the final scene – especially considering the overall empowering, celebratory tone of Chromatica following "Stupid Love" and "Rain on Me" – but the visual perfectly conveys the meaning of the misleadingly chipper track: "911" is about Gaga's actual experience with psychosis, after all.
"It's about an antipsychotic that I take. And it's because I can't always control things that my brain does. I know that. And I have to take medication to stop the process that occurs," she explained of "911" in an interview with Apple Music.
"I was brought to the ER to urgent care and they brought in the doctor, a psychiatrist. So I'm just screaming, and I said, 'Could somebody bring me a real doctor?' And I didn't understand what was going on, because my whole body went numb; I fully dissociated," she previously explained in an interview with Oprah Winfrey for Elle.
"I was screaming, and then [the doctor] calmed me down and gave me medication for when that happens — olanzapine. So I take methocarbamol, and olanzapine, which is probably the most important — it helped me that day, and that man and all my friends, they saved my life," she continued.
She also provided an explanation shortly after the video's premiere.
"This short film is very personal to me, my experience with mental health and the way reality and dreams can interconnect to form heroes within us and all around us. I'd like to thank my director/filmmaker Tarsem for sharing a 25 year old idea he had with me because my life story spoke so much to him. I'd like to thank Haus of Gaga for being strong for me when I wasn't, and the crew for making this short film safely during this pandemic without anyone getting sick. It's been years since I felt so alive in my creativity to make together what we did with '911'. Thank you @Bloodpop for taking a leap of faith with me to produce a record that hides in nothing but the truth. Finally, thank you little monsters. I'm awake now, I can see you, I can feel you, thank you for believing in me when I was very afraid. Something that was once my real life everyday is now a film, a true story that is now the past and not the present. It's the poetry of pain," Gaga wrote on Instagram.
Sometimes criticized for being overly extra, or weird-just-for-weird's sake, Gaga certainly starts off the music video that way.
But in a violent twist, she subverts those expectations: the surrealism turns out to be a temporary fever dream before waking up to an actual nightmare, offering a brief, deeply unsettling taste of what it's like to experience a complete break from reality.
It leaves a lasting impression, resulting in what is one of her most haunting visuals to date, and serves as a reminder that everyone's perception and experience of this world is different – at times, dramatically so – from our own.
This song is featured on the MuuTunes Spotify playlist.

You can also subscribe to MuuTunes on Apple Music.