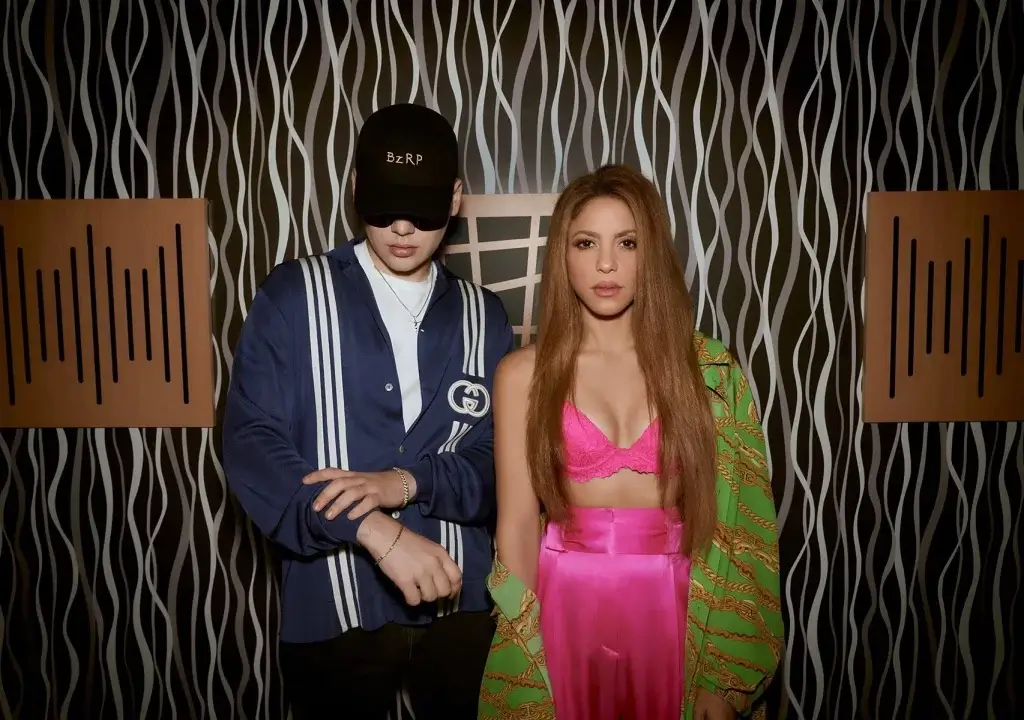 "Una loba como yo no está pa' tipos como tú…"
Shakira's making headlines again. But this time, mercifully, it's about the music. Mostly.
The 45-year-old Colombian "Las de la Intuición" icon has certainly faced her fair share of turmoil in recent years: dodging tax evasion allegations, wild boar attacks, and her father's declining health.
And of course, there's the small matter of her divorce: after over a decade, she and soccer player Gerard Piqué split amid allegations that he was having an affair with a woman in her early 20s, named Clara Chía Martí. (More on her later.)
And while she's mostly kept it quiet and mostly cordial in the press in the past months, she's evidently turned a new leaf and/or shook a new hip at the top of 2023, with the help of Argentine DJ BIZARRAP.
The 24-year-old producer's increasingly gained acclaim for his "Bzrp Music Sessions" series, collaborating with everyone from Nathy Peluso (not to be confused with the former Speaker of the House) to Anuel AA to Residente. I came to know of him last year for his team-up with Puerto Rico's Villano Antillano, an openly trans rapper breaking LGBTQ+ boundaries in Latin America and beyond – the song is also a serious moment.
And so, Shaki's back, courtesy of Music Sessions No. 53. And, like a coffee machine in an office, the replay button is already experiencing some serious abuse.
The song almost immediately soared to No. 1 on the Top 50 – Global on Spotify, and has racked up an insane nearly 70 million views in a matter of two days, and that's not even factoring in all the other social media platforms. According to Chart Data, it just broke the record for biggest single day for a Latin song in Spotify's history, becoming the fifth biggest song debut ever. Not too shabby for a legend who debuted well over three decades ago.
Of course, much of the attention on the track has to do with the lyrical content: it's an unrelenting diss track aimed directly at her ex-husband, and his new, young girlfriend is getting some heat too.
There are plenty of lyric by lyric breakdowns of each burn layer, but it is thick with sarcasm and vitriol.
"You're acting so weird I don't even recognize you / I'm worth two 22 year olds / You traded in a Ferrari for a Twingo / You traded in a Rolex for a Casio," she declares. (Clara was 22 when the alleged relationship began.)
"You're all worked up…slow down / so much time at the gym, but maybe work out your brain a bit too," she says, essentially calling Piqué a dumb jock.
There's little room for interpretation here: she's not holding back about the now extremely public details of her personal life. "You left me with your mom as a neighbor / the press at my door, and a debt with the Treasury," she seethes. (That's right: even the country of Spain is catching strays.)
She cleverly uses wordplay to call out the offending parties by name: "Yo solo hago música, perdón que te salpique," she sings ("I only make music, sorry if it splashes you"), flicking a water drop to the camera, with a pause in between "sal..pique," hinting at her ex.
Elsewhere, she sings "tiene nombre de persona buena / Claramente no es como suena," ("She's got the name of a good person
Clearly, it's not how it sounds"), pausing between the syllables "clara…mente," referring to Clara Chía Martí.
Lyrics aside, the song is legitimately super catchy ("como tu-uu-UU-UUUU-uu…") and dance-floor friendly – especially if you're feeling like a vengeful night out with the girls.
It's also one hell of an empowerment anthem, whether you've got a world famous footballer ex or not: "You thought you'd hurt me, but you made me stronger / Women no longer cry, women get paid!" Where are all the men in this town? Running scared, that's where.
The song's caused quite the frenzy on social media, with plenty of pearl-clutching about Shakira's decision to go scorched earth in public (think of the children!), but frankly, Shakira is an artist, and she's allowed to express how she's feeling without disguising it in vague metaphors about love and loss. Dirty laundry? She's got a Laundry Service for that.
It's been a minute since Shakira's broke through with a song on this global scale ("sorry..baby…hace rato," if you will), and this '80s synth-y smash is a self-referencing ("A she-wolf like me isn't for guys like you…"), severe lyrical smackdown that's evidently resonating with plenty of people…or at least providing plenty of chisme in bop form.
Laundry Service is available now on vinyl.
Check out the MuuTunes Spotify playlist. You can also subscribe on Apple Music.
Photo credit: Sony Music Entertainment