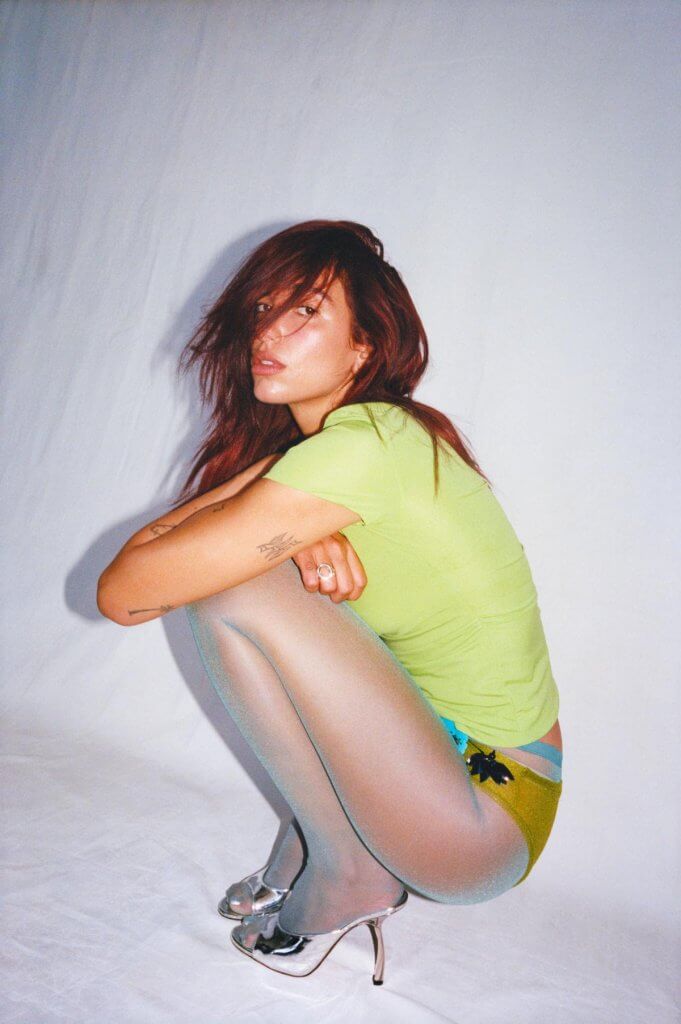 "I'm not here for long, catch me or I go Houdini…"
Dua Lipa's got a new song, a new record on the way and – the key ingredient to Ushering In a New Era – new hair.
Three years after keeping us dancing through the lockdowns with 2020's excellent Future Nostalgia, a dance floor escape in a time of extreme isolation, the 28-year-old Albanian pop sensation has returned to us with the first taste of what's next, in the form of "Houdini," out Thursday (November 9).
The song marks the beginning of a new chapter according to Miss Peep herself, who describes the song as the embodiment of "that 4 a.m. feeling when the night is coming to a close and you're a bit sweaty, but you just don't want the party to end."
"This track represents the most light and freeing parts of my singledom. 'Houdini' is very tongue in cheek, exploring the idea of whether someone is really worth my while or if I'll ghost them in the end," Dua says.
"You never know where something may take you, that's the beauty of being open to whatever life throws your way. I'm looking forward to sharing that feeling of defiant bliss with my fans."
An ode to ghosting? Coming and going? Sweaty after-hours soirees? An LGBTQ ally, if I've ever met one.
"I'm not here for long / Catch me or I go Houdini," she warns. (Also, the way she says "who-dee-knee" is so cute.)
The song's sentiment certainly feels true to life, if the frequently jet-setting pop star's Instagram activity is anything to go by. Where in the world is Dua Lipa at any given moment? Catch her while you can!
"If you're good enough, you'll find a way / Maybe you could cause a girl to change her ways," she teases. "Do you think about it night and day? / Maybe you could be the one to make me stay." (Spoiler alert: don't count on it.)
The accompanying "Houdini" music video was directed by Manu Cossu, who's collaborated with M83 and Skrillex, with cinematography by André Chemetoff, who's worked with Rosalía, and on Euphoria.
The clip finds Dua post-rehearsal in a dance hall, revising her choreography under fluorescent lights. "The lights reflect in the room's mirrors, creating an optical illusion as the energy begins to swell," the release notes.
Dua is distractingly hot throughout the choreography-heavy visual (the Cheryl "Promise This"-adjacent cherry cola red hue hair is a big, big yes), and with Confessions on a Dance Floor cited as a significant influence on her last record, it's no surprise she's still got the Queen of Pop™ in mind, recalling Madonna's own dance studio and mirror-filled fantasy, "Hung Up." (It's also proof that she's only continued to put in the work to move past the dancing memes.)
"Houdini" – which lasts a proper 3 minutes, thank God! – is funky, fresh, synth-y, and a little edgy, but it isn't all that far removed from the disco-tinged dance-pop Lipaverse, either.
And that's not too surprising, because she's brought along at least one consistently reliable pop penner: Caroline Ailin, who's co-written everything with Dua from "New Rules" to "Don't Start Now" to "Dance the Night Away."
But there are a few new friends in the mix now as well, and it's a bit of a dream team: Tobias Jesso Jr., who's worked with Adele ("When We Were Young") and Sia ("Alive"), Tame Impala's Kevin Parker, and PC Music maestro Danny L. Harle.
The "Houdini" crew also serve as "core collaborators" throughout Dua's upcoming project. The end result is something that sounds instantly familiar and immediately catchy, with some grittier, more unexpected sonic bells and whistles added into the mix, especially towards the song's conclusion. It's also a track that feels like a bridge to the newer, "psychedelic" territory she's teased in recent interviews.
"A lot of this album was written in those joyous moments of absolute chaos and how I moved through the world with lightness and optimism of whatever the outcome may be," Dua says.
Lightness and optimism are in short supply these days. It feels fitting that the same pop star who kept us dancing through the pandemic is once again giving it her best go at injecting some fun, flirtatious energy into an otherwise bleak landscape with "Houdini."
Between her still-inescapable Barbie anthem and now this, one thing feels certain: Dua might ditch you if you turn around for even a moment on the dance floor, but she's not disappearing from the top of pop world anytime soon.
Grab Future Nostalgia on vinyl right here.
Check out the MuuTunes Spotify playlist. You can also subscribe on Apple Music.
Photo Credit: Tyrone Lebon
This site contains product affiliate links. I may receive a commission if you make a purchase after clicking on one of these links.