The State of Things? I've gotta be honest here: not great! But Hikaru Utada has graciously decided to stage a comeback amid a global health crisis, anyway. And for that, we are eternally (REFERENCE) grateful.
In fact, she's got two songs for the Hikki Hive lined up: "Time," released on Friday (May 8), and "Dare ni mo Iwanai," her latest hydration anthem for Suntory Tennensui water, which is due out on May 29. The two songs will, inevitably, wind up on what will become her Hatsukoi follow-up, which will – with any luck – come sooner rather than later. But given the circumstances, it's hard to say just how much progress she's made thus far before the studios shut down. (Then again, she does seem to be building out a home studio.)
"Time" also marks the first time (REFERENCE) that Hikaru launched a song in real-time (REFERENCE) across the globe – look at Sony Japan catching up with most of the globe's music release standards! – so the song is available everywhere, on every streaming platform. The future is now.
And now, it's time to talk about "Time."
"Time" is an appropriate title for "Time" – because of the lyrics, yes, but also because it feels like we've just traveled back in time to listen to the song. ("Traaaaveling…") The R&B melodies are a throwback to the earliest days of her career, and the warm electronic vibe is totally reminiscent of 2008's Heart Station, as well as Fantome's "Tomodachi" with Nariaki Obukuro – who just happened to co-produce the song, and says it's one of his favorite songs he ever produced.
The "Tomodachi" similarities don't end at the beats, either: the track speaks to an unspoken love for a close friend, which is essentially the same subject matter as her 2016 ode to unrequited love, written from the perspective of a gay person lusting after their straight friend. That admission later led to the revelation that Utada might not be all that straight herself.
"Time" only continues the narrative of a forbidden love of sorts – be it bad timing, the romantic stars refusing to align, or perhaps…something more socially unacceptable.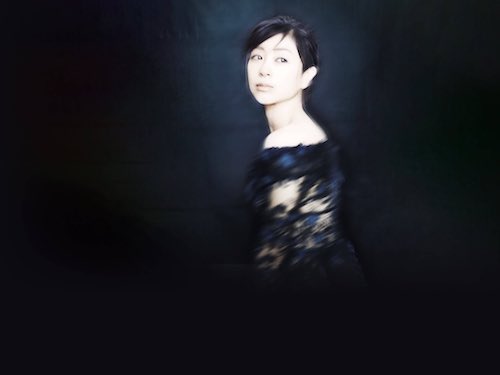 "Things I couldn't tell anyone / Not even my boyfriend or my family, I could always tell you / That's why I was able to bear any kind of loneliness, endure any fate / Who else can make me laugh as I stand weeping in never ending rain, but you?" she sings on the song. (English lyrics provided by Hikaru herself on her special "Time" mini-site.)
"For so long we've been too close / I couldn't say I love you / I keep in my heart a spell that can turn back time," she wistfully sings. "That one time we kissed, and even went a bit further / But the two of us can't be kept within the confines of romance."
It would be quite interesting to know just how…autobiographical this particular song might be. Hmm…
As we know, Hikaru's production style as of late has been more free-flowing than the more traditional verse-chorus, verse-chorus affair of radio-friendly pop classics past. Around the 3:30 mark, the song slips away across the bridge, fading off into outer space as she ethereally croons from afar. A wall of synths gradually fills the speakers, straight out of Heart Station. The track suddenly drops into banger mode, providing the most boppable ear candy to come out of her in years.
She cuts to the chase with a more blunt line later on: "So much so that I wish I could let the two of us back when we met know / We're so much hotter now."
English ad-libs that double as instant earworms perfectly fill out the tail-end of the track – "oh baby, oh baby, oh / If I turn back time…will you be mine?" – as if to mercilessly tease the hundreds of fans filling up her Instagram Live requests with unanswered questions about the future of her English-language music career.
The song now enters the great songbook of beloved divas wishing to make different life choices, from Cher's "Turn Back Time" to Lisa Scott-Lee's "Back in Time." (Truly, legends only.)
In all seriousness, it's so nice to hear a bit of an airy playfulness to Utada's production again. Following the darkness, grief and introspection that Fantome and Hatsukoi brought (understandably so), it would be wonderful to hear Hikaru veering into even lighter, brighter territory. The world certainly could use more of that right now.
Time…will…tell. Sorry, I really had to.
This song is featured on the MuuTunes Spotify playlist. Subscribe!
You can also subscribe to MuuTunes on Apple Music.
Photo credit: Sony Japan