Annie doesn't stop – and she also doesn't miss.
From Anniemal, to Don't Stop, to the A&R and Endless Vacation EPs and all the one-off singles scattered in between, there are, quite simply, no skips in her catalog. And at her highest highs – "Chewing Gum," "Heartbeat," "Anthonio," "Songs Remind Me of You," among others ("The Breakfast Song," most of all!) – Annie's released some of the finest pop songs of the '00s.
What her discography might lack in quantity over the past two decades, she more than makes up for in quality. I mean, hello: her underground club hit of a debut, "Greatest Hit," sampled Madonna's own debut, "Everybody." Working with Richard X and Röyksopp and Xenomania on her first two records? There's a certain level of taste involved that many others could only dream of acquiring.
As a result, it is no small miracle for the pop community that the Norwegian indie-dance-pop icon reemerged after nearly five years with her own material again in the form of "American Cars," the first release from her newly announced third studio album, Dark Hearts, due out on October 16.
There's always been a certain melancholy in Annie's music that has lent itself nicely to the idea of a cinematic project, and she's leaning in hard on that concept with her comeback: "American Cars" was crafted with Stefan Storm, one-half of the genius Swedish dream-pop duo The Sound of Arrows, who's previously worked with Annie on the Endless Vacation EP.
"So before we crash, kiss me under the stars in American cars…"
Gliding across vaguely ominous, vaguely dreamy stabs of synths, our beloved heroine breathily glides through a getaway at night in a vintage ride – not unlike the lyrical stuff of problematic fave Lana Del Rey, but with a downtempo electronica sheen, reminiscent of the Berlin Breakdown mix of "Anthonio," Sally Shapiro, as well as soundtracks for movies like Drive and Tron.
"When love is getting too complicated, and you don't wanna think about that because words can be so overrated / Break free and then never look back," she speak-sings in the bridge as a siren faintly rings out from somewhere behind.
"It was partly inspired by the David Cronenberg film, Crash. It was 2 p.m., and the only other people in the cinema were two old men, a mum and her screaming baby, and sixteen-year-old me. It was quite a strange experience. The film is about pushing it to the edge. When you're looking for something dark, you don't necessarily know why you're doing it. But you're pushing the boundaries. You can fall, or almost fall, but you climb back," she explains of the song's inspiration.
She also describes the track as "the soundtrack to a film that doesn't exist," and says Dark Hearts is inspired by everything from Twin Peaks to The Wicker Man.
Clearly, someone's been watching some movies at home while becoming a mother to two and moving from Berlin, Germany to Bergen, Norway.
"I did a lot of recording while I was pregnant, puking while I was singing. Stefan had to go out to buy me licorice, but I still managed to do some quite good vocals," she amusingly explains, tantalizingly adding that Dark Hearts is "the best album I've done so far. All the tracks fit so perfectly together – the themes are right there."
All signs point to Dark Hearts being her most ambitious offering, especially based on the vast array of descriptions of upcoming songs from the album announcement alone: "On 'Corridors Of Time,' Annie tells the story of a dancefloor in a theatre, empty except for an old couple dancing together and a young girl dancing alone, inspired by Annie's uncle who was sick at the time of writing. Equally pivotal and reflective is 'The Streets Where I Belong', written prior to leaving her adoptive Berlin and returning to her childhood home of Bergen. Memories of her teenage years are explored in 'Forever '92,' a song about a boyfriend Annie dated in those messy teenage years. 'I was the worst teenager, you wouldn't want me in your house. I was very sweet and looked innocent, but I was such a nightmare.' The album's title track – 'the album's most disco moment' is about family relations. 'When you grow up, your history always follows you,' Annie says of the song. 'You can try to change something or break free, but it doesn't change, it stays with you.'"
"I still don't know exactly where I belong, but I know I belong somewhere," she adds.
To be fair, everything about this year has been more than enough to provoke an existential crisis. But as a dedicated Anniemal from the beginning – with my limited edition letter to Anthonio and all! – I know that wherever Annie decides to go next, I'll follow.
Check out the Dark Hearts track listing…and the stunning cover art.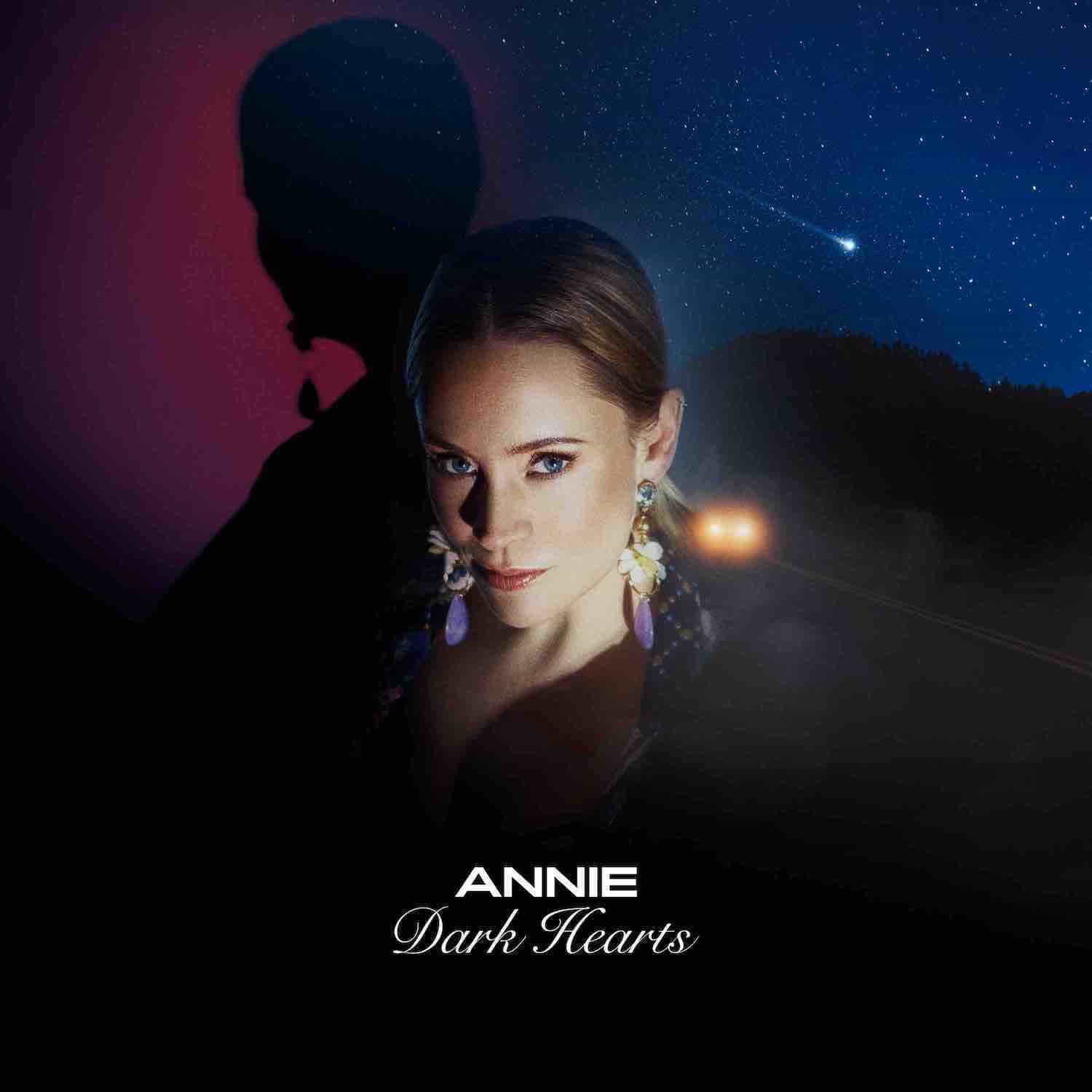 1. In Heaven
2. The Streets Where I Belong
3. Dark Hearts
4. Miracle Mile
5. Corridors of Time
6. Forever '92
7. American Cars
8. Mermaid Dreams
9. Stay Tomorrow
10. The Countdown to the End of the World
11. The Bomb
12. The Untold Story
13. It's Finally Over
This song is featured on the MuuTunes Spotify playlist. Subscribe!
You can also subscribe to MuuTunes on Apple Music.
Photo Credit: Annie