It's time.
Mariah Thee Carey, Ariana Grande and Jennifer Hudson have arrived in their glittering red and green best, and they're here to make the yuletide even gayer, dahhhling.
After sending the Lambily, Arianators and Little Spotlights (you can't change my mind on this name for JHUD fans, FYI) alike spiraling with an initial teaser back in October, the powerhouse vocalists united as promised for an entirely festive, undeniably joyous retro moment of gypsy whatever in the form of an "Oh Santa!" remix, as part of Mariah's Mariah Carey's Magical Christmas Special, out now on Apple TV+. (We will be streaming and reacting on Legends Only, of course.)
What can I say? It's a feel-good moment had by all, as the Positions pop princess and the Academy Award-winning Respect star magically arrive at Mariah's toy factory, surrounded by tons of dancing elves, giant presents and nutcrackers – a spectacle not unlike the stage at her over-the-top live Christmas shows.
Together, the girls look absolutely stunning as they happily croon the 2010 tune, putting even more vocal pep in the already cheery modern Christmas classic, with enough riffs and runs to render Rudolph into a shaking and crying reindeer mess. It's an absolute…sleigh. (Sorry. God, I'm sorry. I know.)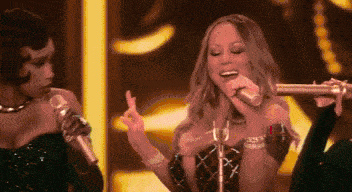 And as for that moment – the whistle note harmony between Mimi and Ari? Well, that, my dears, is not only the ultimate diva "beef" narrative squasher, but also the Britney–Madonna kiss for vocal size queens everywhere.
Entire years have just been added to my life.
What a beautiful, sparkling bow on top of a year most of us would simply rather forget ever happened. Leave it to these three absolute queens to give us a happy holiday moment this world so deeply needs. (And for Mariah to consistently carry us through the year with
Now o come, all ye faithful Lambily, and blast this song off to No. 1 this week for Mariah's 20th Billboard Hot 100 hit.
Merry Christmas is available now on vinyl.
This song is featured on the MuuTunes Spotify playlist.
You can also subscribe to MuuTunes on Apple Music.