The Utadaissance continues.
Hikaru Utada – Utada, if you're nasty – is having quite a moment already in 2021.
With a mere tweet here and there and a live Instagram Q&A or two (yes, English music is coming, no, she still hasn't played Kingdom Hearts, you nerds), Hikki's still managed to strike a panic in the music industry over two decades since her debut: from her Japanese Hot 100 No. 1 Evangelion theme song smash "One Last Kiss," to the accompanying quarantine-style music video (35 million views and counting!), to the vinyl pressings, which went international due to sheer demand, to a Netflix show on the way based on her music.
As announced in March, she's currently soundtracking NHK ETV's hottest new anime on the block, called To Your Eternity, with a new tune called "PINK BLOOD." And no, that's not to be confused with SM Entertainment's possible new girl group of the same name. Her impact already!
Now that Japan's (sort of) caught up to the rest of the world when it comes to globally available streaming, the full song and accompanying music video are all here at the same time at midnight, Japan time, on Wednesday (June 2).
One of the more tantalizing tidbits that Hikaru teased on Twitter recently is that the upcoming record is more about turning inward: "In the past, my songs often focused on my relationships with other people. My new album is shaping up to be more about my relationship with myself," she said.
And then, when specifically asked about the lyrics of "PINK BLOOD," she said: "When you realize that you are the only one who can determine your value."
Accordingly, even in the face of the unknown that lies ahead – a classic Hikki theme – the track has a real sense of self-assuredness.
"I won't be scared anymore of losing that thing to fill the hole in my heart / Because I realized that I was the only one who could heal myself," she sings. (Translation via Lyrical-Nonsense.)
True to all her work from Fantôme and beyond, the song's a bit of a genre blur: there are the calm electronic pulsations of pre-hiatus works like Ultra Blue and Heart Station, but also the smooth, sensual R&B, synth-y, jazzy vibes that she's increasingly captured in recent releases like "Tomodachi" and "Darenimo Iwanai."
The track also echoes the cool and confident vibe of the lyricism, which offers some of her most motivational insights in a while: "There's no point in being valued by someone who doesn't know how much I'm worth / I should probably just stop working myself to the bone if it won't be for my own sake."
Seriously, her writing is as unmatched as ever: "Roll the dice and go forward that many squares / Even if there's no end to this road in sight / Whatever regrets I have, I'll wear them with style / Until the day they become just memories." Whew.
And: "I won't be happy with any thrones to sit on, 'cause they're no good to me if they're not the seat I've chosen myself." (Honestly, just go read the whole translation.)
As for the video? No GoPro excursions or iPhone selfie videos at home this time: the visual is a full-on production, captured by Eiji Tanigawa, award-winning CEO of Creative Lab.TOKYO. And it also happens to (easily) be one of her best videos in years. Hello, budget.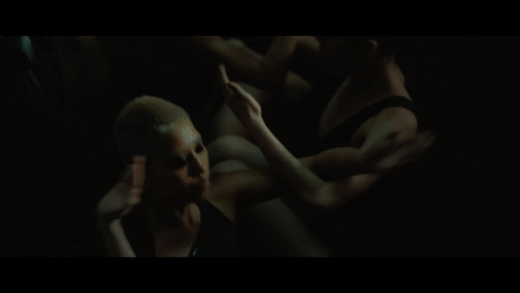 Never did I expect to see Hikaru serving up "Slave 4 U"/"All The Lovers"-style interlocked dancer choreography in a music video. Forever keeping us on our toes. What an absolute thrill! And that "Forevermore"-style, alien sci-fi lighting? The mossy forest fantasy? The elegant candle spiral structure? The high slit reveal of the dress? HORSES?! It's all so beautiful and striking, and she looks more comfortable in her skin than ever.
What a pleasure it is to be along for the ride with an artist who consistently evolves to this degree over the years. This introspective, as-of-yet untitled era is shaping up to be one of her finest to date.