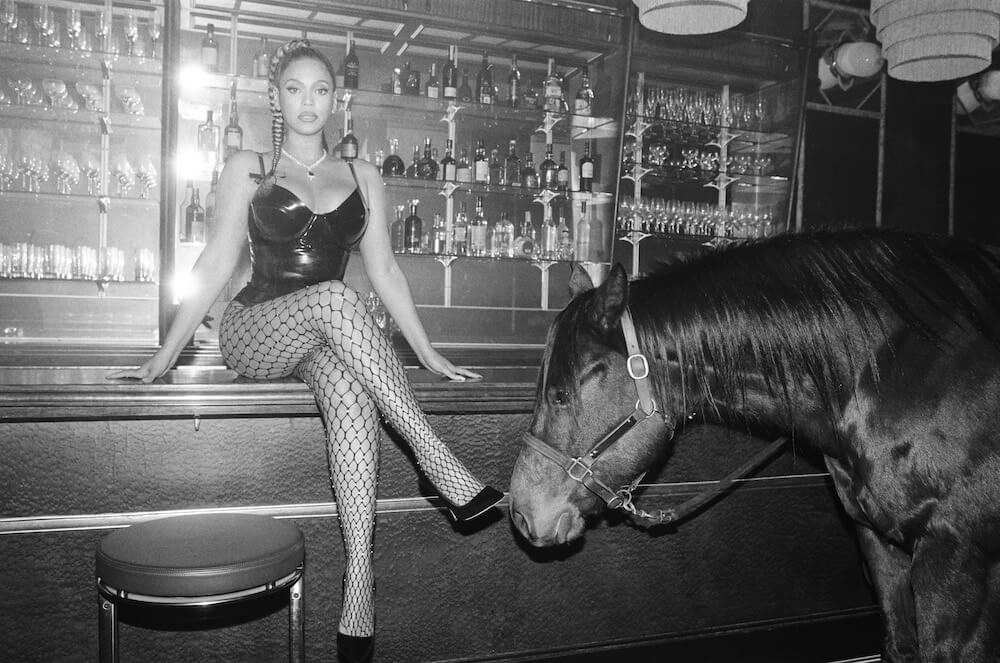 "Uncle Jonny made my dress…"
During the dance break of the extended mix of B'Day's "Get Me Bodied," released as the album's fifth single in the summer of '07, there's a moment where Beyoncé begins rattling off a minutes-long string of commands for the dance floor: "pat your weave, ladies," "pose for the camera," "do the scissor leg, touch your heels, touch your toes."
"Walk across the room like Naomi Campbell," she continues. "Snap for the kids, snap for the kids, snap in a circle three times, snap for the kids."
At the time, it didn't register in my just barely out-of-the-closet 17-year-old brain as anything other than another dance step in the increasingly complicated game of Simon Says. (Err, Bey Says.)
But at one point, as a burgeoning blog boy, I remember stumbling on early posts about the song, specifically from Black gay men, and quickly learned that those snaps were actually queer-coded nods to her gay fans, arriving well before the wave of LGBTQ-minded self-empowerment anthem era of pop music.
Renaissance, Bey's seventh solo studio album, released on Friday (July 29), plays like an extended, explicit mix of that breakdown; an hour-long snap for the kids. It's a grown, emboldened, unapologetic love letter to the queer community, especially the Black pioneers, and specifically her late uncle, Jonny.
Beyoncé's ongoing relationship with the LGBTQ community is well-documented, and rooted in personal experience. As Mrs. Tina Knowles-Lawson explained once the album dropped, Beyoncé's late uncle, who died when she was 17 years old due to AIDS-related illness, helped to raise her and her sister, Solange.
"Solange and Beyonce worshipped him. He helped me raise them. And influenced their sense of style and uniqueness! He made Beyoncé's prom dress…he is smiling from Heaven at Bey right now! Saying you did that Ms. Thing!!"
Decades later, Beyoncé would emotionally refer to her uncle as "the most fabulous gay man" she's even known while accepting the GLAAD Vanguard Award in 2019.
"He was my godmother and the first person to expose me to a lot of the music and culture that serve as inspiration for this album," she wrote in the liner notes for Renaissance. This album is because of him.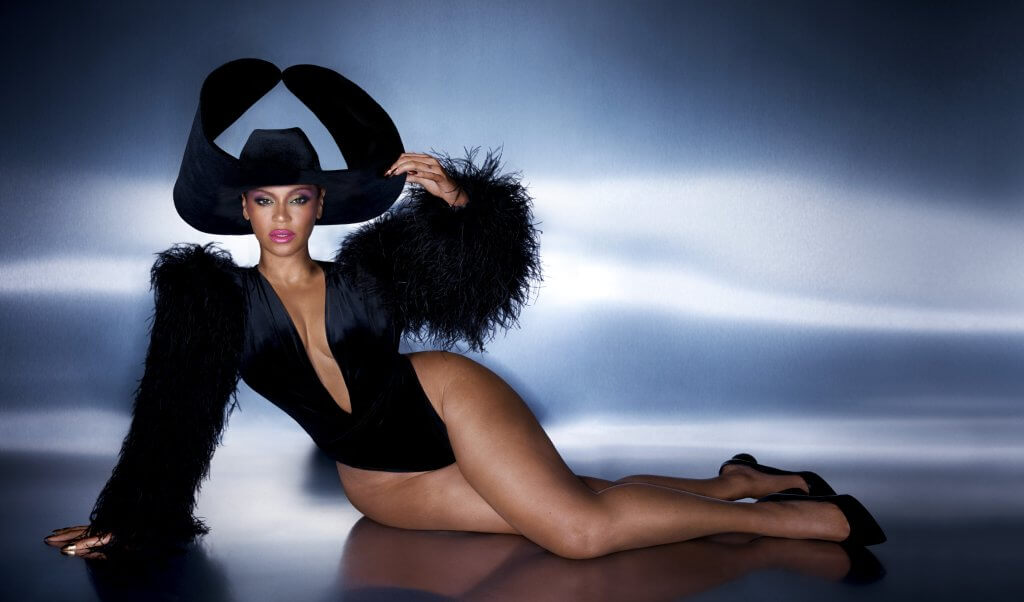 Renaissance comes nearly one decade after her world-stopping, industry-changing surprise self-titled record Beyoncé, an artsy visual project exploring romance and sexuality, six years after Lemonade, a deeply personal narrative tackling themes of infidelity and racial injustice, and three years after The Lion King: The Gift, an ambitious collaborative project that found Beyoncé working with African talent to create an ode to the continent and its people.
This time around, two years after the eerie stillness of lockdowns, Beyoncé just wants to get out ("we back outside") again and let go.
"Creating this album allowed me a place to dream and to find escape during a scary time for the world," she explains.
"It allowed me to feel free and adventurous in a time when little else was moving. My intention was to create a safe place, a place without judgment. A place to be free of perfectionism and overthinking. A place to scream, release, feel freedom. It was a beautiful journey of exploration."
A tantalizing tease from British Vogue kicked off the era at the start of the summer, with a photo shoot full of disco balls and white horses, conjuring visions of Bianca Jagger and Studio 54. Early descriptions of the music suggested a return to the "clubs of my youth" from 50-year-old editor-in-chief Edward Enninful, centering the album roughly in the late '80s to early '90s.
Then came the release of "Break My Soul" at midnight on the summer solstice (intentional, perhaps?), a house-inspired, Robin S "Show Me Love"-adjacent emancipation anthem for the clubs, which found Beyoncé cosplaying as a 9-5 worker who just quit her soul-crushing job (maybe don't follow her lead so fast during this recession), ready to find her own motivation, build her own foundation, turn up and "release the wiggle" during a night out on the town.
As opposed to the past few NDA-signed, watertight Beyoncé album campaigns, Renaissance arrived with advance warning: "act i RENAISSANCE July 29," she wrote in her bio, revealing that she'd been teasing the album title since at least last year. Then came the (instantly sold out) mystery box pre-orders, a track list, a full producer list pulled from Apple Music thanks to eagle-eyed BeyHive members, an artwork reveal, and even a full album leak days before. (What is this, 2011's 4 all over again?)
Renaissance also came without any music videos – a purposeful move, as Parkwood Entertainment explains, to provide fans with "the opportunity to be limitless in their expansive listening journey." (For now, anyway: the visuals are scheduled "for a later date.") Granted, there's still plenty we still haven't discovered, even with the album now officially in hand, including what Act II and Act III will look and sound like.
But for now, there's Act I.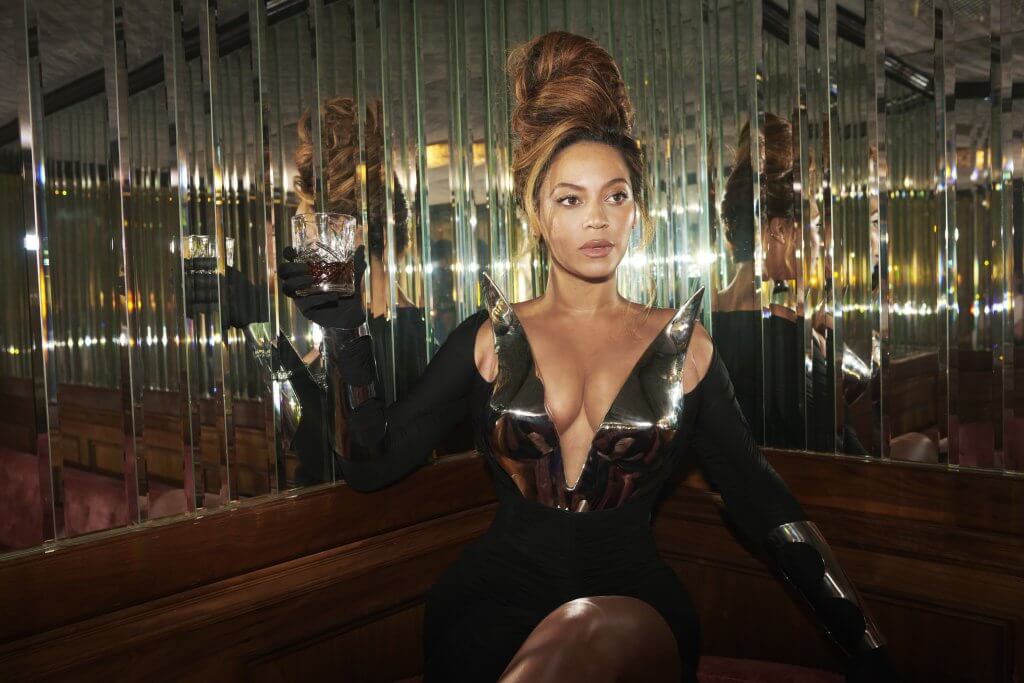 Renaissance is a renaissance of the traditional album listening experience.
In a world of barely two minute-long ringtone pop singles, chucked out on a Friday and forgotten by Monday, Bey makes the case that the album format is still a worthy, valuable and artistic endeavor, and that songs can still be rich and dense, stretching on for several minutes without losing the TikTok-brained listeners' gradually dwindling attention span.
As Questlove rightly pointed out in his first impression amid the earliest reactions: "I listened 7 times. Which is 8 times more than the last time I listened to anyone's record from start to finish." The record is best served as a start-to-finish affair for maximum enjoyment, which leads to another crucial takeaway…
Renaissance is also a renaissance of exquisite sequencing.
The art of selecting an album's track order, and creating the fade-ins and outs, is a lost one in the streaming era. But when it's done well – like Madonna's non-stop mix of Confessions on a Dance Floor, or Kylie's extended mix of Disco, more recently – it can elevate the work to another level.
The transitions on Renaissance are immaculately done, enhancing the experience, from the first gradual BPM rise between "I'm That Girl" to "Cozy" to Big Freedia's explosive lead-in to "Break My Soul" from "Energy." It's like a live DJ mix, making the album feel like one long set. It never gets boring, thanks to the constant shape-shifting wall of sound.
To that point, Renaissance is a renaissance of innovators.
As hoped from the early fanfare and miles-long production credits, Renaissance spills over with samples, features, interpolations and references aplenty, specifically to hip-hop, bounce, R&B and house originators from the early '90s onward. (And yes, while Robin S and Kevin Aviance are elated to join the party, not everyone involved is as thrilled.)
This is an album of tributes, both overt and subtle, turning the listening experience into a full-on scavenger hunt for the liner notes-obsessed nerds: Donna Summer, Teena Marie, The Clark Sisters, Right Said Fred, Moi Renee, MikeQ, TS Madison, Kilo…the names go on and on. (And if you'd like to listen along, WhoSampled lets you hear all the exact moments.)
In Bey We Trust to treat the legends with dignity: not just anyone can get the inimitable Grace Jones, an actual Icon, on the track.
It's packed to the brim with powerhouse songwriters and producers, including tried-and-true longtime collaborators like The-Dream and Tricky Stewart ("Single Ladies (Put a Ring On It))," to the newer wave of hit-makers like NOVA WAV, BloodPop and PC Music's A.G. Cook ("All Up In Your Mind"), to taste-makers hailing from the dance floor, like trans DJ-producer Honey Dijon and Horse Meat Disco collaborator Luke Solomon ("Cozy," "Alien Superstar").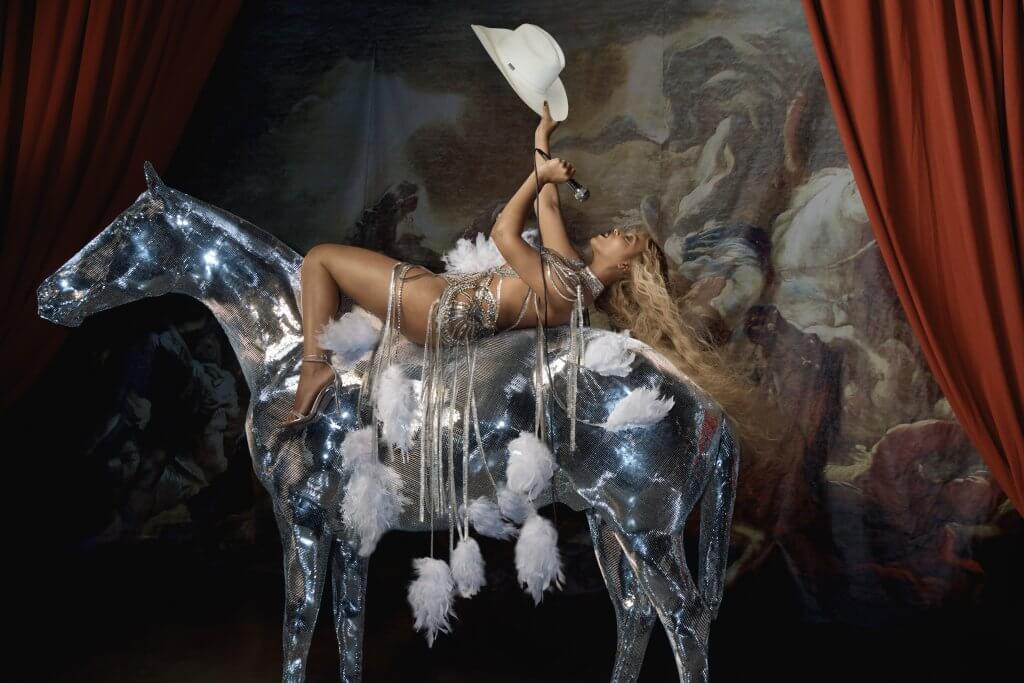 "Please, motherfuckers ain't stopping me."
Throughout the record, Bey makes ample allusions to the enduring spirit of the Black queer community, including "Cozy," a joyous expression of self-empowerment featuring a clip of superstar Ts Madison's "Bitch I'm Black" monologue. And despite coming up against a wave of bleak anti-LGBTQ legislation as of late, Renaissance is no pity party.
Bey joyously weaves together the colors of the Progress Pride flag throughout her lyrics, from "pussy pink" to Blue ("like the soul I crowned") to "Black, white and brown," creating "rainbow gelato in the streets."
"Alien Superstar," which kicks the vintage crystal off the bar with a Prince–Vanity 6 kind of funky footing, is similarly an ode to otherness.
"Unique / That's what you are," Bey happily proclaims, channeling Danube Dance – otherwise known as the late, great Peter Rauhofer – and his 1991 track with Kim Cooper. She includes a clip of Barbara Aan Teer's 20 minute speech, called "Black Theatre": "All of these things we do in a different, unique, specific way that is personally ours."
On the Syd and Leven Kali-produced "Plastic Off the Sofa," while delivering "Love to Love You Baby"-like sugary-sweet coos, Bey offers an us-against-the-world ode to a lover who's had it rough growing up ("I like it rough," she assures): "We don't need the world's acceptance," Bey promises. "The rest of the world is strange, stay in our lane / Just you and me and our family." Sounds pretty LGBT to me!
By the label-heavy "Heated," Bey is referencing her beloved late relative by name ("Uncle Jonny made my dress / That cheap Spandex, she looks a mess") before she starts deep-diving into ball culture references ("Ten, ten, ten across the board"), confidently talking her shit and calling out fair-weathered fans atop fan clacks, providing endlessly quotable lines like "Drinkin' my water, mindin' my biz / Monday, I'm overrated, Tuesday, on my dick / Flip-flop, flippy, flip-floppin'-ass bitch."
Renaissance relishes in outta-my-way, I'm-the-only-one attitude and an overwhelming sense of confidence, from "I'm That Girl" onward. The ball culture references are aplenty throughout: "Category: bad bitch, I'm thе bar," she cockily declares on "Alien Superstar."
She gets downright cunty, literally, sampling the legendary Kevin Aviance's '90s bitch track "Cunty (The Feeling)" on "Pure/Honey," as well as MikeQ's "Feels Like" with Kevin JZ Prodify and Moi Renee's now-viral 1992 single "Miss Honey."
"Check my technique," she cooly orders. It's the most outright display of F-word revelry ("Bad bitch, bisous"), and the biggest hat tip to ball culture on the record, as she walks, turns, poses, and serves.
In a time of Pose, RuPaul's Drag Race and Legendary, the subject matter might not be especially new to some mainstream audiences, but it does still feel fresh, and especially satisfying to hear Beyoncé directly getting in on the fun herself.
Jay Z coming to pick up Beyoncé after blacking out with her gay friends pic.twitter.com/jF4NMLjroy

— peter (@ptoulan) July 30, 2022
If the past few Bey records dealt with relationship highs and lows, Renaissance is the sound of the much-needed Girls, Gays & Theys Night Out to blow off some steam. ("I'ma let down my hair 'cause I lost my mind…")
As the dust clears from the album's one (and maybe only) sweat-soaked single, Bey delights in dance floor blasphemy – much like one of her idols, Madonna – going from gospel to thotty rowdiness ("bad girls actin' raunchy, church girl, don't hurt nobody") on "Church Girl."
"She ain't tryna hurt nobody / She just tryna do the best she can / Happy on her own with her friends, without a man," she sings.
She happily explores her faith and freakiness side by side: "You could be my daddy if you want to," she teases. Oh father, indeed. (A "Sexy Daddy" throwback, perhaps?)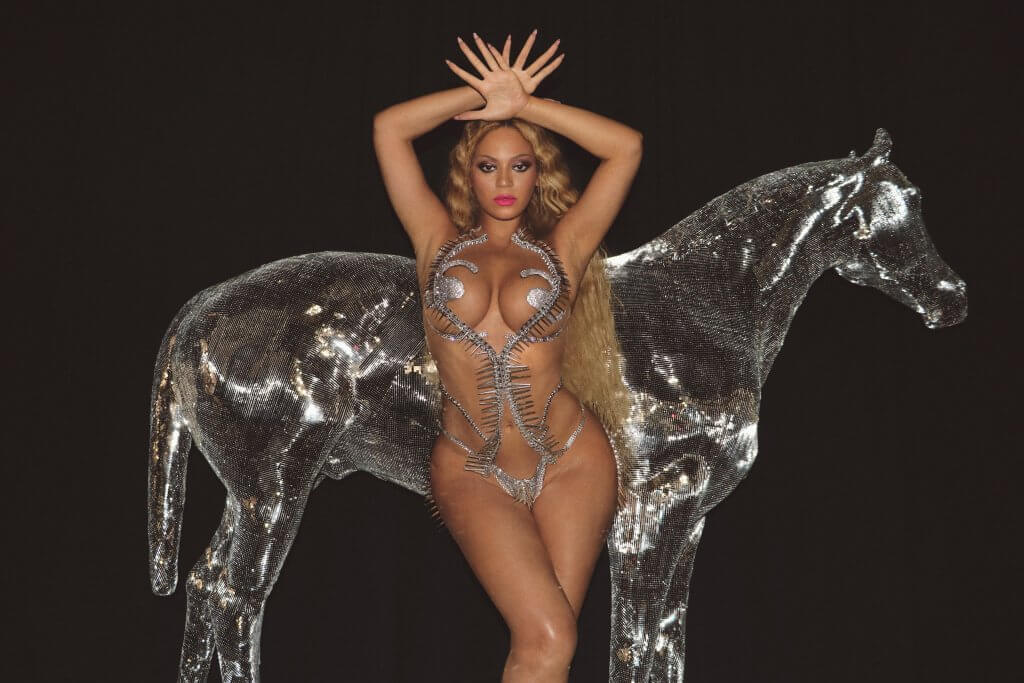 Renaissance is Bey's horniest record to date, by far.
There's so much explicitly uninhibited lusty bliss throughout, including the Teena Marie-sampling disco delight "Cuff It," co-written with the almighty Chic icon himself, Nile Rodgers featuring percussion from the legendary Sheila E., which plays like the long-awaited sequel to Beyoncé's "Blow," woozy on desire ("can I sit on top of you?") and bold promises that only Bey could make: "Bet you you'll levitate / Bet you you'll meet God." And you know what? I bet she's absolutely right.
The reference-rich album doesn't just bring artists besides Beyoncé to mind: it also occasionally feels like a nod to past versions of herself. The instantly perfect, music snob-acclaimed "Virgo's Groove" is a gorgeous 6-minute opus that bridges the astrological gap from her solo debut's "Gift From Virgo," and features harmonies towards its end that elicit happy tear-filled Destiny's Child nostalgia, a la "Emotions." (Let us put the energy out into the universe now, and manifest that Act III is a DC3 reunion.)
It feels like her Erotica in moments too, with those "Justify My Love"-like purrs and moans ("touch me, love me…"), and some of her most explicit, "Where Life Begins"-like come-ons yet: "Kiss me where you bruise me / Taste me, that fleshy part / I scream so loud, I curse the stars." God damn, God damn!
Renaissance is about paying respects.
When the legendary Miss Grace Jones comes in hot like a Hurricane on "Move," Bey makes room ("Grace…Grace Jones," she purrs), allowing the Jamaican icon to clear the path ("Move out the way!") alongside Nigerian talent TEMS. "Queen come through…"
The first few seconds of the NOVA WAV co-produced "Summer Renaissance" instantly makes it clear that the track's title has another meaning: the unmistakable melody of Donna Summer's classic "I Feel Love" comes trickling in, evolving into a pounding house beat, as Bey delivers those iconic moans. (Are you even a pop icon if you haven't referenced "I Feel Love"?)
And while a bulk of the record honors the past, the production is consistently future-facing, as on the BloodPop and A.G. Cook-assisted "All Up In Your Mind," which has a similarly dark and aggressive energy as Kanye West's Yeezus, as she stops just short of a felony to pursue a suitor across stabbing synths: "I try to get all up in your mind / It stops at a crime that I wanna make you mine."
The Hit-Boy co-produced "Thique," similarly, brings a modern trap-tinged energy, supplying some of what will surely be among the most Instagram caption-ready lyrics, as she slowly drags her voice across hi-hats, thoroughly putting the power in power bottom. ("He thought he was loving me good, I told him 'Go harder.'") There's also ample room for queer-friendly interpretation, as she switches up the pronouns throughout: "Thought she was killing that shit, I told her 'Go harder.'" There something you want to tell us, Bey?
Given her more political-minded output in recent years, from "Formation" to "Black Parade," "America Has a Problem" suggested from the title alone that she'd be tackling this broken country's myriad issues. But, nope! Grinding on Kilo's song of the same name from the early '90s, the only problem Beyoncé's concerned about this time is…well, Beyoncé. As perfectly summarized in a viral tweet: "The fact we all thought 'America has a Problem' was gonna be political when Beyoncé basically said…'I'm the baddest bitch in America, and I'm THEE problem!'"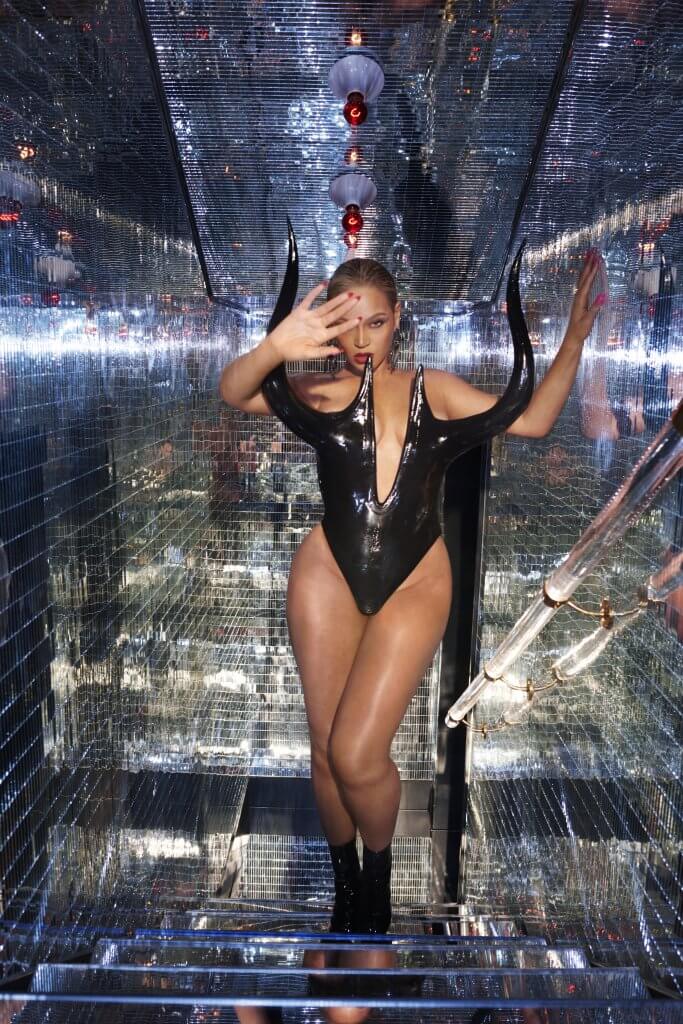 Like many of the standout pop records that would go on to define the grim political climate of the past two years – Dua Lipa's Future Nostalgia, Lady Gaga's Chromatica, Kylie's Disco, Jessie Ware's What's Your Pleasure? – the record supplies the much-needed spirit of escapism, rooted in dance music past and present.
Renaissance is laser-focused on having fun, fucking shit up, and feeling herself – and that commitment to pursuing pleasure and sexual liberation is an act of rebellion in and of itself.
With its six-songs-in-one kitchen sink-style production, samples galore, delightfully raunchy lyricism and onslaught of delectable, disco horse-filled visuals (with videos still on the way, no less), Renaissance overflows with new sights and sounds to discover upon each spin.
Vocally, there are few (if any) artists who use their voice as an instrument quite like Beyoncé does, and this album is no exception. It feels obvious to say, but her voice is as dynamic as ever on Renaissance, from delivering those effortless runs and harmonizations, often taken for granted as complex stacked background vocals, to experimenting with gruff growls and playful yelps. She leaves no part of her gift unexplored.
This album just doesn't sound quite like anything we've heard before, despite being built on things we've heard before. ("Unique!") And while it's too soon to call Renaissance the album of the year, it's hard to imagine an album will provide a more sonically overwhelming experience on first listen.
Few songs on Renaissance make sense as traditional radio singles, but by now, it's clear that Beyoncé is not aiming for Top 40 radio success. She's vibrating on another frequency, existing in a different echelon – a legends only affair, like Prince, Michael Jackson and Madonna – operating on her own time, working against the grain.
That kind of power, a position of near-royalty in pop culture, also comes with an unenviable platform ("I didn't want this power," she sings on "I'm That Girl.") As a result, any move she makes is heavily questioned, criticized and downplayed. Her notoriously well-maintained boundaries with public access to her personal life, a track record of consistently one-upping herself artistically, coupled with the responsibility of being a role model to billions, holds her to an untenable, impossible standard of perfection.
On the flip side, being in that position allows ample opportunity for Bey to spread the wealth. Renaissance is clearly an opportunity for her to share the spotlight with a sizable army of deserving pioneers who have rarely, if ever, enjoyed the same view from the top.
The album might be full of braggadocious boasts and cocky declarations, but Renaissance is, if anything, a loving tribute to an expertly curated array of creatives who've paved the way, and those who've carried the torch alongside her into the next generation, providing a constant reminder that the Black queer community has led the way time and time again in popular culture, while rarely getting their flowers for doing so.
Renaissance is relentlessly fierce and aggressively sexual, imbued with a specifically queer spirit that's been channeled throughout her career – from "Get Me Bodied" to her drag queen-adjacent alter-ego Sasha Fierce, a la "Diva." This is her most explicit expression of that influence to date. She's been about that life (thank you, Uncle Jonny!) and owned it. Opulence. You own everything.
"Thank you to all of the pioneers who originate culture, to all of the fallen angels whose contributions have gone unrecognized for far too long. This is a celebration for you," she acknowledged in the liner notes.
"Applause, a round of applause," Beyoncé commands in the album's final moments, as "Summer Renaissance" draws to a close and gradually takes off into outer space. All these years later, we're still following her dance floor orders.
And ooh, it's so good, it's so good, it's so good…
Check out the MuuTunes Spotify playlist. Subscribe!
You can also subscribe to MuuTunes on Apple Music.
Photo credit: Mason Poole / Carlijn Jacobs / Parkwood Entertainment