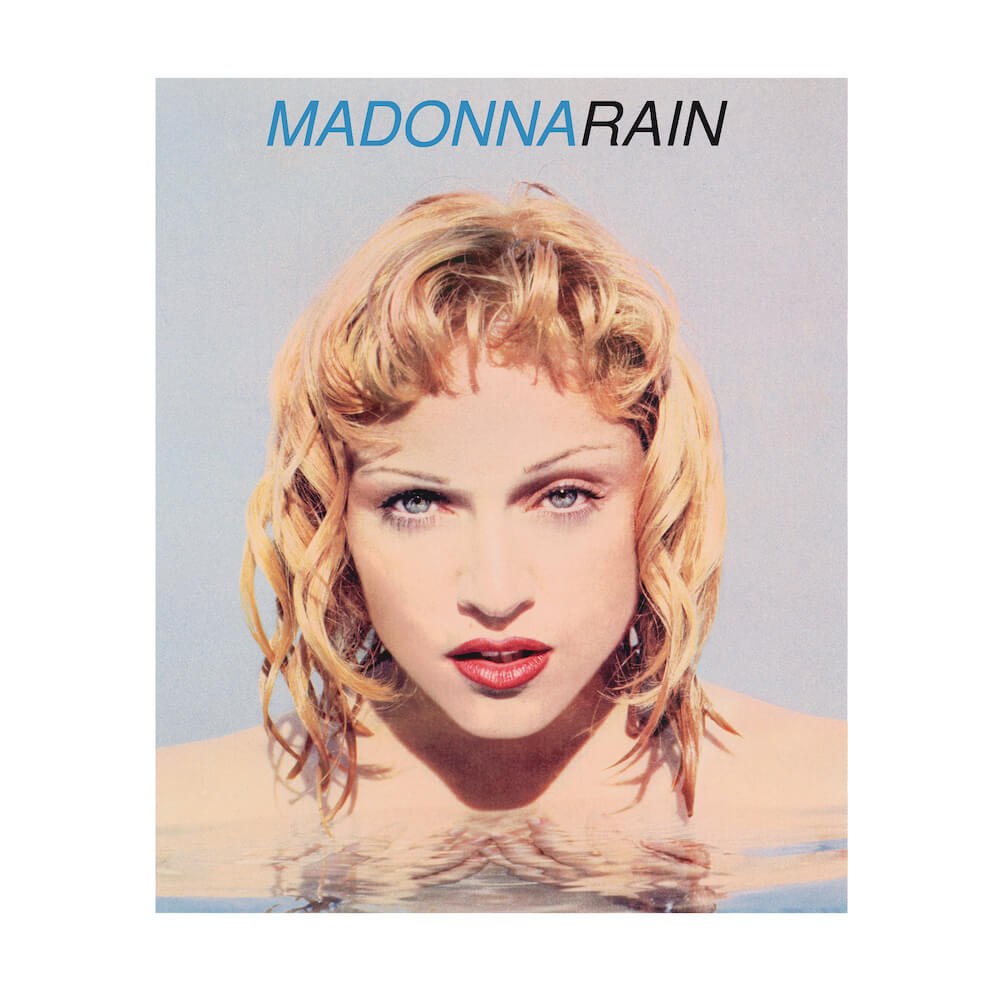 "There are some who believe that I owe them something, but they're wrong. I owe nothing to no one but myself."
…Do you feel it?
Madonna's love is coming down…and so are the digital barriers to easily accessing her music. Finally, enough love.
When she's not too busy straddling sriracha or drinking from a dog bowl, the "Champagne Rosé" chanteuse has been slowly but surely digitizing her entire discography, remastering her videography and reissuing records in celebration of various anniversaries.
As of Friday (November 11), we've reached another Erotica-era milestone: "Rain."
"Rain" is, of course, stone-cold classic Madonna. A classic!
Much has already been said about the mega-ballad, which has been available for years. There's even more good stuff deeper (and deeper) inside the maxi single EP, including the radio remix by Daniel Abraham, a remix of "Waiting" by Danny Saber featuring a Madonna song reference-filled rap by Everlast ("I know you're going my way, naked on the highway"), and the fabulous "Edit Two" mix of "Fever."
At long last, we now have a not-so-little B-side called "Up Down Suite," one of Madonna's most interesting oddities.
The over 12-minute epic is a pulsating dance mix, equipped with a horn-y, "Mr. Saxobeat"-style earworm of a hook. Being that it's a dub mix, there are barely any vocals. In fact, the bulk of the heavily edited vocals arrive within the first minute. But it's a dub of what, exactly?
"Up Down Suite" is actually a remix of a then-unreleased Erotica demo, called "Goodbye to Innocence."
The (bedtime) story goes that Madonna was in the studio finishing up Erotica, she was still working on "Goodbye to Innocence" when she started singing the classic "Fever" on top of the beat. It was an impromptu stroke of genius, inspiring a brand new idea for the album on the spot.
Via the ever-helpful Today in Madonna History: "When Madonna went to record her vocals for 'Goodbye to Innocence' during the recording of the Erotica album, she started singing Little Willie John's song 'Fever' instead of singing the original words. Shep Pettibone and Madonna decided to record it, as they felt it sounded good. As they did not know the words, Madonna called Seymour Stein from Sire Records, and within an hour, they had the Peggy Lee version, and the original version of the song. 'Fever' was the last song to be recorded for the album, in August 1992, and it was finished within a month later."
"Goodbye to Innocence" was eventually scrapped in favor of working on "Fever," but it wouldn't collect dust forever.
Not only did the first verse of the song eventually make the "Up Down Suite" cut, but it was eventually polished off for Just Say Roe, a Sire Records compilation sampler released in 1994 with songs from the label's artists containing pro-choice themes, meant to promote the protection of reproductive rights. (How little has changed. Actually, things are much worse!)
"There are some who say they created me,
But only my parents will have that acclaim.
I took it from there, I am to blame."
It's a shame that "Goodbye to Innocence" is a diehards-only discovery (and still not on streaming), as it's one of Madge's more mighty mantras about self-reliance and celebrity, in which she takes the blame for her fame, surrenders to the lack of privacy as a result, and warns of people with snakes at the base of their spine. ("They're takers.")
"Say goodbye to anonymity / I have to (have to, have to) say goodbye / To privacy, but most of all / To innocence, to innocence," she declares.
It fits in nicely with the defiant, unapologetic theme of her classics at the time, like "Human Nature": "I'm not going to waste my time correcting myths and rumors / You believe what you want to believe." Her Reputation era, if you will.
The dub that we do finally have to listen to – "Up Down Suite" – mainly glides across the hypnotic beat, with some stuttered "up-up-up, d-down" instructions bouncing between the ears along the way.
She'd also do a little up and down and all around on Bedtime Stories' "Survival" at the same time that the remastered version of "Goodbye to Innocence" made it to the public. The hypnotic House beat actually sounds similar to Madame X's "I Don't Search I Find" many years later as well.
Early versions of "Goodbye to Innocence" has since leaked in a variety of formats with different vocals and lyrics, including the "Straight Pass" demo, a slightly groovier version, and the more House-y version, said to be the final demo recorded before moving on to do "Fever" instead.
It's well worth exploring all the versions of "Goodbye to Innocence" to hear how it changed over time during the wildly inspired, still ahead-of-its-time Erotica era.
And given that she's still in her remix era, now celebrating the record's 30th anniversary (and seemingly plotting a stadium-sized outing next year), perhaps it's the perfect time to revisit "Up Down Suite"/"Goodbye to Innocence" and incorporate elements into a killer live mix, the same way "You Thrill Me"/"Erotica" was so brilliantly used on the Confessions Tour.
Just an idea, though. It's up (and down) to you, M.
Check out the MuuTunes Spotify playlist. You can also subscribe on Apple Music.