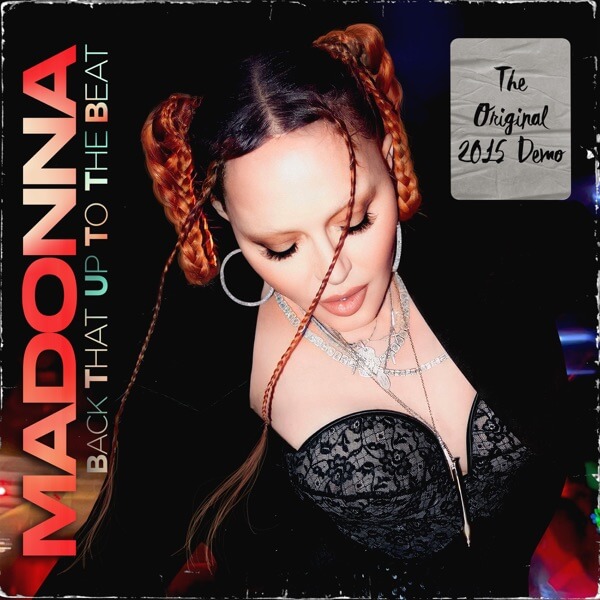 "Back that up to the…"
Look, I've given up trying to explain exactly how and why these things happen on TikTok.
Picture it: you're scrolling through your FYP for hours on end, just trying to distract yourself from The Unimaginable Horrors of the World, and then you see it: a decade-old Miley ballad surging up the charts out of nowhere because teens are belting it while laying on their floors to assuage their pandemic boredom. Or a cover of a Heidi Montag album track becoming the soundtrack to "'00s aesthetic" videos. Or Stefani Germanotta's "Bloody Mary" transforming into an unofficial goofy goth dance anthem, thanks to a fan edit.
It's weird. It's great. It's something else, that's for sure. And it's happening to Madonna (again), following the Gen Z discovery of "Frozen" and "Hung Up."
But this time, mercifully, Madge is right on time.
In what is surely her weirdest accidental viral moment yet, a Madonna demo – "Back That Up (Do It)," as it was once called when it leaked in late 2014 – is now getting its shine…for seemingly no reason at all. (The furthest back video I found was from September, attached to a random car video.)
For those unfamiliar with the song, the track was once considered for 2015's Rebel Heart, before much of those album sessions sprung a leak on the Internet around this time eight years ago. A man even went to jail for it. Ah, memories!
"Keep on shining your…I'm getting ready for…let this party go," she declares.
If the mostly nonsensical party banger – scroll down to read the lyrics! – sounds like the stuff of alter-ego M-Dolla, that checks out: it was co-crafted with Hard Candy collaborator Pharrell, and certainly doesn't sound miles away (eh heh) from her 2008 hip-pop opus, which has since aged like a fine wine. (Or a Krug Rosé, perhaps.)
But it didn't stay in the shadows forever: "Back That Up to the Beat," as it is now known, was eventually reworked with Mike Dean and Jeff Bhasker, becoming a bonus track for 2019's Madame X albeit with an entirely different Eastern flair. Madame X is a cha-cha instructor, an equestrian and a recycling advocate. (Some men can't relate.)
At some point a few months ago, a user posted a slowed down version of the leaked track on TikTok. Someone else posted a sped-up version at some point. And then it took off, in the form of hundreds of thousands of videos using the song in all formats – no dance trend, no prompt, no challenge. Just people bopping along to a nearly decade-old discarded Madonna demo. (One unofficial YouTube upload from just a month ago has over a million views alone.)
Someone on Team M decided to act (relatively) fast, and they've just hurried the "Back That Up to the Beat" demo out onto streaming as of Friday (December 30), branded as "the Original 2015 Demo," along with a sped up version – yes, get used to these "sped up"/"slowed down" versions, it's the New Normal – plus some very fierce cover art.
While it's not the first Rebel Heart-era demo I'd love to see take the Internet by storm – the Avicii mix of "Rebel Heart" and "Wash All Over Me," please! And "Queen"! – I will take any and all Madonna appreciation, accidental or otherwise. And hey, it just proves that she's always going to be ahead of the curve.
Now then, let's get on with that tour announcement to really kick off this year with a bang (that drum to the…)
Happy New Year!
Finally Enough Love is available now on vinyl.
Check out the MuuTunes Spotify playlist. You can also subscribe on Apple Music.