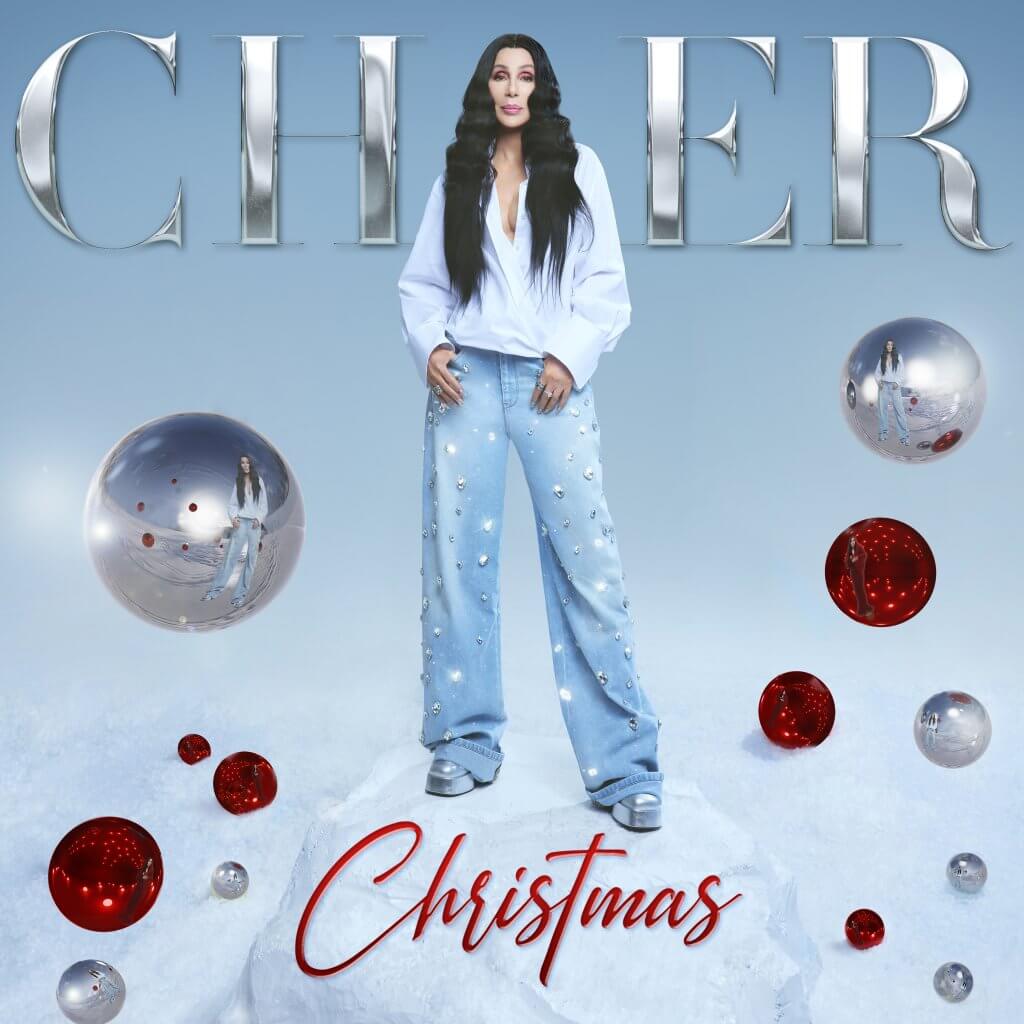 "The red and the green lights are hitting me just right…"
Cher is releasing a Christmas album. It's called Christmas. (Follow that, you bitches.)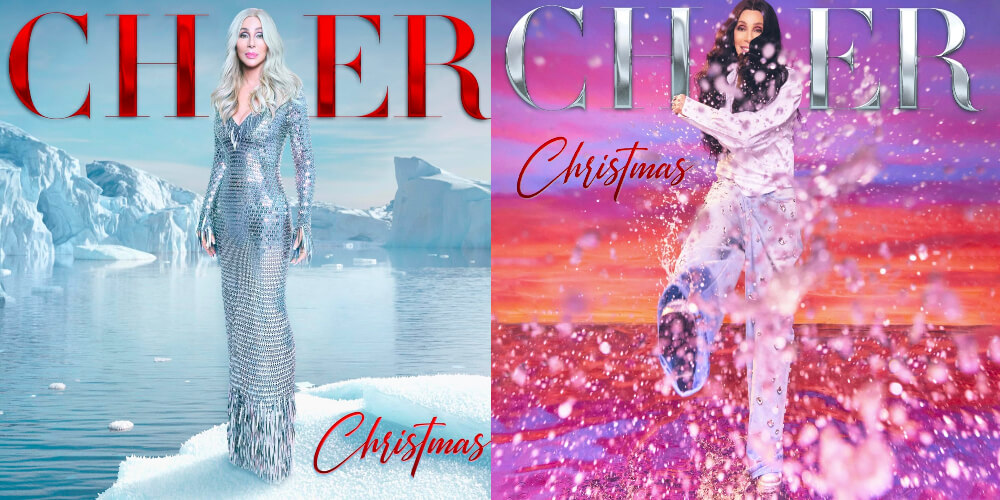 Every part of the campaign is flamboyantly firing on all cylinders already, including all three of the album covers released thus far: from the rhinestoned Gap ad-meets-surrealist Cher-ception ornaments (it's giving…it's giving "Chaer"), to the glamorous Amazon Exclusive, reminding us all that the only thing that will remain after global boiling is Cher, to the Official Cher Store version, which sees the superstar playful punting the already-melted ice caps directly into our faces, with a gorgeous view of the burning hellscape just beyond. Sunset vibes!
The 13-track studio album – her first in five years, since the ABBA tribute album, Dancing Queen – was recorded between Los Angeles and London, and includes both holiday classics and originals, and a ton of collaborations. "Put A Little Holiday In Your Heart" with Cyndi Lauper! "Christmas (Baby Please Come Home)" with Darlene Love! (Insane fact: Darlene's original version of the song from 1963 features a then 17-year-old Cher on background vocals.)
And of course, who could forget "Drop Top Sleigh Ride" with Tyga, co-produced by the 77-year-old icon's 37-year-old boyfriend, Alexander Edwards? (The older I get, the more I realize that life increasingly becomes a game of Mad Libs.)
Ahead of the album's release on October 20, which will also be getting a vinyl release in Ruby Red, Cher's just released the lead single from the album on Friday (October 6), called "DJ Play A Christmas Song." And just in case anyone had any doubt, it is thoroughly a Cher record.
The song was co-written by Sarah Hudson (of Dua Lipa "Physical" fame and her team, including trusty Troye Sivan and RuPaul's Drag Race composer Leland, and produced by the legendary Mark Taylor, who has worked with her from "Believe" onward, including my all-time favorite Cher song, "The Music's No Good Without You."
Accordingly, "DJ Play a Christmas Song" essentially sounds like a modern spin on the Believe and/or Living Proof sessions, complete with a driving, vaguely melancholy beat, earnest belting and that signature Auto-Tune (a compliment, to be clear!), and it just happens to include some holiday-themed lyricism and a hint of seasonal sounds. This is a song for the jolly!
Perhaps the most delightful part of this track is the concept itself: the idea that Cher is climbing up to the booth and shouting at the DJ to "play a Christmas song," because she wants to be "dancing all night long." Which Christmas song would even provoke an all night dance session? Would "Silent Night" really go off at the club? Are we getting lit and turnt to "Rudolph, the Red-Nosed Reindeer"? (Well, maybe!) Basically, she solved the shortage of Christmas-themed dance floor bangers by providing one herself. And really, who is better equipped for the job?
"I never say this about my own records but I'm really proud of this one. It is one of the most amazing highlights of my career," noted non-Cher fan Cher said in a release.
The album is all but destined to become a camp classic – perhaps a club classic, too! It puts the hard "F" in festive, and is bound to be on heavy rotation inside Santa's workshop, as all the elves tinker away at toys and bop 'round the clock…until Mrs. Claus comes in and furiously tells them to turn it the fuck down because it's keeping the reindeer awake.
Christmas will be released on October 20. You can buy it on vinyl here.
CHRISTMAS TRACK LIST:
1. DJ Play A Christmas Song
2. What Christmas Means To Me (with Stevie Wonder)
3. Run Run Rudolph
4. Christmas (Baby, Please Come Home) (with Darlene Love)
5. Angels In The Snow
6. Home (with Michael Bublé)
7. Drop Top Sleigh Ride (with Tyga)
8. Please Come Home For Christmas
9. I Like Christmas
10. Christmas Ain't Christmas Without You
11. Santa Baby
12. Put A Little Holiday In Your Heart (with Cyndi Lauper)
13. This Will Be Our Year
Check out the MuuTunes Spotify playlist. You can also subscribe on Apple Music.
Photo Credit: Warner Records