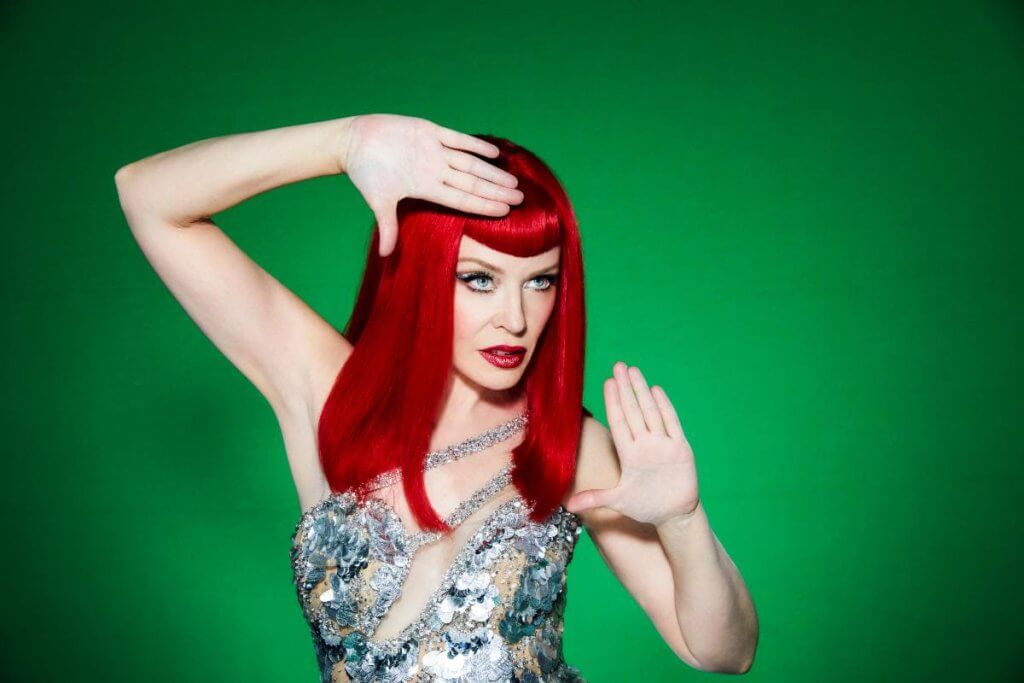 "Call me Kylie-lie-lie, don't imitate-tate-tate…"
It's been a rather unexpected year for The One, True Kylie™, following her horny, heart-racing return to modern electro-pop back in May, "Padam Padam." (Have you heard it? Did you know?)
The Tension lead track caused what could only be described as a collapse of global proportions – sheer Padamonium across the Internet – which truly no one saw coming.
Kylie is many things: a legend, an icon, the moment. But a viral meme queen? That was definitely new for all the Lovers.
Our Mighty Aphrodite humbly, happily welcomed all of the "Padam Padam" appreciation from new fans and old – riding the wave of attention Cowboy Style with a peaceful smile – all through the summer months.
She'd keep the momentum going with a handful of live performances, extended versions, remixes, interviews, Siri spoken word renditions, and physical format releases. And in the end, Kylie ended up with what many would proclaim to be the Song Of Summer 2023™. (Sure, we can debate who took that crown, but in certain Pop Nerd and/or Chronically Online Gay circles, there's no denying the song's a strong contender for the top spot.)
With her 16th studio album (!) now set to arrive in just a few short weeks, there's no better time for our faithful Red Blooded Woman to unleash the follow-up: the album's namesake, "Tension," an even harder, odder, club-edged electronic cut that deserves to be blasted from the speakers.
Having already heard the album in full (sorry), dancing to it for the first time directly in front of Kylie Minogue herself inside a tiny club (so, so sorry), I can confidently attest that "Tension" is best served hard and loud.
Co-written with the ever-trustworthy Richard "Biff" Stannard (of "Love at First Sight" fame, say no more), Duck Blackwell, Jon Green, Anya Jones and Kamille, the verses are quite sill-lay, lay, lay, full of sing-song syllables aplenty-ay-ay as Kylie saunters across bubbling electronica and House piano melodies.
"Cool like sorbet, bay, bay," she proclaims, "Hot like chilli, lay, lay." ChatGPT could never produce this kind of prose. "Call me Kylie-lie-lie, don't imitate-tate-tate." Shots fired at a secondary television personality? Maybe so!
The track slowly but surely builds ("All night, touch me right there)" …and builds… ("doo, doo, doo-doo")…and builds, supplying plenty of – wait for it – tension. And then, at long last: the breakdown.
"Oh my God, touch me right there…almost there, touch me right there…"
That vocoded bass-heavy blast of unleashed, "Speakerphone" adjacent robot lust is genuinely jaw-dropping upon first listen (mouth agape, literally), and instantly seals the deal as one of the record's standouts.
As Biff accurately noted, it's Girls Aloud-esque in its madcap, multi-song construction, as well simply being an absolute blast of a tune, and further evidence of Tension's brilliance.
And then, there's the music video.
The accompanying visual was directed by constant collaborator Sophie Muller, who's worked with Kylie for years, and it's delightfully odd – her most bizarre, self-referential video in a long time, surely.
Think "Did It Again" alter egos, a splash of the "Come Into My World" MCU (Minogue Cinematic Universe), a bit of "GBI" experimentalism and Fever-era futurism, mixed with Dr. Who, a dash of The Fifth Element – and the Moulin Rouge green fairy, for good measure.
And now, a full video analysis.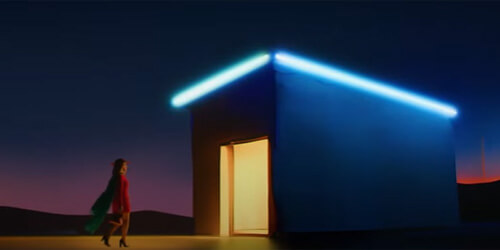 "Padam Padam" Red Kylie, having grown tired of "Padam?" tee-wearing F-words coming up to her in tears begging for a selfie, has opted to flee society by making a midnight escape to the neon-lit Svalbard Global Seed Doomsday Vault, now operating as a portal to the Tension Dimension.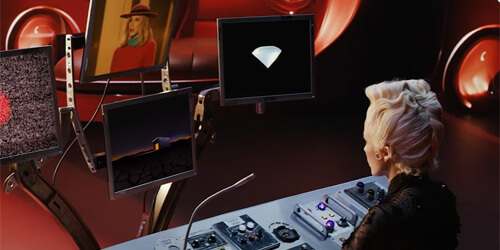 An X-era style Robo-Kylie is diddling with some dials and monitoring the situation.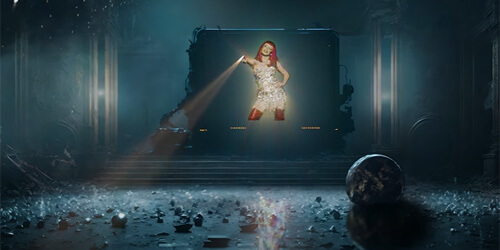 Meanwhile, Disco-era Kylie-turned-Cher-slash-"Touch Me (All Night Long)" Cathy Dennis beams in from the glittery "Say Something" galaxy, overlooking the shattered disco dance floor while delivering some TikTok-ready choreography.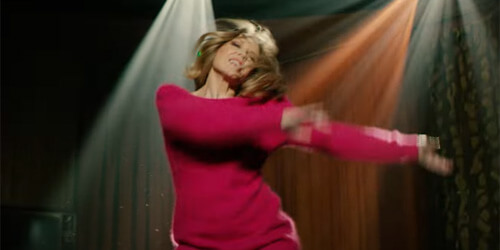 "Padam Padam" Kylie, having settled into her very "Padam Padam" room, is instantly delighted by the Disco display, and quickly learns the moves in her room.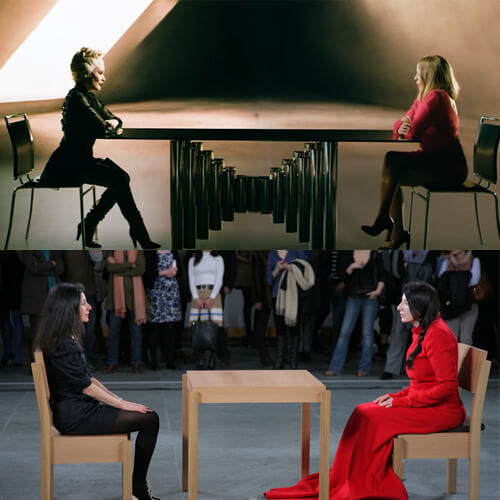 Having caught wind of "Padam Padam" Kylie's arrival (and subsequent dance party for one), Robo Kylie tracks down the facility's new visitor, and there's some sort of a table interrogation and/or take on Marina Abramović's The Artist Is Present.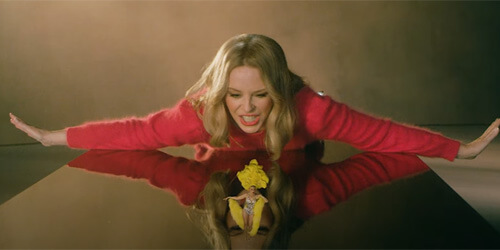 A teeny-tiny Showgirl-era Kylie suddenly appears in a Moulin Rouge-style absinthe and/or Kylie Wine hallucination in front of them, yellow feathers and all, ready for her Voltaire residency in Las Vegas.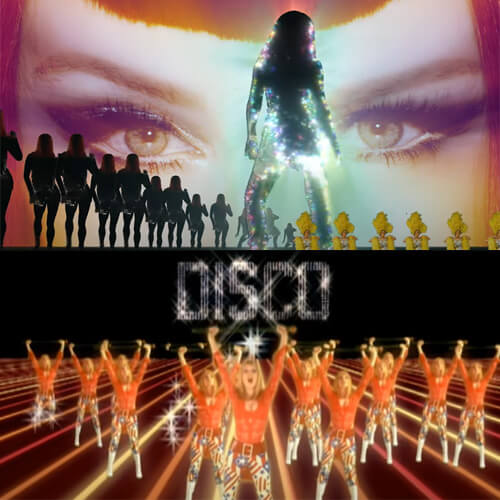 The meeting of the Minogue minds results in complete and utter Kylie overload, as they all come together in a kaleidoscopic (Kylie-doscopic) "Your Disco Needs You"-esque camp explosion of sight and sound. Ohmygodtouchmerightthere.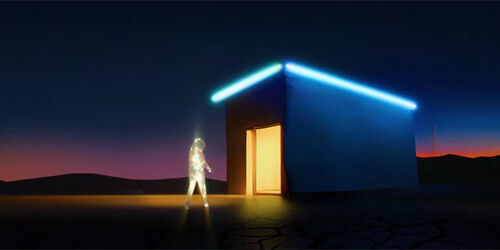 Having just had the dance party of a millennium inside the Doomsday Vault, Kylie realizes she can't just leave the F-words alone for long. She ultimately decides to return from whence she came, with a renewed passion for the dance floor, ready to bring the teachings of the Tension Dimension to the locals.
And there you have it: a pretty straightforward concept, really!
One thing's for certain: the Tension era is a lot weirder than previously imagined. There's a real sense of playful abandon with this campaign, and we're all better off for it.
Tension is out on September 22.
Check out the MuuTunes Spotify playlist. You can also subscribe on Apple Music.
Photo Credit: Erik Melvin