It is becoming abundantly clear that this present Miley Cyrus era – album, EP, whatever this is shaping up to be – is the 27-year-old superstar's finest, most self-assured moment yet.
"Midnight Sky" remains one of the year's best singles, and Miley's continued to utterly smash it live time after time: from the disco wrecking ball-swinging MTV VMAs performance, to her Live Lounge session, including a cover of The Eagles' "Take It to the Limit" and Billie Eilish's "My Future," to her appearance on The Tonight Show, including her unbelievable cover of Hall & Oates' "Maneater."
She's getting it all right, and the trend only continued on Saturday night (September 17) with her performance over the weekend as part of the 2020 iHeartRadio Music Festival.
Her body just barely tamed in an unbelievably sexy Mugler sheer moment, Miley tore into a tight set of songs, serving us shades of the Joan Jett–Debbie Harry–Stevie Nicks–Dolly Parton–The Runaways–Annie Lennox fantasy she's been supplying throughout this present moment.
The all-too-short stage show included her latest live rendition of current smash "Midnight Sky," as well as her Mark Ronson collaboration from 2018, "Nothing Breaks Like a Heart," complete with a massive disco ball Saturn hovering just overhead.
And in continuing to pay homage to the trailblazing women of rock that have so clearly inspired this era, she also whipped up an incredible cover Blondie's "Heart of Glass," sounding right at home wailing out the 1979 classic. Vocally, she is on fire.
But perhaps the most truly pearl-clutching moment – at least, for the diehard Smilers out there – came when she dug deep into her own back catalog, pulling out "Who Owns My Heart?" from 2010's criminally underrated Can't Be Tamed.
"Now anything that you see on these screens behind me, I would suggest you not try without adult supervision," she declared as the song kicked off.
It would have been exciting enough as it is just to have seen her tear into the song for the first time live in nearly a decade, but no: she took a step further with the nostalgia factor, recreating her hair curler look from the accompanying music video for a brand new, sexed up self-referential backdrop as she growled and yelped away on the mic in an almighty rock overhaul of the song, turning the performance into a full-blown pop panic.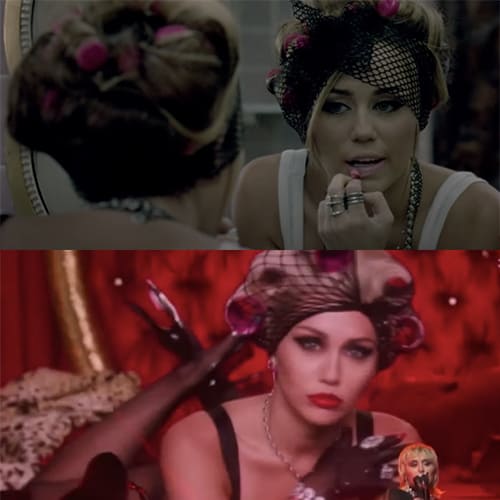 Also, did anyone catch that she performed almost all "Heart"-themed songs? You know, for iHeartRadio? We love a theme.
Not to diss any of her past records (as she often likes to do in interviews, much to some fans' dismay), but it really feels like Miley Cyrus is fully hitting her stride.
This is the right sound, the right vibe, the right style – She Is Miley Cyrus, and she is truly at her best yet. What a joy to behold.