Megan Thee Stallion is having Thee Greatest Year, despite…well, everything.
After a stellar showing on HBO Max's Legendary, serving up one of the year's best quarantine awards show performances at the 2020 BET Awards, and inciting a global mop and bucket shortage (and Republican furor) alongside Cardi B with her almighty "WAP," Megan's only just keeping the energy going as of Friday (October 2) with the Buddah Bless-produced, appropriately titled "Don't Stop," featuring Young Thug.
And Megan has Thee good sense to know: if it ain't broke, don't fix it.
Once again tag-teaming with the masterful Colin Tilley, who directed the "WAP" video, Megan finds herself in a similarly surreal, Alice in Wonderland fantasy as she delivers her signature brand of tongue-wagging cockiness while bouncing on those iron-clad knees. You know, real Hot Girl shit. That Cheshire Cat-meets-Harley Quinn look? And the Queen of Hearts look? Inspired.
Young Thug, meanwhile, opts to feel his Edward Scissorhands fantasy while tending to the shrubbery in another scene outside, which also brings Gwen Stefani's own tumble down the rabbit hole ("What You Waiting For?") to mind.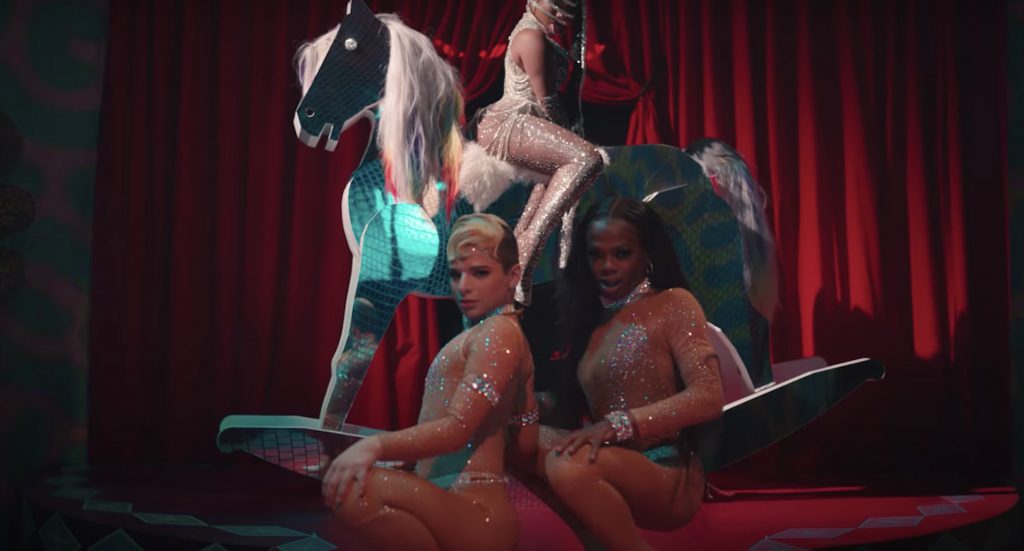 Also heartwarming? She's keeping it in the Legendary family: two of the reality TV show's standout vogue performers, Honey Balenciaga and Makayla Lanvin, make cameos right at the top of clip, twerking and thrusting their way through the intricate motions with ease. They killed it, of course – and it's amazing to see that Megan is showing genuine love to the ballroom scene with her massive platform beyond her hit series.
"People saying I'm way too full of myself, you're right, and I ain't even made it to dessert…ah," Megan taunts.
Not unlike "WAP," the song's a total earworm, perhaps deceivingly so, especially once that chorus hits above the metallic whirring and speaker-shaking bass: "Don't stop, pop that cat / Mmm, mmm, just like that."
"Don't Stop" arrives ahead of Megan's debut studio album, coming later this fall, as well as a performance on the Saturday Night Live premiere this weekend. All hail Megan and her most unstoppable kitty. Ah.
Read the "Don't Stop" lyrics on the next page.
This album is featured on the MuuTunes Spotify playlist.
You can also subscribe to MuuTunes on Apple Music.
Photo credit: Colin Tilley