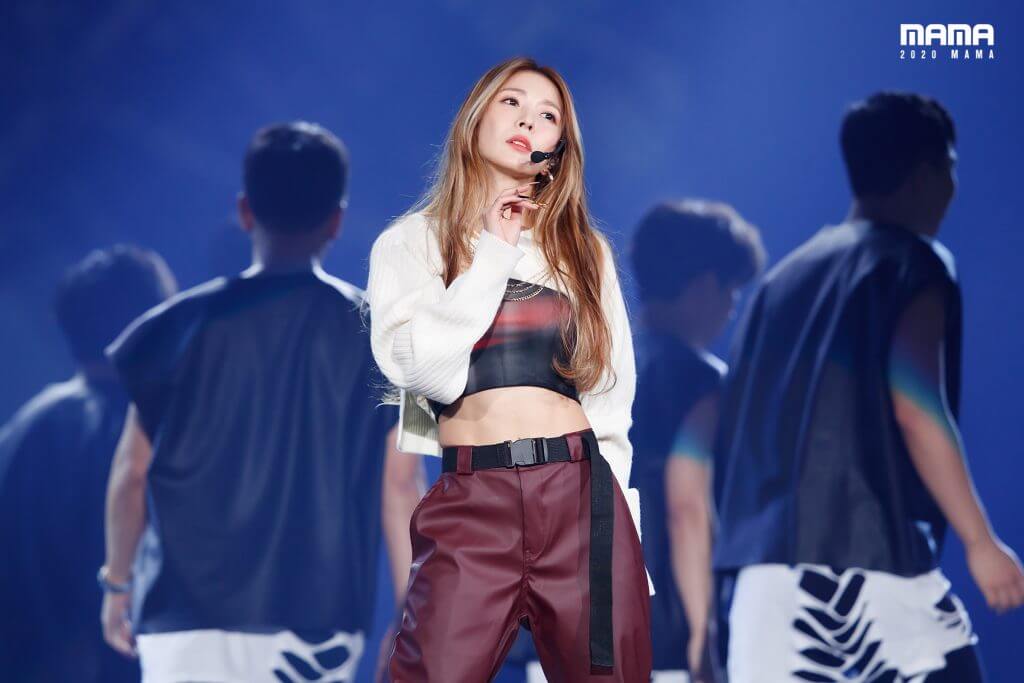 "The Queen of K-Pop…BoA."
It's BoA's 20th anniversary, and she, along with the rest of the South Korean pop music industry, is seizing this opportunity to remind everyone of exactly who she is.
After a loving tribute from her agency SM Entertainment earlier in the year, followed by the release of her fantastic tenth Korean full-length studio album Better on Tuesday (December 1), the boundary-breaking superstar received ample praise at the 2020 Mnet Asian Music Awards on Sunday (December 6), where she also delivered not one (shot), not two (shot), but three songs of her own in a performance fit for a Queen…the Queen, in fact.
Before even dancing it out herself, her music was already being performed on stage as part of a "BoA 20th Anniversary Special" tribute from some of the hottest brand new rookies and current, chart-dominating K-pop girl group acts.
Following a heartfelt intro from Gong Myung, Winter of newly debuted "Black Mamba" girl group Aespa kicked off the medley with BoA's debut single "ID; Peace B," adorably wearing her BoA-inspired best while providing a short-but-thrilling performance that felt way more confident than one might have expected from a girl group member who literally just debuted three weeks ago. The solid performance also helped to distract from the fact that Winter was…literally not yet born when that song came out. (God, we're old.)
K/DA pop/stars and "HANN" powerhouse troupe (G)I-DLE took on "Listen to My Heart" next, before YooA of Oh My Girl appeared in a gorgeous dress and delivered stunning vocals for "Tree," amplified by beautiful, wintry blue stage projections all over the place.
Adorably, Eunbi, Chaeyeon, Yena and Chaewon of IZ*ONE broke the ice of YooA's emotional rendition, rounding off the tribute with a (literally) bubbly, cutesy rendition of "Atlantis Princess" under the sea, rocking the music video goggles and all.
But of course, it was BoA herself who ultimately stole the show.
Gong Myung supplied more sweet words to introduce the 34-year-old superstar to the stage, as a futuristic display of all her singles and album covers glittered overhead, coming together to form one big "1," followed by a most fierce declaration: "The Queen of K-Pop…BoA." Chills.
It all happened so fast: the rocky, militant intro, the rise to the stage, the fierce strut: truly, she was the Girl on Top of the evening. And then came that instantly familiar line: "You're still my number one!" In an instant, all the drama of the opening fell away as the joyousness of an enduring pop hit that's lived on for nearly two decades filled out the room in an explosion of nostalgia. (Yes, I sure did tear up.)
That wasn't the only "One," though (eh heh): sweet, sweet prince Taemin arrived on the scene right after, seated on a bench with a bouquet in his arms, to provide a little lover's tango for "Only One."
As one of the best dancers in the game today, Taemin truly was the Only One best equipped to take on the role of BoA's dance partner for her 2012 hit. The two hit all their marks, and as he made his way offstage, BoA closed out the performance with that intricate group choreography made to look effortless.
The throwback moments didn't end there: before returning to the stage to perform current single "Better," a vintage video reel played various clips from the first moments in BoA's career from the early '00s, including her first award show wins and music videos, as well as side-by-side shots of her classic music videos and fierce modern remakes as part of her 20th anniversary documentary – which now features English subtitles, by the way.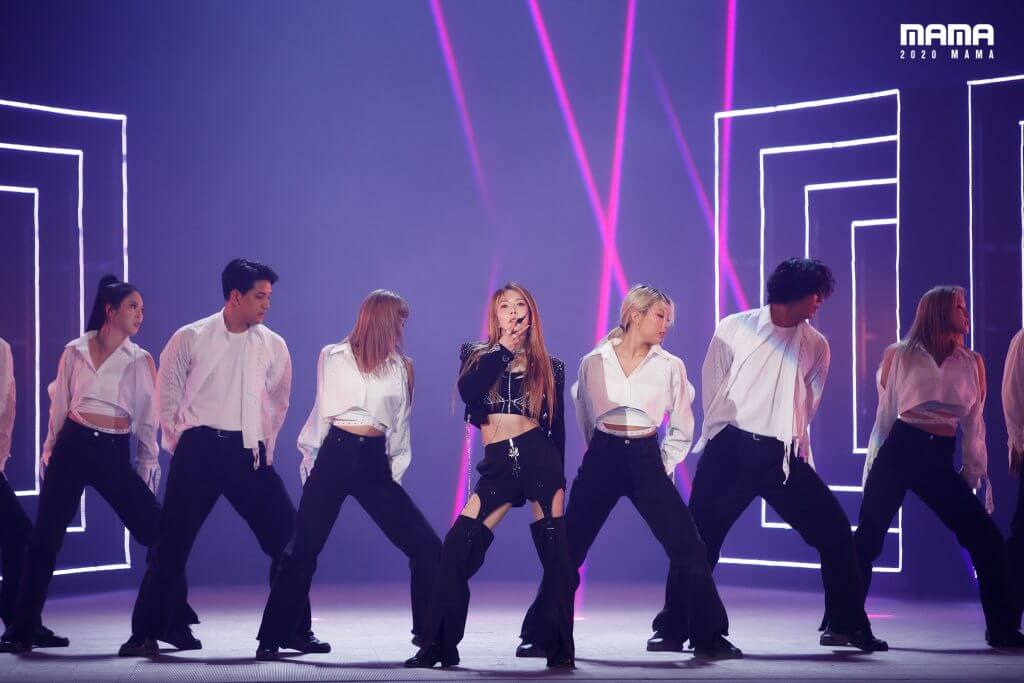 The performance of "Better" itself was sleek and stylish – an assured display of Modern BoA, a woman! – showcasing her spot-on moves alongside a squad of chic chancers in front of a neon laser-lit backdrop.
And that is how you run the game, two decades strong.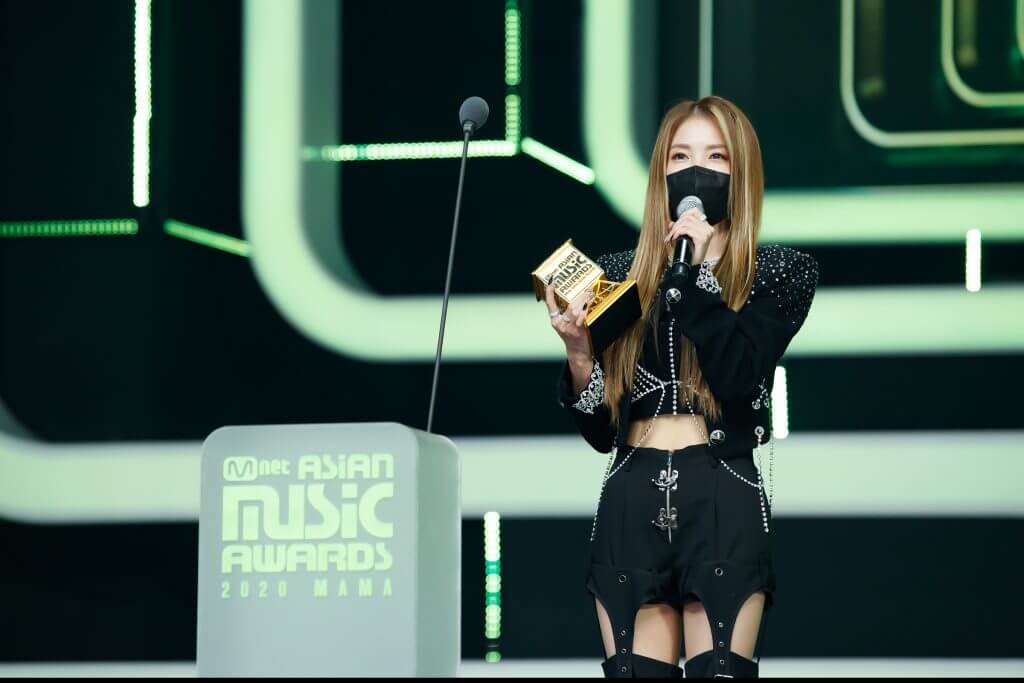 BoA was honored with the Inspired Achievement Award at the ceremony as well, providing an acceptance speech while wearing a mask at the contact-free event.
"Thank you all so much for this award. You all are my motivation and the ones who continue to inspire me~ I'll continue to give back the love you have given me for 20 years!" BoA later wrote on her Instagram.
[#2020MAMA_Moment] INSPIRED ACHIEVEMENT #보아 #boa

You made it! Honorable winner of the night!🏆
#2020MAMA #MAMA #Mnet pic.twitter.com/j7ts0MDRZQ

— MAMA(엠넷아시안뮤직어워즈) (@MnetMAMA) December 6, 2020
As is the case with pop music (and life as a whole), the kids in each up-and-coming generation don't necessarily know about all of the contributions made by artists that came long before some of their favorite acts were even born. That's just the way it is. We could all benefit from doing our pop homework to appreciate the ones who came before.
But it's also up to us to honor those who've helped pave the way for today's artists to reach new heights, which is why it's heartwarming to see BoA get this kind of (deserved) treatment on such a massive scale, especially in front of a younger generation watching their own idols perform her music. And of course, as her latest music and performances prove, BoA's in it for the long haul.
What a fantastic year for a true force in pop – still our number one, indeed. Congratulations, BoA.
Click here for a review of her new record, Better.
And for all things MAMA, head to KCONUSA.com, as well as MNET on YouTube.
Photo credit: CJ ENM