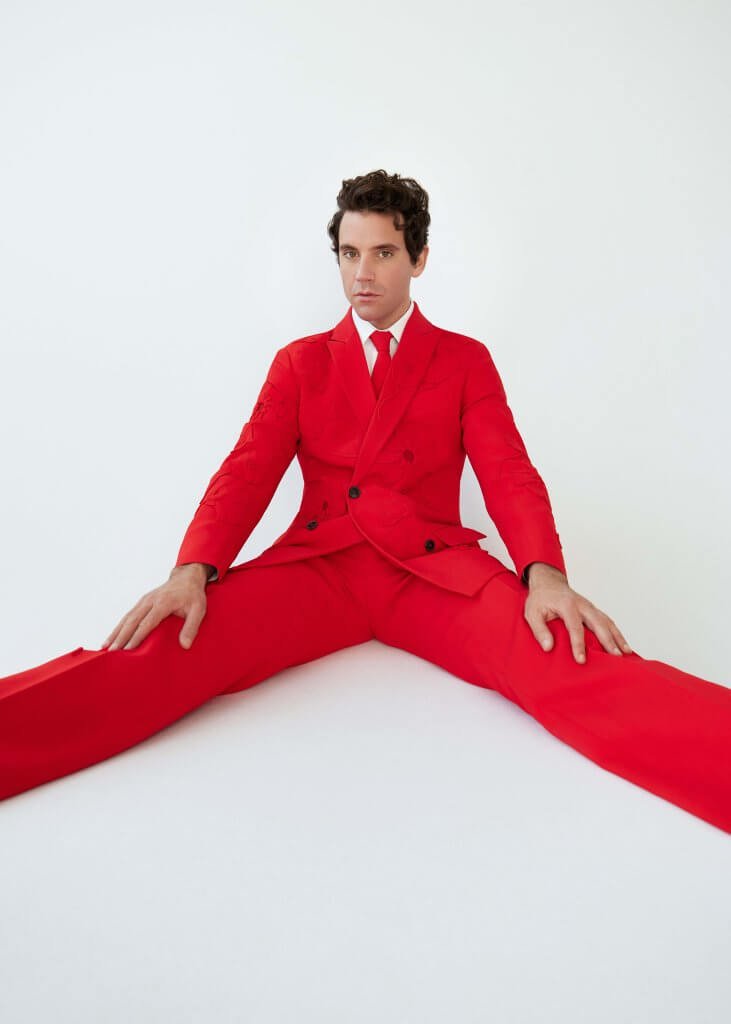 "Take out all my sorrow, put that on a beat…"
Writing about a man? In these trying times? I know…
But we support fellow LGBTs in this house, and the multi-talented MIKA is no exception, especially as he's having a real moment at the moment since co-hosting Eurovision 2022 last week. (Chanel Terrero, you will always be famous!)
The 38-year-old Life in Cartoon Motion crooner has actually been having a moment for a while now: if you're on TikTok as much as I am, you'd already know his 2007 track "Grace Kelly" has since gone mega-viral with a challenge over the past year. A record label's wet dream, basically.
While co-hosting the Eurovision Grand Final in Turin, Italy – a delicate balancing act of navigating dorky jokes amid political tensions, dramatic pauses, and painfully delayed satellite conversations with international delegates in front of a TV audience of hundreds of millions – MIKA hit the stage to perform what was essentially a Super Bowl-scale performance of his big hits.
It was a vibrant, energetic, suitably gay explosion of dancers and colors and giant hearts and glee. A major spectacle, really, and he did a fantastic job.
The most surprising thrill came towards the end, when he – perched atop a rather wobbly platform – launched into a more serious sounding, throbbing club tune, proclaiming: "Take out all my sorrow, put that on a beat." Huh. This one didn't sound familiar…but it did sound good.
A quick Shazam on the spot revealed the name of the tune: "Yo Yo," which dropped the day before (May 13). And reader? It's a banger.
The moody banger was co-written with Renaud Rebillaud and Wayne Hector, co-writer of Nicki Minaj's "Starships," among many other feats.
The ultra-catchy cut finds the falsetto-friendly crooner consenting to being pulled in any old direction and bending to every whim – Do What U Want with MIKA's body, basically.
"Take me high, high, high, take me low, low, low / Pull me in, in, in, let me go, go, go / Say goodbye, bye, bye, say hello, lo, lo / Treat my heart, heart, heart like a yo-yo," he coos. But is it an invitation, or more of a solemn resignation? That's seemingly up for interpretation.
"I wanted to write a song that could make you cry and dance at the same time," MIKA explains of the club cut. "A song to make the world, in all its harshness, feel better. Something that will always be there to comfort you. I wrote this for you, as you listen in your room, or in a club: it doesn't matter it's just about you."
Yet another solid addition to the Crying at the Discotheque collection this month? We gladly accept.
The song's got a very hypnotic pulse, and it's stuffed with earworm melodies – "Da-da-da, da-da-da-da, da-da-da da-da" – that have yet to let go of my brain's reigns since the first play. It's also a pretty unexpected offering from a singer most commonly associated with happy-go-lucky vocal theatrics and big, bright sounds.
There's more music on the way too, according to a press release. An entire sad disco record from MIKA, perhaps? I wouldn't mind putting that on repeat, on the beat, on repeat, on the beat, on repeat, on the beat, on repeat, on the beat…