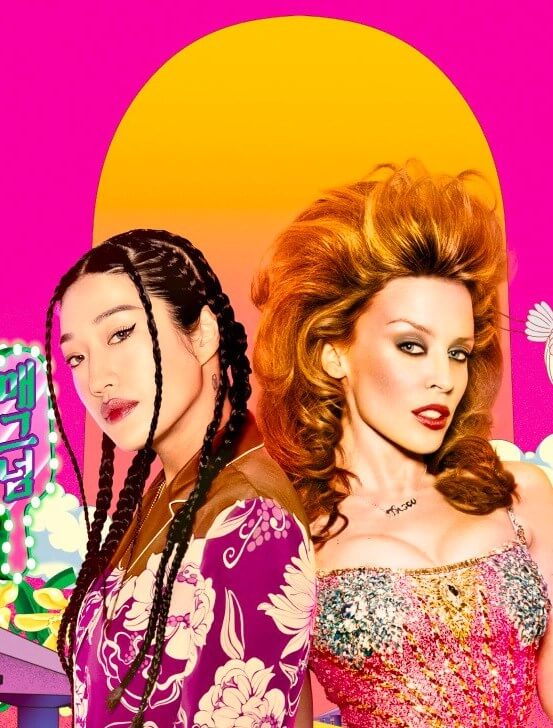 You see, when you're an Icon™ in 2022, having your classic pop hits remixed by today's top talent is simply the thing to do. (One remix is enough, though. No need to do the same remix ten times in a row with slightly different tweaks. Not every Queen of Pop seems to be getting the memo.)
Kylie Minogue – also known as the one and only Kylie, thank you very much – is doing the same with a modern take on her Fever dream, "Can't Get You Out of My Head," which is now over 20 years old. (I know…)
The very cool South Korean DJ Peggy Gou was enlisted to put her own spin on the song by none other than Magnum Ice Cream which, as I've learned, bears no relation to Magnum condoms. (They should seriously work on a freezer aisle bundle, though.)
"This year, Magnum has brought together ultimate pop icon Kylie Minogue and South Korean dance music icon Peggy Gou to create the ultimate remix of a classic. Together they've created a supercharged and rearranged version of Kylie's iconic 2001 track, 'Can't Get You Out Of My Head'. Known for their bold and unapologetically fearless attitudes, Kylie and Peggy have paired the unique sounds of two iconic eras of music in the new remixed track," the brand declares of their #ClassicsRemixed campaign. Their new line features twice-dipped duo ice creams inspired by the classics, thus the campaign concept. (#NotSponsored, but I should be.)
"I can't quite believe it's been twenty years since I released this song! I'm a big fan of Peggy and I'm so excited for everyone to hear this remix!" Kylie remarked in a statement.
"Partnering with one of my musical icons to remix what is an undisputed club classic is a dream come true. From personal experience, 'Can't Get You Out of My Head' is one of those songs that transports, moves, and uplifts people all over the world. Classics like this never go out of style, but I've loved being able to put my own personal stamp on such a legendary track," Peggy added.
Surely landing on the suitable Kylie smash to remix for an ice cream company was a tough decision – "Chocolate" was sitting right there, hello! – but the end result is something light, airy and summer-ready, sounding perfectly modern and fresh. And tasty, of course.
They even went so far as to create a accompanying music video for the remix, featuring illustrations and animations from Seoul-based artist, Seo Inji, which finds Peggy getting medical assistance to get the song stuck out of her head – a relatable medical condition we've all shared for two decades, most likely. Earworm is an understatement.
Inside, she's transported herself right into the legendary original music video, riding shotgun, "Telephone" style. And in the operating room, the attending nurses are no match for the song's catchy charms either, launching into the choreography too. It's all very well-done, amusing and clever, especially considering that this is a branded campaign.
Here's hoping that this is just the start of a more involved partnership, because the idea of Kylie singing across some Peggy Gou productions in the near future sounds pretty delicious.